For 2022's Lawrence University Marine Program, or LUMP, 16 students led by Professor of Biology Bart De Stasio and Associate Professor of Biology Brian Piasecki traveled to the Caribbean island of Bonaire to do field research on marine life.
LUMP usually goes to the island of Grand Cayman, where Lawrence has accumulated more than 40 years' worth of research since the program began in 1980, but restrictions due to the COVID-19 pandemic convinced De Stasio to take the trip to Bonaire for the first time instead.
This particular trip was for De Stasio's course, Coral Reef Environments. Bonaire belongs to the Netherlands, and is one of three islands off the coast of Venezuela called the ABC Islands, along with nearby Aruba and Curaçao, which are more autonomous from the Dutch government. Bonaire is also unique in the Caribbean for having a marine park around the entire island.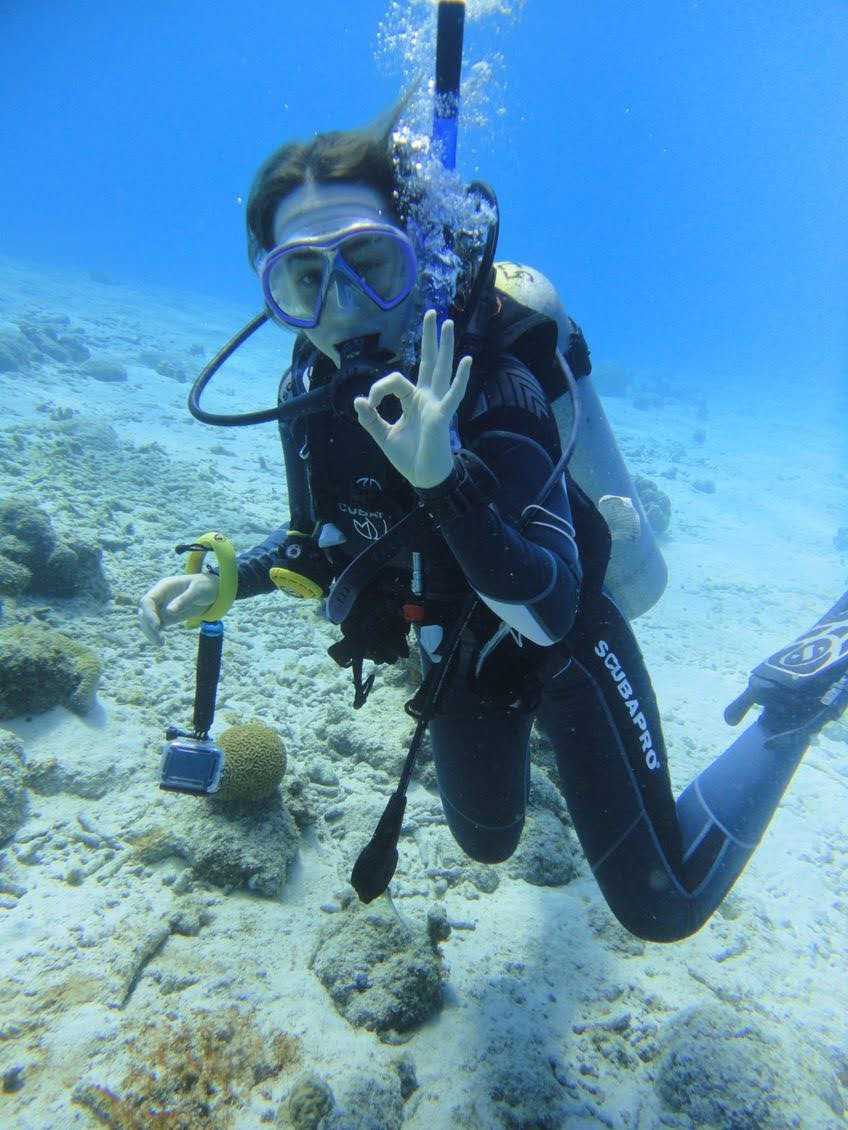 The trip lasted two weeks, the first week being a class about fish and coral diversity. The class laid plastic chains called transects to demarcate an area of the ocean floor to film. Students then reviewed the footage to identify the species they saw.
"We have to watch a lot of videos," said Eleanor Meng, a Lawrence sophomore from Wheat Ridge, Colorado. Students spend three weeks after the trip analyzing their data and crafting their reports and presentations. Meng said she enjoyed the work and spent many evenings with other students looking up the fish they had seen.
For the remaining week of the trip, student groups worked on projects of their own design. Two groups, including Meng's, studied cleaning stations, where small fish and crustaceans clean parasites, fin damage, and other unhealthy skin off larger fish called client fish. Fish have evolved to expect this behavior and find these smaller cleaner fish, assuming a special posture when in need of cleaning.
Meng and her group specifically researched a phenomenon called cheating, where cleaner fish bite off more than allowed and the client fish flees.
 "We were seeing if that's evident in the Caribbean because there have been past studies in the Indo-Pacific Ocean that there's cheating going on, so we were like 'oh, is it happening in the Caribbean as well?' There has been some evidence for that too, so we're adding data to that," Meng said.
Also on the trip was Lauren Askenazy, whose group studied the energy budget for butterflyfish. They would follow butterflyfish in five-minute sessions and record their meals and activities, noting how long the fish spent on each.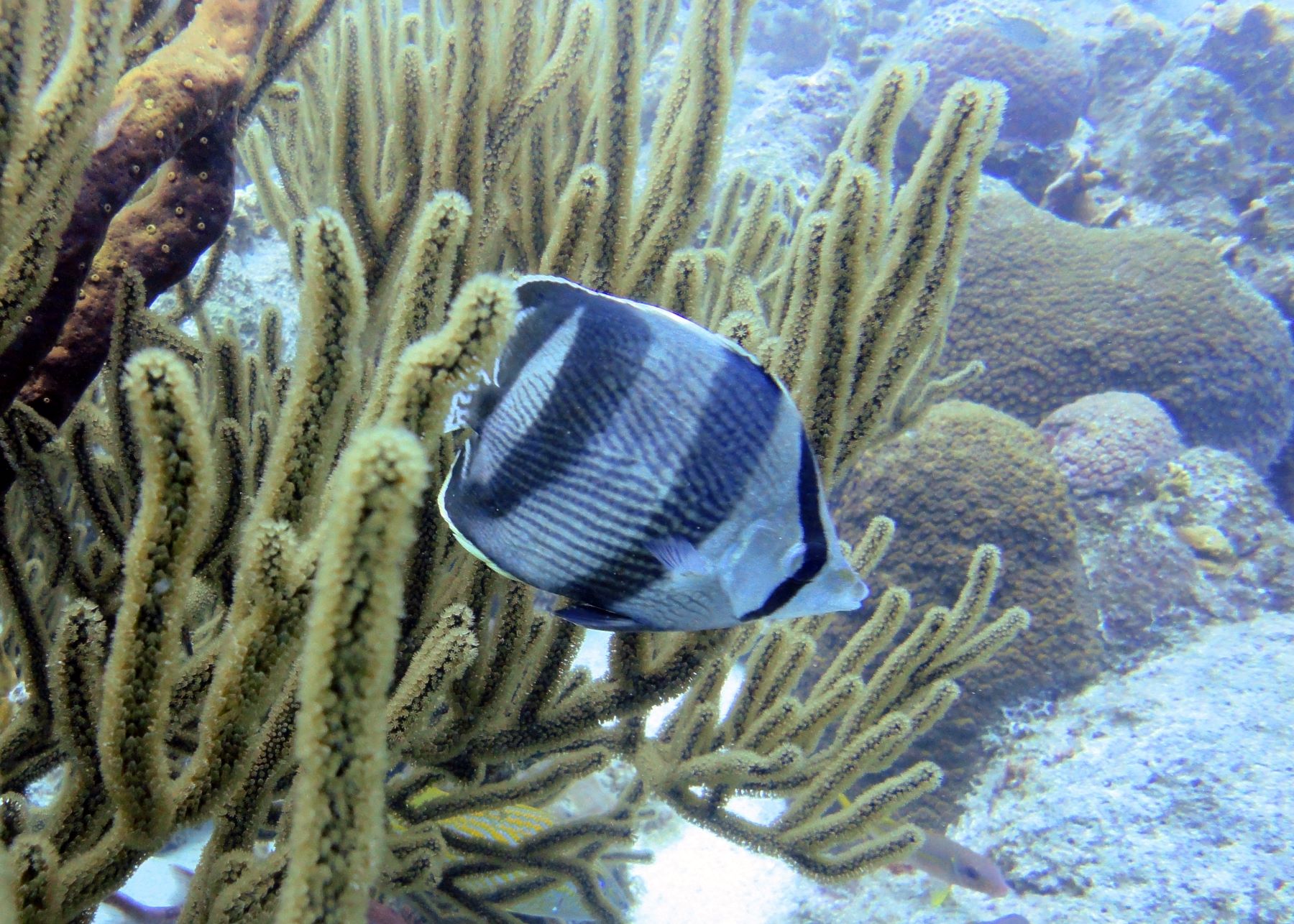 "Butterflyfish are pretty interesting; they mate for life, so almost every time you see butterflyfish they're in a pair … and they usually have a territory. There were butterflyfish on every reef we went to," said Askenazy, a junior from Albuquerque, New Mexico.
The studies weren't restricted to fish: Another student, Sam Driver, and his group studied the gut microbiomes of sea anemones.
"We tried to look at what types of bacteria and Vibrio are living in there because a lot of organisms, including humans as well, have bacteria that's in our healthy gut that helps us function," said Driver, a senior from Minneapolis.
Meng, Askenazy, and Driver all said seeing a spotted eagle ray was a highlight of the trip.
Offered in alternating years, Lawrence University Marine Program students take all three of their courses as part of the Biology Marine Term.
When the team wasn't diving, De Stasio and Piasecki arranged other activities such as a shopping trip in the Bonairean capital, Kralendijk, and a banquet with live music in the historic town of Rincon; part of Lawrence's goal is to introduce students to the cultures of their trip locations.
"It was really fun to get to talk to people in the community and get to know the island itself," Driver said.
"People were very friendly," Meng said. "They taught us how to do the dances."
Overall, De Stasio and the students were pleased with the experience.
"This is fairly rigorous fieldwork that we're doing; … everybody stayed safe," De Stasio said.
Their work convinced the Bonaire Marine Park System to attend the students' project presentations, and the Bonaire Reporter featured the team in a story headlined Future scientists visit Bonaire.
"This approach is important," De Stasio said of the fieldwork. "It shows that undergraduates can do important research in these critical habitats."
'Marine biology is really cool'
De Stasio said Lawrence's marine biology program is one of only seven of its kind in the country, and many students are drawn to Lawrence specifically for the program. Meng said she was one such student.
"I saw it on their website and I knew I wanted to do something abroad," she said.
A biology major and religious studies minor, Meng's interest in marine biology is a relatively recent development. She went to a San Diego sea camp in middle school, but she said, "I grew up in the mountains, and the mountains are my first love. Just after this trip I'm realizing that marine biology is really cool and I like it a lot."
Sea Education project takes two students on epic research adventure
Askenazy said she always had an interest in marine biology. Even though she was far from the ocean in her native New Mexico, she was still able to snorkel on trips to places like Hawaiʻi. Askenazy plans to double major in biology and biochemistry, and hopes to go to graduate school after Lawrence and "do a more focused program in marine biology."
Driver is a biology major and biomedical ethics minor. He arrived at Lawrence already dive-certified and interested in biology. He was determined to find a study abroad opportunity. When he made decisions about his major and minor a year ago, he said he knew the LUMP experience was a must. Driver said he wants to do more scuba trips in the future, but also enter a two-year nursing school program.
"Talk to your professors and figure out the best trips you can go on … pack light, for sure … definitely try to live in the moment," Driver said.
LUMP only runs every other year, takes a year and a half for faculty to plan, and is in high demand, but De Stasio said environmental study opportunities last far longer than most research projects are able to run. This makes Lawrence's 40-year accumulation of data invaluable.
"These kinds of long-term relationships are good because they can provide a unique kind of data, but they're also a great starting point for students who are interested in going into marine biology or just aquatic biology in general," De Stasio said.
De Stasio hopes to provide more scholarships and financial aid for interested students. The program is restricted to a single term for students' convenience. Students before the trip have to test how well they can identify 60 different fish, 40 corals, and 50 invertebrates.
It's still undecided where the next LUMP trip will go, but De Stasio said Lawrence will definitely consider returning to Bonaire.