Lawrence University alumni walked in the Parade of Classes, attended Alumni College sessions, shared meals, played games, celebrated the university's jazz program, presented class gifts, and talked of their shared love for Lawrence in a busy and festive four-day Reunion celebration that concluded Sunday.
Reunion 2023 brought nearly 800 alumni and friends to campus. More than 100 of those alumni were with the Class of 1973, the largest turnout ever for a 50th year reunion at Lawrence.
The alumni came from 37 states and 16 countries, representing five continents.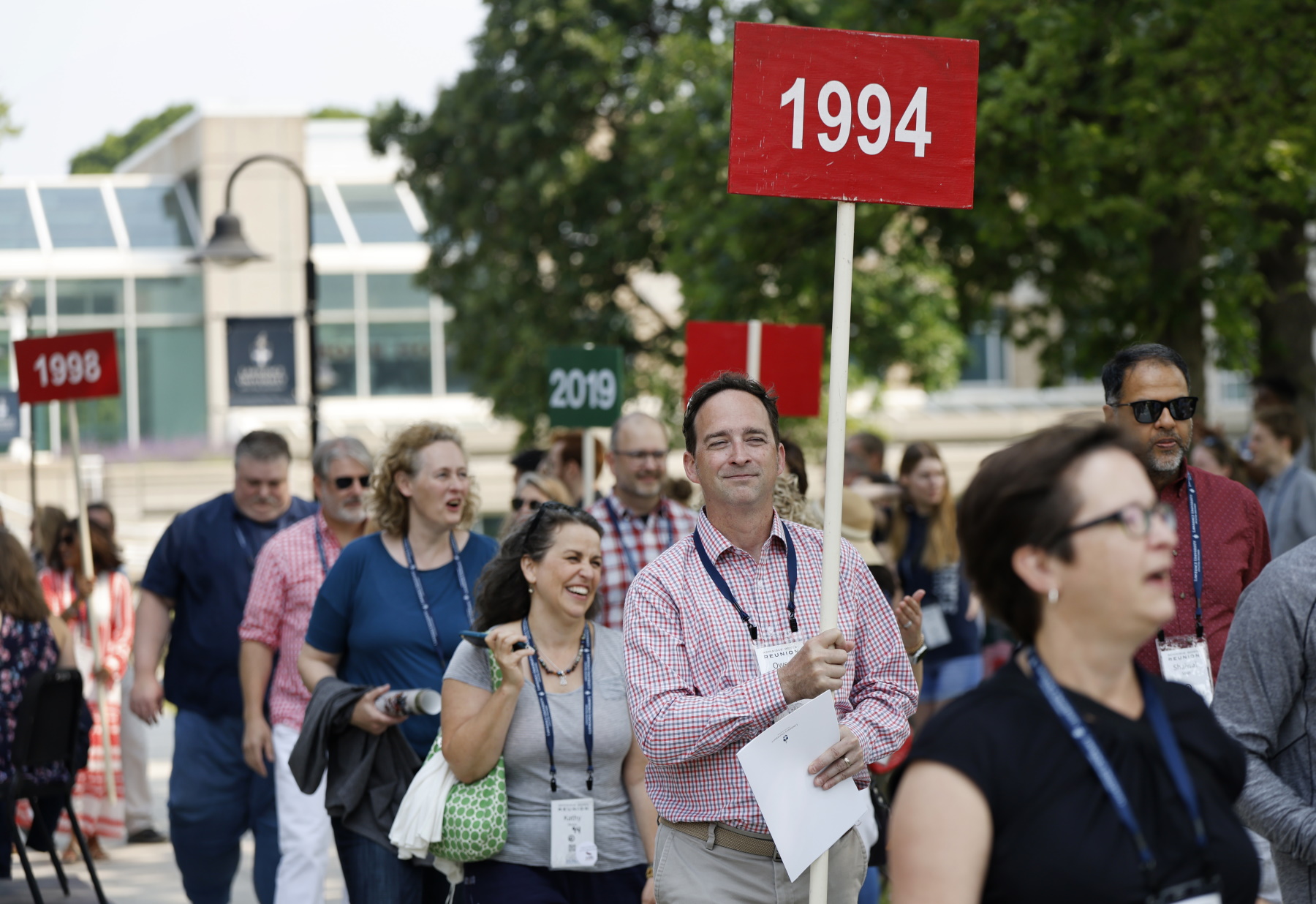 "As Lawrentians, we are fortunate to be part of a diverse, intellectual, and supportive community, and Reunion is a celebration of that community," said Matt Murphy '06, president of the Lawrence University Alumni Association (LUAA).
In a Convocation address, President Laurie Carter welcomed alumni home and thanked them for their ongoing commitment to Lawrence.
"We have become fond of the phrase Forever a Lawrentian," she said. "You have probably heard it often this weekend, and you'll hear it in the weeks and months to come. Forever a Lawrentian speaks not only to our shared love of Lawrence, which will, indeed, last a lifetime, but also to our collective responsibility to keep the Lawrence we love healthy and strong for current and future generations of Lawrentians. … It is your loyalty and love for Lawrence that imbues the spirit of Forever a Lawrentian and allows us to dream big as we build a strong, sustainable future for this university."
See photo galleries from Reunion 2023
Generosity at Convocation
The presenting of class gifts is a tradition that's part of the Reunion Convocation.
Led by a gift of $6.5 million from the Class of 1973, current and future pledges totaled $8.9 million. Those gifts help pay it forward to future generations of Lawrentians.
"One of the most rewarding aspects of my role is thanking Lawrentians for their investment in this university," Carter said. "Your time, talent, and resources make this university truly extraordinary.  Lawrence thrives because of your leadership and support."
The gift from the Class of '73 includes the endowing of a special fund to assist and support Native American and other Indigenous students at Lawrence. In conjunction with the gift, the class held a Saturday morning gathering in the Wriston Art Center Auditorium in which several Indigenous alumni talked about their journeys through Lawrence.
Breanna Skeets '12, who joined Lawrence's Board of Trustees in 2022, was among the Indigenous alumni speaking. She was born on the Navajo Reservation in New Mexico and came to Lawrence in 2008 from Utah. While she knew no one here when she arrived as a first-year student, she would find a home at Lawrence. She would go on to found and lead the student organization LUNA (Lawrence University Native Alliance).
"Lawrence really shaped me in the way that I found my community," she said.
Skeets said the special fund launched with the gift from the Class of '73 will help other Indigenous Lawrentians find community and a guiding hand at Lawrence.
"We have to create the space for all of our Indigenous students to thrive, and this special fund helps to do that," Skeets said. "Thank you for your support."
Celebrating the music of Fred Sturm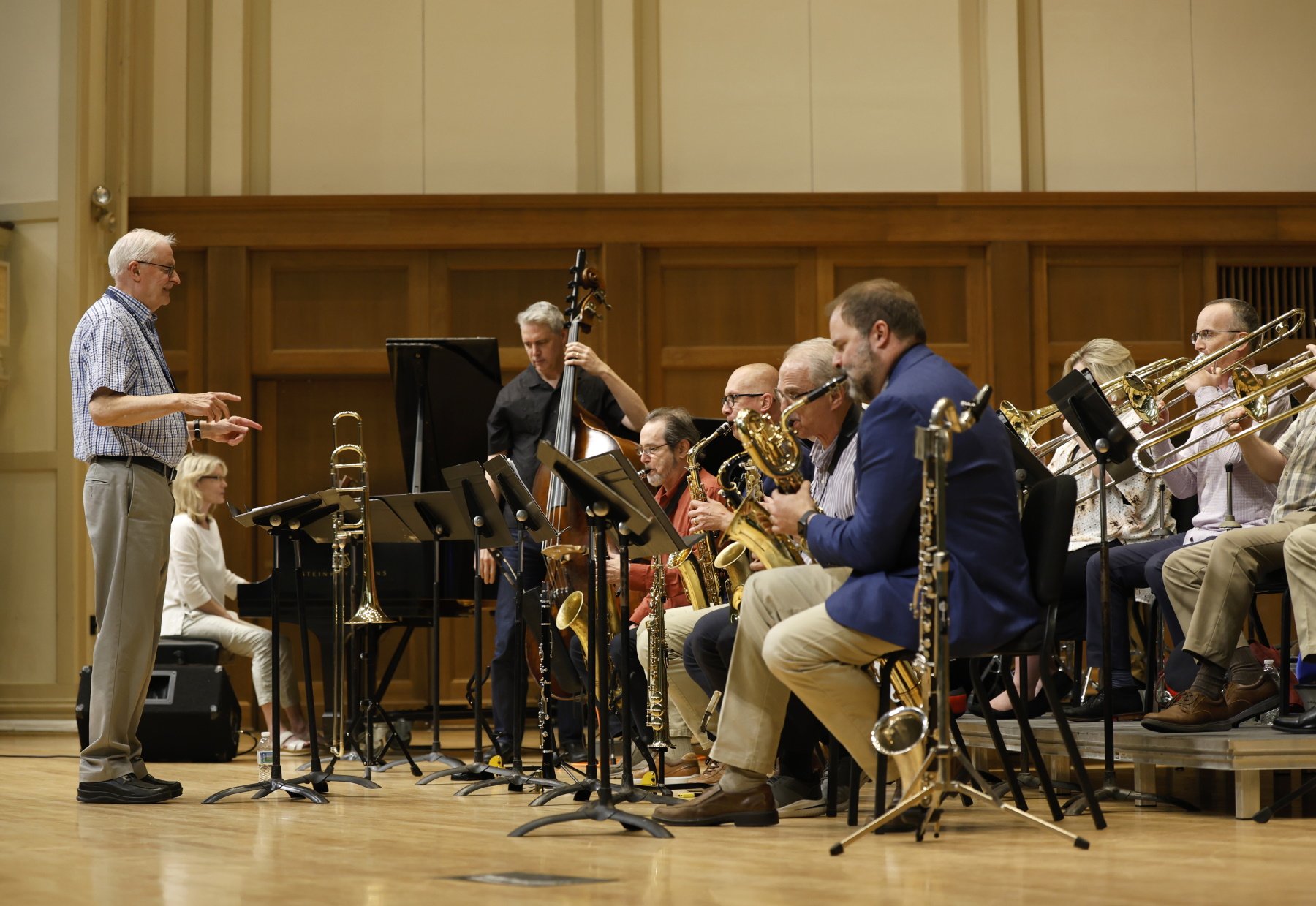 The Class of '73 also set out to honor a classmate, the late Fred Sturm '73, a composer and leader of Lawrence's jazz program until his death in 2014. Kurt Dietrich '73 took the lead in recruiting Conservatory of Music faculty and alumni to perform the music of Sturm in a big band concert in Memorial Chapel.
It was a tall task: Gather 17 musicians for a single rehearsal on Saturday morning and then present a concert three hours later. They pulled it off in spectacular fashion.
With Dietrich conducting, the band played 10 pieces composed and/or arranged by Sturm without missing a beat, all to the delight of a mostly full Memorial Chapel. The band featured five Conservatory of Music faculty—Patty Darling '85, Mark Urness, Dane Richeson, Tim Albright, and Jessica Jensen '10—and a dozen alumni or former faculty members, all of whom are or were music educators.
Brian Pertl, dean of the Conservatory, called it "an all-star jazz band."
"Fred is the guy who started jazz at Lawrence as a student," Pertl said. "But jazz at Lawrence, that seed he planted, both as a student and coming back as the director of jazz studies and teaching here for 26 years, he has created this lasting and enduring legacy. And Lawrence today, just as it was when Fred was here, is considered one of the great undergraduate jazz institutions in the country."
That legacy was celebrated Saturday in an inspired performance 50 years after Sturm graduated from Lawrence.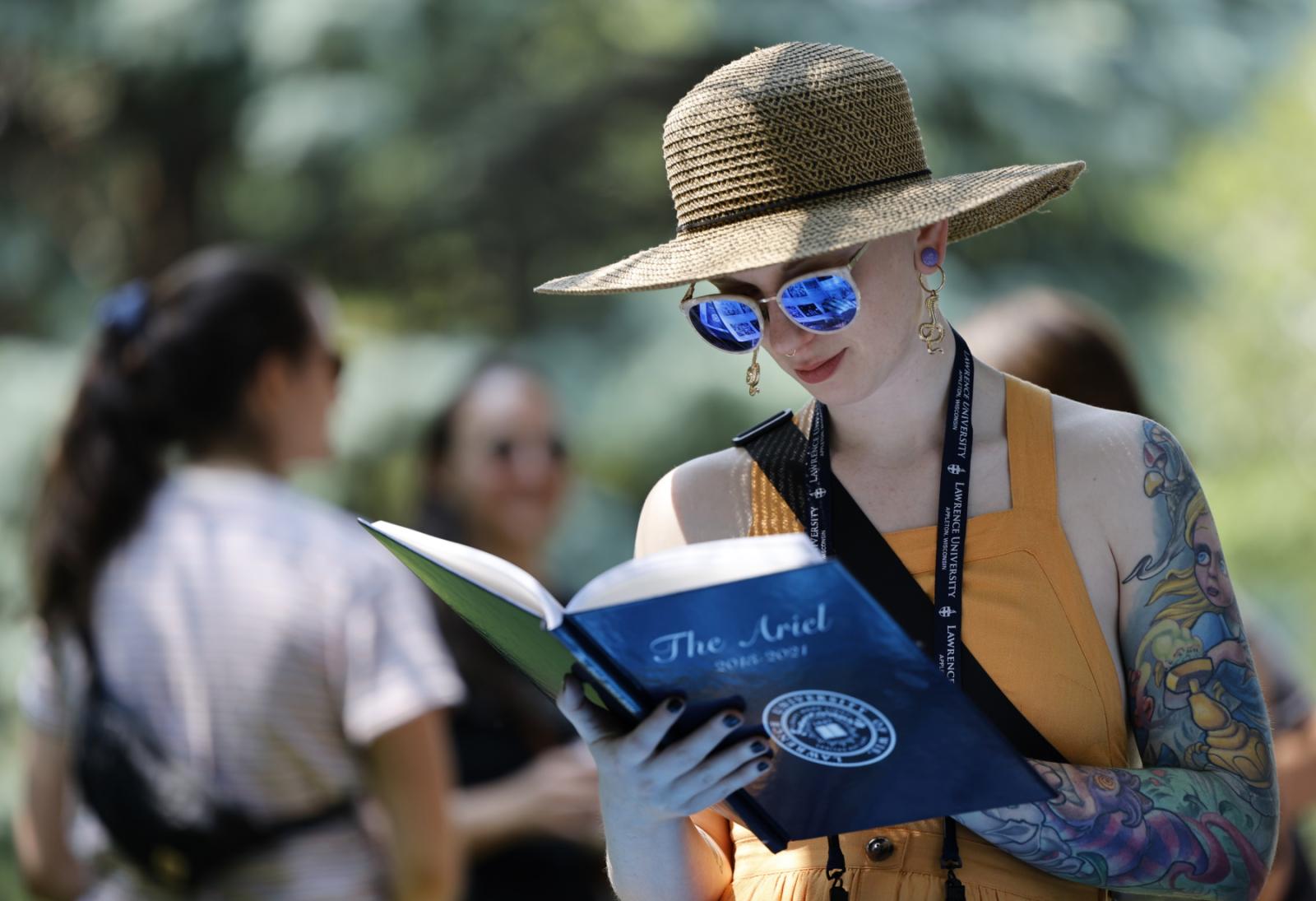 Lessons at Alumni College
Fourteen sessions of Alumni College were held on Friday, allowing Lawrence faculty and alumni to speak on topics of expertise and interest.
Gretchen Gerrish '98, director of the University of Wisconsin's Trout Lake Station Center for Limnology, spoke on sharing and explaining science through various media.
Gerrish talked about being featured in Attenborough's Life That Glows, the David Attenborough film on the world of bioluminescence. The 2016 film includes a look at the tiny ostracods in the Caribbean that have been a focus of Gerrish's research.
The film, a British nature documentary for BBC Television, drew a massive audience as it moved to various streaming services (it can still be found on YouTube). It explored the brilliant displays of light from the ostracods—during courtship and in matters of defense—and the scientific research that comes on dark, starry nights on coral reefs in the Caribbean.
Gerrish said there are benefits to scientists taking the time to collaborate with storytellers, whether that's through film, art, graphic displays, digital storytelling or elsewhere. Being able to translate the science beyond the academic world pays dividends in building understanding and respect for science, she said.
Gerrish also said she finds joy in continuing to work with Lawrence students who do research work at Trout Lake in northern Wisconsin. And she frequently speaks to students in Lawrence's biosciences courses.
"I always carry Lawrence with me," she said.
Discussion at other Alumni College sessions ranged from NATO expansion to genealogy to the Beatles.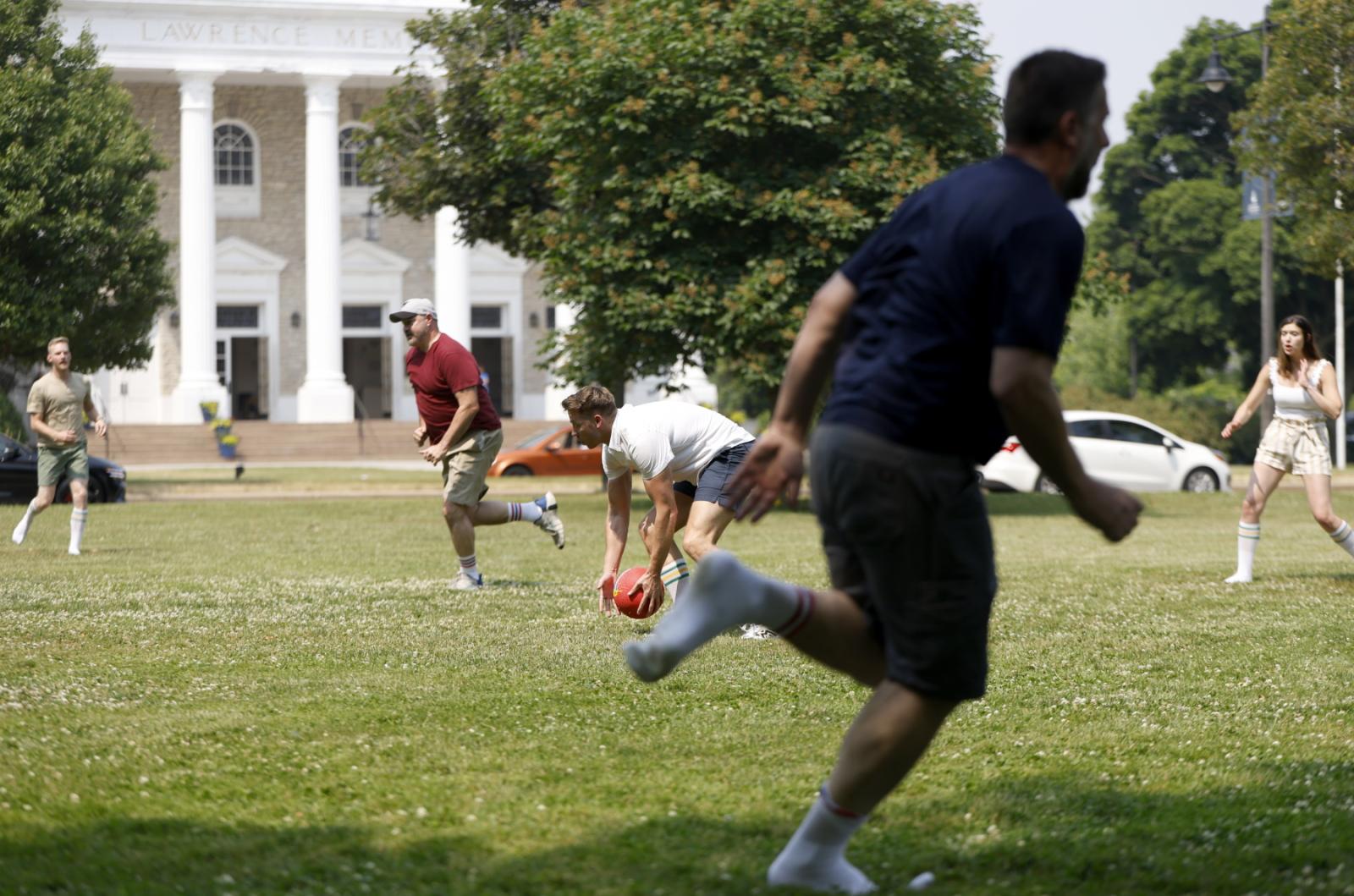 Honoring the Alumni Award recipients
Seven Lawrence alumni were presented with Alumni Awards during Convocation, including Shaun Donnelly '68, a retired U.S. ambassador, who received a special Presidential Award in honor of his career accomplishments in the U.S. Foreign Service and his decades-long commitment to Lawrence.
Alumni Awards recipients included: Louis B. Butler '73, Lucia Russell Briggs Distinguished Achievement Award; Louis S. Cornelius '68, Gertrude Breithaupt Jupp M-D'18 Outstanding Service Award; Regina Cornish Morales '17, Nathan M. Pusey Young Alumni Distinguished Achievement Award; Nebal A. Maysaud '17, Nathan M. Pusey Young Alumni Distinguished Achievement Award; Gail Page Cordry M-D'58, Gertrude Breithaupt Jupp M-D'18 Outstanding Service Award; John M. Wiesman '83, George B. Walter '36 Service to Society Award.
They were celebrated at an Alumni Awards Celebration Dinner at Hamar House on Thursday evening before being presented with their awards at the Saturday Convocation in Memorial Chapel.
"Alumni Awards reflect the college's deepest held values and are given to alumni who have made outstanding contributions and achievements in a career field, provided exceptional service to their alma mater, and have gone above and beyond to serve their communities on the local, national and international level," Murphy said.
Each of the recipients received a special medallion designed by Lexi Ames '17, a studio art and biology double degree graduate. The design was inspired by the original medallion presented in 1956 and celebrates the rich history and tradition of the awards.
Several of the award recipients also led talks at Alumni College sessions—Donnelly with an insider's view of U.S. foreign policy, Wiesman on providing national leadership in public health, including during the COVID-19 pandemic, and Morales on working in sustainability spaces.