A new economic and community impact study released Tuesday offers new data on just how significant Lawrence University's ties are to the community it calls home. 
The study from Appleseed, an independent economic consulting firm, shows Lawrence's annual impact on Appleton and the greater Fox Cities totals nearly $70.3 million — from employee earnings, goods and services, construction projects, off-campus spending and visitor spending. It also highlights how the liberal arts college's contributions to the community go well beyond economics, highlighting ongoing cultural and charitable relationships.
The first-time study, commissioned by Lawrence, details those deep ties between the school and the community. 
Nearly 200 leaders from Lawrence, area governments, and the business and nonprofit communities gathered on campus Tuesday for Lawrence's annual Report to the Community, which included the rollout of the study and the granting of an honorary Bachelor of Liberal Studies degree to Cathie Tierney, president and CEO of Community First Credit Union and a longtime community leader.
"The Appleseed study is a testament to how ideally situated Lawrence is here in the Fox Cities," Lawrence President Mark Burstein said. "It speaks to how tightly woven we are into the very fabric of this community. Lawrence is proud of that, proud of our deep roots in Appleton and the economic, cultural, charitable and intellectual contributions that come from our faculty, students and staff."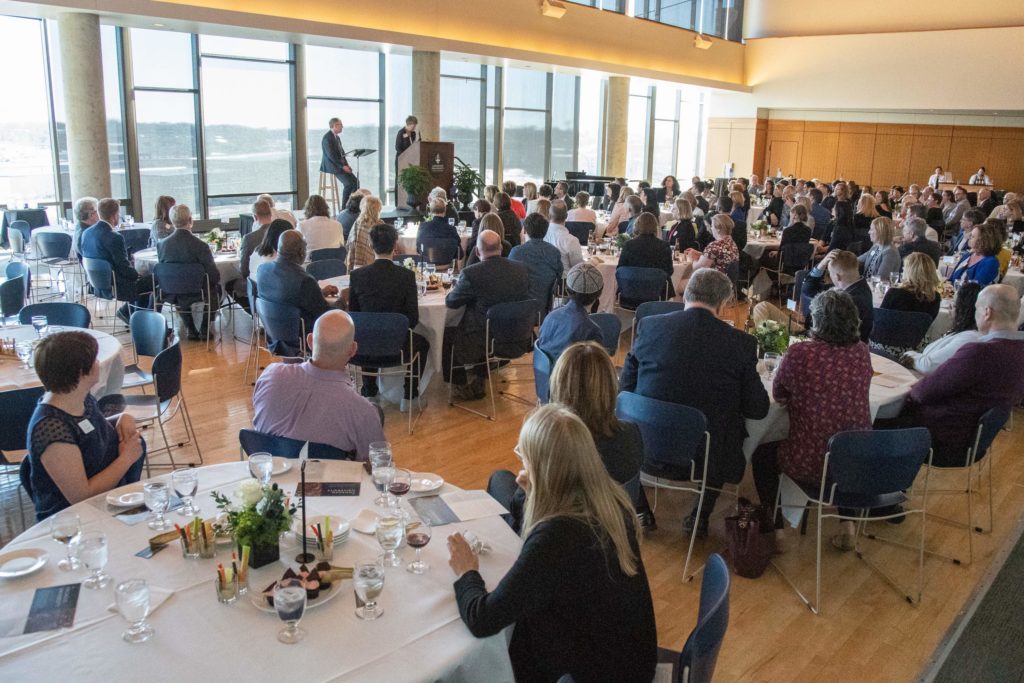 See a copy of the full economic impact report here.
The report estimates that in fiscal year 2017, Lawrence, its students and visitors directly and indirectly accounted for 1,059 jobs in the Fox Cities region, with earnings totaling $44.1 million, and nearly $70.3 million in regional economic output.
The fortunes of Lawrence and Appleton have forever been intertwined. After all, Lawrence and Appleton have grown up together, Lawrence having been founded in 1847 and Appleton incorporated six years later. The new village — it would become a city in 1857 — was named for the wife of the school's founder, Amos Lawrence. Her maiden name was Appleton.
The new study demonstrates just how significant those ties remain and how important the relationship is going forward.
Pastor Mahnie, executive director of B.A.B.E.S., a nonprofit child abuse prevention program, was among the speakers embracing the connections between Lawrence and the community.
Lawrence is a host site for the Funding Information Network and provides workshops for area nonprofits to help them pursue needed grants. It's an important piece of the puzzle that allows nonprofits to do their work.
"Your willingness to not only house the Funding Information Network, but to also host free workshops to educate us on how to utilize the database and improve our grant-writing skills is invaluable," Mahnie said.
"Thank you for the access. Access gives us knowledge. Access leads to progress. Access to the Funding Information Network is vital for the work of serving our community.
"Lawrence University, the Oshkosh Area United Way, United Way Fox Cities and the Community Foundation for the Fox Valley Region, thank you for helping us to feed the hungry, to clothe the naked, to rescue the lost, to give hope to the hopeless, to diaper their infants, to educate the young and inexperienced parents, to tutor their children, to supplement their household cleaning and personal hygiene items, and the list could go on and on. Because of you, because of your generosity, because of access, we, the nonprofits of the Fox Valley, we can accomplish our mission to serve." 
Economic impact studied
The economic data provided in the Appleseed report shows just how significant the Lawrence footprint is in the Fox Cities. Among the notable numbers:
886 Lawrence graduates live and work in the Fox Cities (5% of area residents with a bachelor's degree are Lawrence graduates).
$1.44 million in financial aid is provided to LU students from the Fox Cities.
605 faculty and staff are directly employed by Lawrence, with a payroll totally nearly $29.9 million. The earnings of faculty and staff employed full-time averaged $58,240 in 2017.
$1.4 million was paid to contractors and vendors in the Fox Cities for various construction and renovation projects in 2017. Another $2.2 million went to contractors elsewhere in Wisconsin.
Lawrence is a residential liberal arts college with an enrollment of about 1,500. During the 2016-17 academic year, Lawrence provided $36.9 million in financial aid from its own resources.
The school's impact on the community goes far beyond economics, the study says.
Faculty, staff and students have ongoing relationships with 100 agencies and organizations in the Fox Cities. Nearly 10,450 hours of community volunteer work was reported in the 2016-17 academic year.
Nearly 1,500 children across the Fox Cities participate in the Lawrence Academy of Music, a division of the Conservatory of Music.
Lawrence plays a major role in the arts community in the Fox Cities. The Conservatory features upwards of 20 performances throughout the year by internationally recognized artists. Three convocations a year bring in nationally recognized speakers. The Wriston Art Gallery presents about 10 art exhibits a year. All are open to the public. 
The Warch Campus Center has become a popular location for booking community and corporate events, as well as weddings and other celebrations.
Lawrence has worked closely with local leaders in efforts to make Appleton and the Fox Cities a more welcoming and inclusive community for people of all backgrounds.
"Lawrence and the Fox Cities are forever linked," Burstein said. "Progress for one is progress for the other, and neither of us can afford to rest on what we've already accomplished. We share similar goals, including the need to attract and retain talented employees and students. That means ensuring that our communities offer people from diverse backgrounds attractive and welcoming places to study, live, work, build careers and have families. We can never relent on those efforts."
Honorary degree to Tierney
Tierney, meanwhile, was honored for her long and distinguished leadership in the Fox Cities. She studied at Lawrence before embarking on her career. 
"I'm astonished, delighted and humbled at this amazing honor," she said.
Tierney has been with Community First Credit Union since 1976 and has held multiple executive officer positions, spending much of her career as vice president of marketing and branch operations. In 1993, Tierney graduated from the first CU Executive Leadership Program at the Stanford University Graduate School of Business and was named president/CEO of Community First in 1994. 
She had attended Lawrence for a year before leaving school for family reasons. Despite the success she would later find in the business world, she said that decision to leave school has always haunted her. But she maintained a strong relationship with Lawrence as she became a community leader.
"We all know of Lawrence's incredible academic rigor, the quality of the faculty and the enriching experience gained through an education at Lawrence University," she said. "As a lifelong citizen of Appleton, I have seen first-hand the significant contributions that Lawrence University, its staff and faculty and graduates have made in our community, our state, our country and our world."
To now get an honorary degree — and to be called a Lawrentian — is humbling and moving, she said.
"Through this process I have learned, there is no right path, only your path," she said.