Mile of Music returns to downtown Appleton Aug. 4-7, the ninth launch of the popular all-original music festival, and with it comes ongoing partnerships with Lawrence University—expanded performance spaces on campus, interactive Music Education sessions, and musical performances by Lawrence alumni.
Mile 9 will run Thursday through Sunday, featuring more than 700 performances at 40-plus venues. Lawrence will be in the middle of it all, as it has been since the festival's debut in 2013.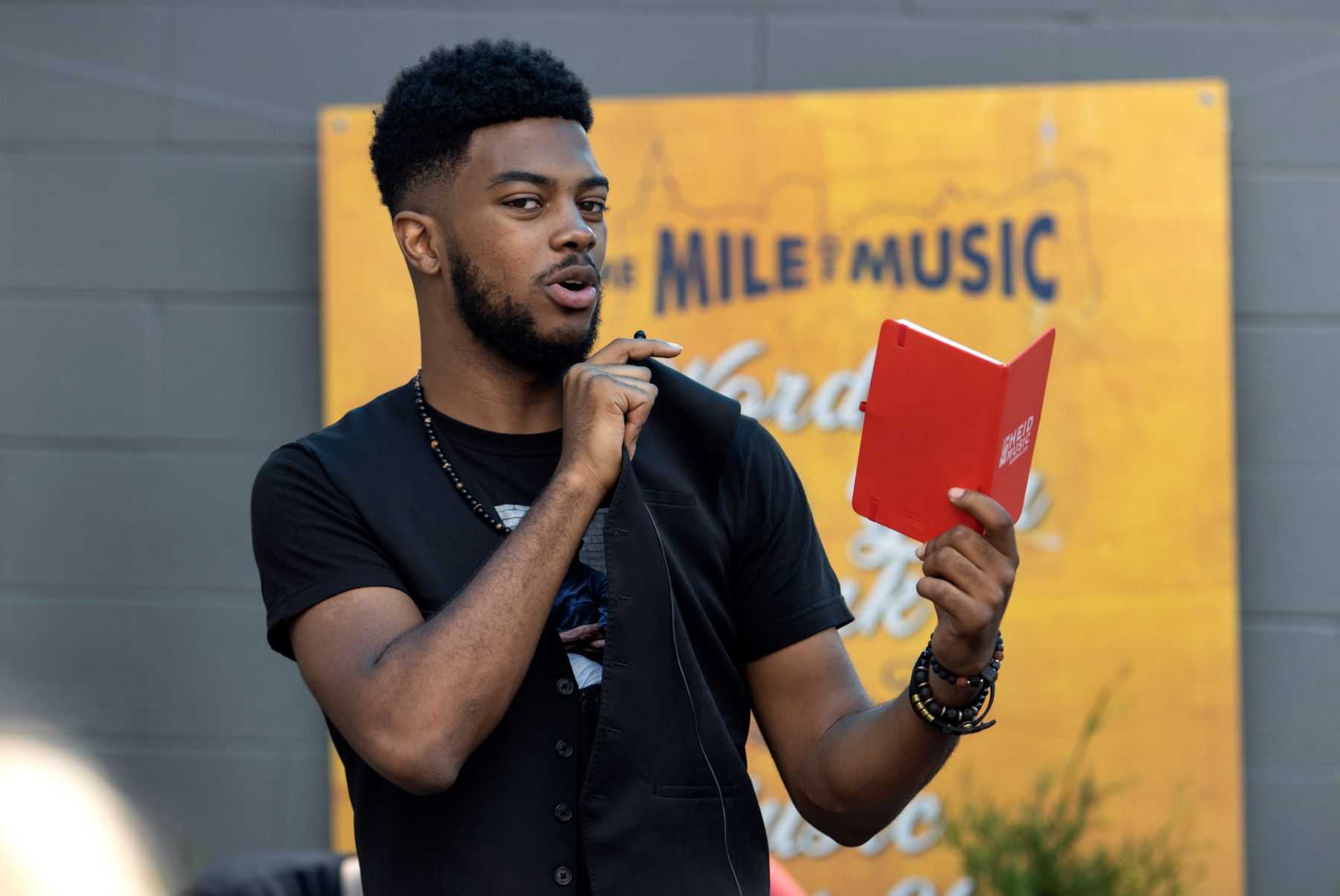 Music on campus
Lawrence is on the east end of the mile-long stretch of College Avenue that encompasses the festival, with performances happening inside in Memorial Chapel and outside on the lawn in front of Ormsby Hall. The latter has been expanded into one of the festival's outdoor main stages.
Memorial Chapel will be the site of 26 performances over the four days, beginning with a Decoda Chamber Music Festival concert at 11 a.m. Thursday and ending with the traditional Cory Chisel-hosted A Song Before We Go farewell at 5 p.m. Sunday. You'll find music on the Chapel stage almost continuously from noon to about 10 p.m. each day.
The outdoor stage, meanwhile, dubbed the Lawrence Lawn Main Stage, will feature 21 performances, beginning with Beth Bombara at 6:10 p.m. Thursday and ending with The Astronomers at 4:05 p.m. Sunday. The stage will feature Porky's Groove Machine, a popular Mile of Music mainstay with deep Lawrence roots, at 5:55 p.m. Friday.
Two other Lawrence spaces will be in play for Music Education events. The green space outside the Chapel, called the Lawrence Conservatory Green, will host multiple interactive music events on Friday, Saturday, and Sunday. And The Grove, the green space just north of Brokaw Hall, will be the site of two Music Education events on Friday.
Search for shows by date, venue, or artist at Mile of Music
Music Education Team
Speaking of those interactive events led by Lawrentians and friends, look for a full slate to be available Friday through Sunday, open to all ages. In addition to spaces on campus, you'll find Music Education Team (MET) events sprinkled throughout the festival, inside and out, beginning at 10 a.m. Friday and Saturday and 11 a.m. Sunday. You'll find everything from ukulele lessons to South Indian dance to hip hop tutorials to Brazilian samba drumming.
Leila Ramagopal Pertl '87, music education instructor in the Conservatory and MET curator, once again is leading the team of teaching artists, many of them Lawrence faculty, students, and alumni, teaming up with MET Director of Operations Jaclyn Kottman Hitter '12.  Upwards of 30 members of the MET and guest artists will be leading or assisting in the sessions aimed at instructing and inspiring anyone wanting to make music or otherwise be creative. 
"Our team has always been made up of people who are not afraid to be beginners: professional educators, pre-service teachers, music education professors, community musical culture bearers—all of whom come to this festival knowing they will learn more than they will teach; that putting the teaching hat on, assuming the role of the teacher, is one of privilege, immense responsibility, personal growth, co-creation, community transformative engagement, and, most importantly, love," Ramagopal Pertl said.
See descriptions of all of the Music Education Team workshops
The Music Education Team features some new, or expanded, collaborations this year.
Ewe, Mariachi, and Bharatanatyam art forms will be showcased at the Fox Cities Performing Arts Center from 11 a.m. to 3 p.m. Friday and Saturday. It'll be led by Nani Agbeli, N

é

stor Dom

í

nguez, and Lavanyaa Surendar. "I am really excited about the chance for our community members to be on that stage, to demystify it, to contribute to it, and to learn in community with others," Ramagopal Pertl said.

The Music Education Team also will partner with NAMI Fox Valley, bringing a taste of Mile of Music to Iris Place, a respite site on Appleton's east side for any adult dealing with emotional distress or crisis related to mental health. Facilitated by Betsy Kowal Jett, Sprig of That, and Bailey Poesnecker Newman '16, this three-day collaborative arc will focus on personal empowerment through individual and community creativity via Deep Listening and other musical and co-creative practices.

Building For Kids will partner on a Music Maker Explorer Camp, with kids learning dance steps they will then teach to other young festival-goers.
Showtime for alumni
You will find a number of Lawrence alumni performing their music during the festival. Among them:
Porky's Groove Machine: The Minneapolis-based band that is as goofy as they are talented got their start at Lawrence in 2011. They continue to make frequent return visits to Appleton. Band members coming back include Matt Lowe '14, Nick Allen 14', Marshall Yoes '14, Eli Edelman '15, Shasta Tresan '17, and Ilan Blanck '17. Yes, there will be costumes. Porky's will be on stage for three performances—7:30 p.m. Thursday at Emmett's outdoor stage, 5:55 p.m. Friday at the Lawrence Lawn Main Stage, and 11:10 p.m. Saturday at Hilton Paper Valley Ballroom.

Sprig of That: When not jamming with Porky's, Blanck is a member of Sprig of That, also featuring alum Isabel Dammann '17 and Krissy Bergmark. The tabla, violin, and guitar trio will make their Mile of Music debut, with shows at noon Thursday at the Bose Listening Lounge in the Hilton Paper Valley, 1:20 p.m. Friday at The 513, and 1:35 p.m. Saturday at McGuinness Irish Pub.

B. Lilly (Bernard Lilly Jr. '18): He's performing with the Decoda Chamber Music Festival, which also includes Kate Kilgus '18. Check it out at 11 a.m. Friday at Hilton Paper Valley Ballroom. Lilly also is assisting the Music Education team, hosting collaborative song-making sessions at Heid Music at 2 p.m. Friday and 10:40 a.m. Saturday.
"Coming back to Mile is like coming back home for Porky's," Blanck said. "It's where we've had some of our funnest, funniest, and funkiest shows. It continues to amaze us how silly people are willing to get every first weekend in August in Appleton. We'll keep coming back to Mile as long as we can."
Decoda collaborations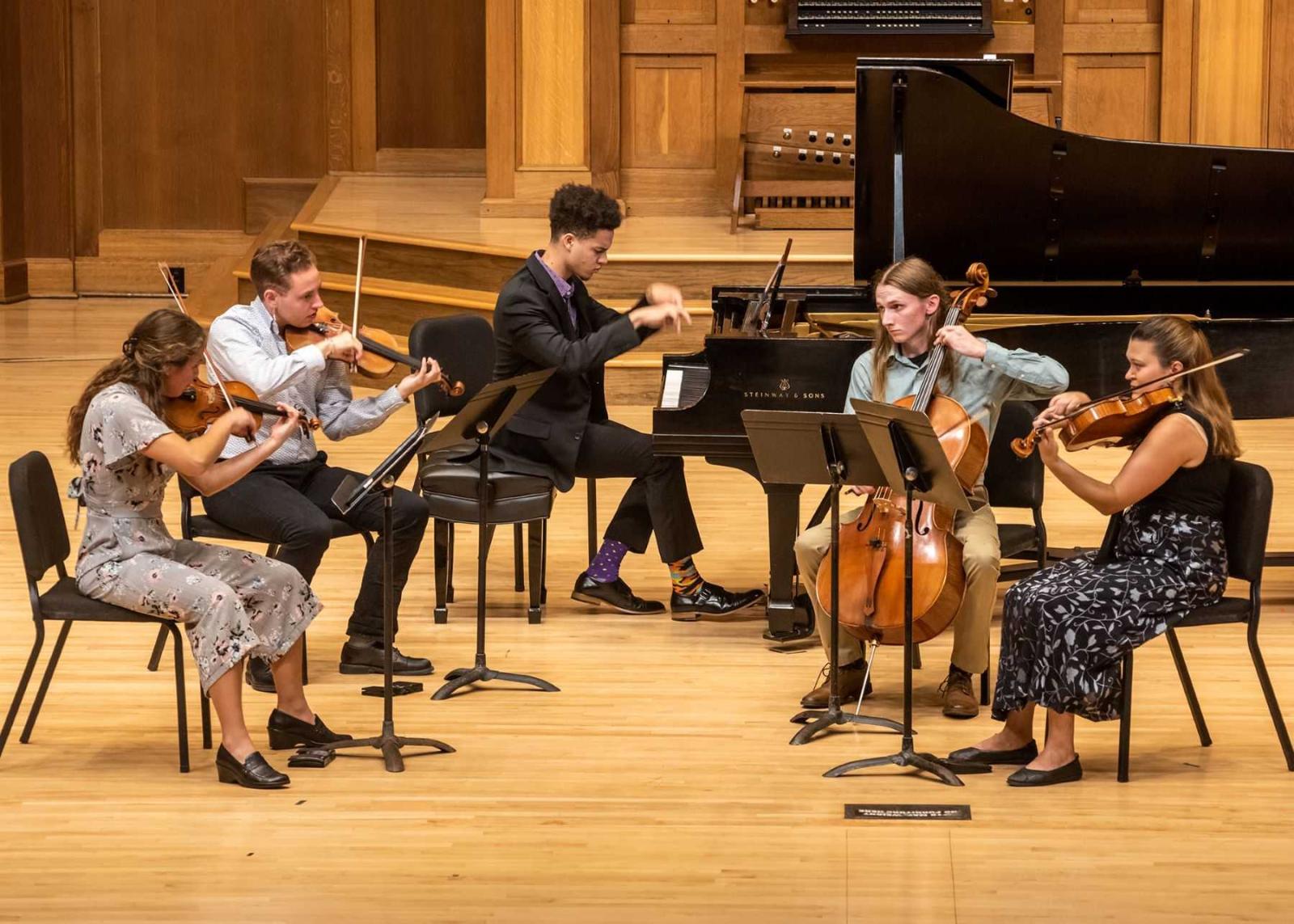 As the Decoda Chamber Music Festival rolls into its second week, the focus turns to collaborations with Mile of Music. The two-week festival, in its second year being hosted by Lawrence, featured multiple performances last weekend; the music continues with four Mile of Music performances on Thursday and Friday. They include:
11 a.m. Aug. 4: Decoda in Concert, Memorial Chapel

11 a.m. Aug. 5: Young Artists featuring B. Lilly, Hilton Paper Valley Hotel

1 p.m. Aug. 5: Young Artists featuring Adriel Denae, Riverview Gardens

3 p.m. Aug. 5: Young Artists featuring Wade Fernandez, Heid Music
The Decoda Chamber Music Festival is a two-week immersive music program for 30 college-aged musicians from around the country. Now in its ninth year, it relocated to Appleton a year ago and is presented by the Lawrence Conservatory of Music and the musical collective Decoda.