Lawrence University is introducing a new Statistics and Data Science minor in the fall, strengthening the school's offerings in an academic area that is increasingly in demand in today's job market.
While the minor is housed in the mathematics department, it will be evident very quickly that this is not just for math and computer science majors. Departments all over campus have been tapping into emerging trends in statistics and data analysis in recent years, spotlighting the interdisciplinary strengths of data science and its role in a liberal arts curriculum.
"Data scientists are working with bioinformatics, genetics; it's huge in economics, and it's become a huge thing in political science," said Andrew Sage, an assistant professor of statistics who came on board a year ago and has helped bring the new minor to fruition.
See details on new statistics and data science minor here.
The hiring of Sage in the fall of 2018 was followed by the hiring of Abhishek Chakraborty, another assistant professor of statistics, in the fall of 2019. That put the faculty pieces in place to add key new courses in machine learning, Bayesian statistics, and advanced statistical modeling, among others, elevating the program significantly. The new minor recently got faculty approval, setting up a launch in the 2020-21 academic year.
"There's really an interest across campus in using data to draw conclusions and make decisions," Sage said. "By bringing in a second statistician and allowing us to really grow our program and teach more classes specifically to that area is really going to open up a lot of opportunities for collaboration across departments, and help us to better prepare students to apply statistical analysis and data analysis in their own areas."
A 2019 report from LinkedIn showed a 56% year-to-year jump in data science job openings in the United States. TechRepublic.com listed data scientist as the No. 1 tech-related job in terms of openings and potential for advancement. All indications point toward continued growth as data scientists are sought in a wide range of fields.
At Lawrence, growing the statistics and data science offerings adds an important layer to the curriculum for students looking at options in a fast-changing job market, said Provost and Dean of Faculty Catherine Gunther Kodat. Practical and pragmatic learning intersects here with the power of a liberal arts education.
"The new minor gives our students the unparalleled opportunity to connect modes of quantitative analysis with the distinctively thoughtful, broad-based approach to learning that is characteristic of a Lawrence education," she said. "Bringing together the training in critical thinking and effective communication fundamental to liberal learning with the keen numerical acumen that is foundational to so many 21st-century careers makes for a uniquely flexible set of skills that will leave our students well-equipped for life after Lawrence."
Chakraborty said the potential to grow such a program was what drew him to Lawrence. The demand from students, in and out of the math program, has been evident since the day he stepped on campus.
"I have had students asking me about the minor, and it's really encouraging to see their interest," he said.
Two new courses were launched this year with the arrival of Chakraborty, and two additional courses will launch next year. Other courses—some in the math department and some in other departments—will be developed in the coming years. All that has the two new statistics professors grinning ear to ear.
"Our new courses filled up very quickly," Sage said. "I think there's definitely a demand, so the chance to come in here and contribute to that was a really big draw for me."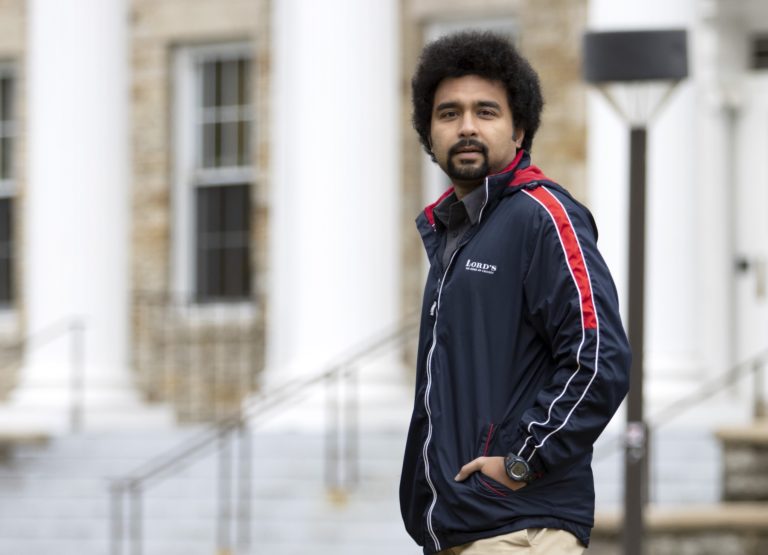 Current Lawrence students can switch into the new minor depending on where they are in their academic journey and which courses they've already taken. A handful of students could arrive at their 2021 graduation with a data science minor in hand. The number is expected to grow significantly in the years to follow.
"The field of data science is changing so rapidly that I expect this will be a minor that will continue to evolve and adapt to the needs of the students," Sage said.
That brings us back to its fit in a liberal arts curriculum. Professors from departments across campus provided input to the creation of the new minor because of the prospects it holds for so many students.
Israel Del Toro, an assistant professor of biology, was among those actively working with the mathematics faculty to create the minor. Giving biology students stronger quantitative skills does nothing but widen their career opportunities.
"The biological sciences are increasingly using big data and novel computational technologies to tackle big questions about ecology, evolution, and health, just to name a few examples," Del Toro said. "By offering a data science minor to our students, we are preparing them with a marketable skill set that is broadly applicable regardless of what biological subdiscipline they choose to pursue."
Gathering data is only one part of the equation, of course. A good data scientist needs to be equipped with the ability to analyze that data, to communicate its significance, to understand the context of the data, to work as part of a team, and to make ethical decisions of how and when that data is shared, Sage said.
"Data numbers by themselves are meaningless if you don't have an understanding of the context and the domain," he said.
"I think this is the perfect place to be introducing data science as a minor," Sage said. "It really does incorporate so much, and you really do need to be able to think in so many different ways. I don't see any better place to engage in that kind of thinking than in a liberal arts environment."