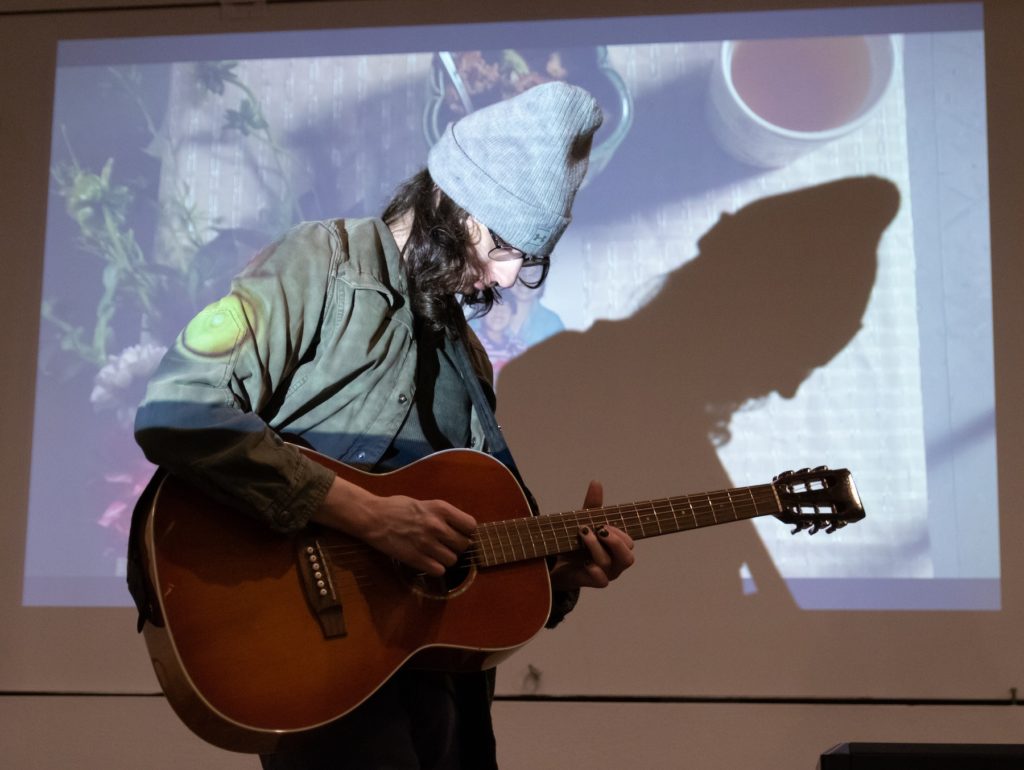 If you've ever talked to Lawrentians about their relationship with the Appleton community, you've probably heard a reference to the "Lawrence bubble." In the Lawrence University lexicon, the term refers to campus as its own world in which some students may feel a disconnect from the surrounding community.
Emily Austin '20 challenged this sentiment by starting Pop the Bubble.
Twice a month, this student-run program puts together an evening of various artistic performances by Lawrence students at The Draw, a multipurpose venue located along Lawe Street just a short walk south of campus. Each event centers around a theme chosen to spur conversation and build relationships between students and community members.
"Creating that open space and communication is the main goal of this project," Austin said. "I think we often get stuck in the bubble, yet we have so much to learn from the community and they have so much to learn from us."
Austin, a double major in music performance (voice) and English, was inspired to pop the bubble last spring when she took American Roots Music, a Conservatory of Music course co-taught by Grammy-nominated musician Cory Chisel and Dean of the Conservatory Brian Pertl. Students in the class bonded through writing and performing their own American roots music.
It was the students' final performance at The Draw that inspired Pop the Bubble. Organizers at the venue invited the Lawrentians back to perform any time they wanted for free. A new door into the Appleton community was opened, and Austin jumped at the opportunity.
"I thought, 'This is so cool, we have to do this,'" Austin said. "It would be an opportunity to bridge the gap between Appleton community artists and Lawrence University artists. It would also give musicians on campus a space to perform and feel comfortable outside of the Con and campus spaces."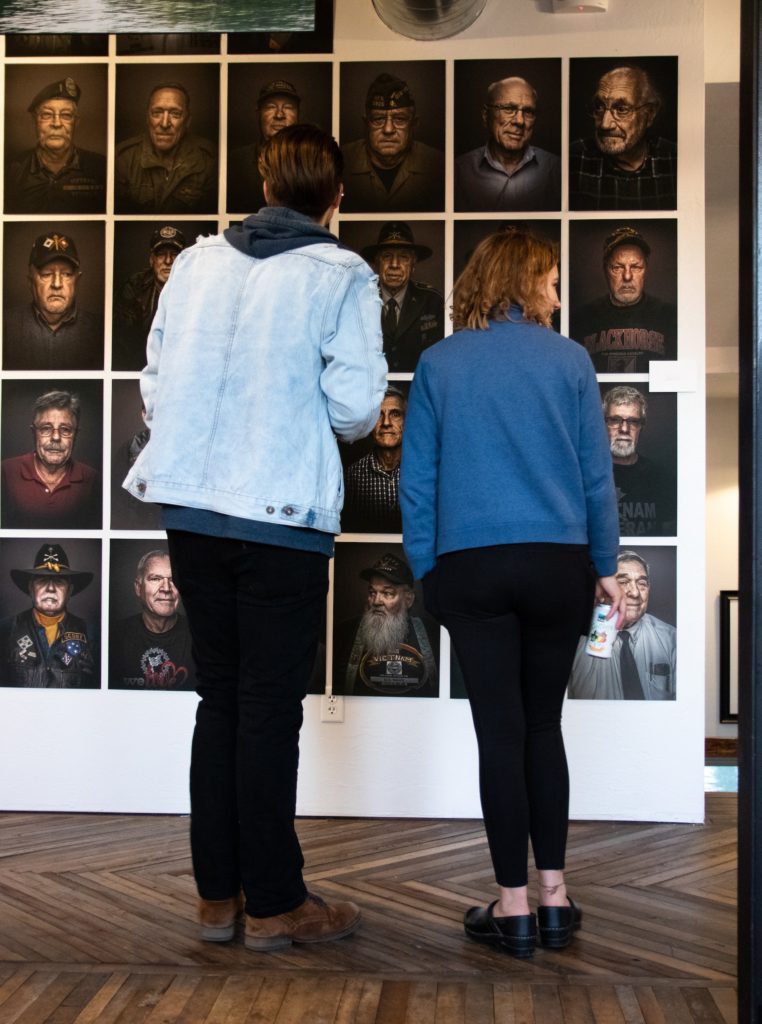 The first Pop the Bubble show resembled an open mic night where Lawrence students performed for a local audience. The shows have since developed to focus on a theme that unites performers and audience, Lawrentians and community members alike. The most recent show, Stories of Home, asked all to share their personal experiences and memories from home. Performances included spoken word, music and film. Audience members wrote and drew their stories from home on Post-it notes that were collected at the end of the night; just one of the ways Pop the Bubble works to collaborate and connect with the people of Appleton.
The Pop the Bubble team has grown to include student artists of many disciplines, including a dancer, a visual artist, and creative writers. And it's not just students who are interested. Community members, especially local artists, have reached out to the Pop the Bubble team expressing a desire to work with Lawrence students.
"The community we've found here has been so welcoming and excited about the project," Austin said. "There's a desire to get our students out and working and making those connections.
"I think if the Appleton community knew about what we were doing on this campus, especially in the Con and in the arts, there would be a little bit more acceptance of each other. It would become a way to share those ideas and collaborate on a human level."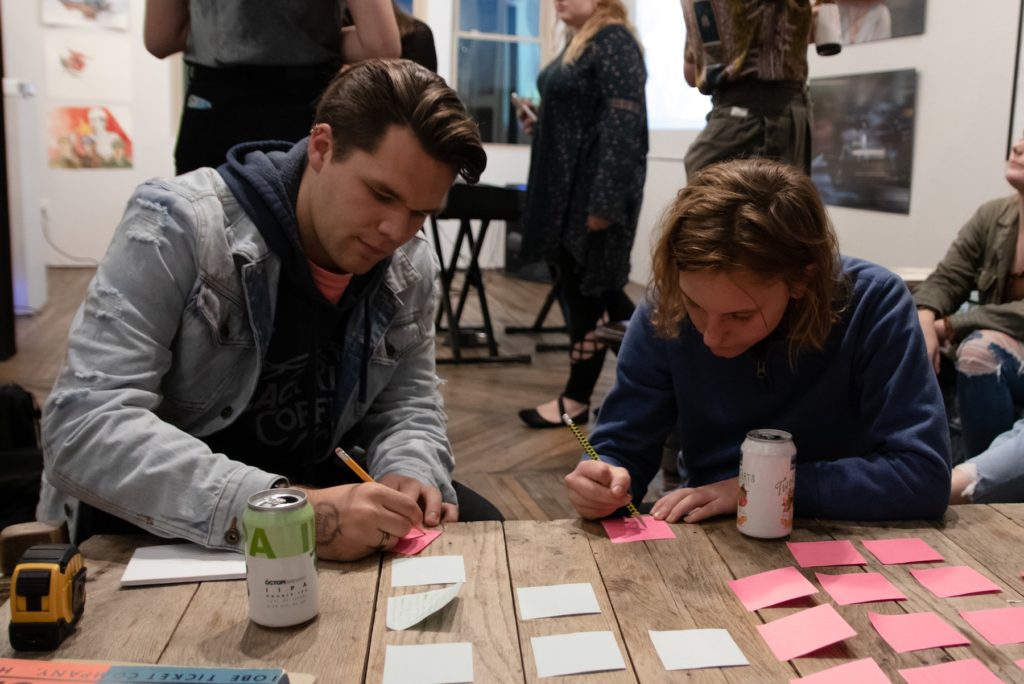 Singer-songwriter and theatre major Caro Granner '20 has been on the Pop the Bubble team since the beginning.
"When I came in, I felt this really warm, inviting energy," Granner said of the Stories of Home event during fall term. "People were able to come together and enjoy each other's company and create some really cool stuff together. To feel that welcoming, joyful energy at the end of a long week was really rewarding for me."
Austin and Granner hope to increase student involvement with Pop the Bubble and expand their efforts, including doing fundraising for local nonprofits and arts groups.
Pop the Bubble will schedule its next event in winter term.