Eleven teams of college students came to The Pitch at Titletown Tech in Green Bay on Thursday with entrepreneurial dreams. Three, including one from Lawrence University, walked away with cash and a pledge of in-kind services to help launch those dreams.
Students from the University of Wisconsin-Oshkosh, Lawrence University and St. Norbert College took the winning slots in the third annual "Shark Tank"-type competition. Other schools represented at The Pitch included the University of Wisconsin-Green Bay, Fox Valley Technical College and Moraine Park Technical College.
This marked the third straight year Lawrence had a team finish among the prize winners. In the previous two years, Lawrence students took first place. 
Entrepreneurial spirit alive and well at Lawrence
Innovation & Entrepreneurship as an interdisciplinary concentration at LU
Hamza Ehsan '20, a computer science student from Lawrence, took second place, walking away with $7,500 in cash, plus in-kind services. His pitch before a panel of judges and an audience of mostly business executives was for EVSmart, an app that would be a resource for drivers of electric cars, creating a network of shared charging stations.
Ehsan said his electric car initiative is going to happen, hopefully by fall. He and two partners are hoping to raise at least $35,000 by September. The $7,500 from The Pitch will help, as will monies coming from similar competitions at the Massachusetts Institute of Technology and the University of Massachusetts.
"We've been through a couple of these," Ehsan said. "At MIT, we got to the finals, and we're currently in the finals at the University of Massachusetts. I think we've grown up as a company. We've grown up as entrepreneurs."
Among other things, EVSmart would foster a community of electric car users who would market their charging stations similar to how living spaces are marketed via Airbnb.
"This is definitely happening," Ehsan said of the planned business launch.
This was the third year of The Pitch, a collaborative effort organized by the participating schools and supported in part through an array of business sponsorships. Each of the schools held their own competitions to determine who would compete in The Pitch. Five of the schools sent two teams, while Moraine Park entered just one.
Besides the panel of judges, the students were pitching in front of a live audience, mostly regional business executives on hand to scout both business ideas and talent. That's a win for the students and a win for local businesses.
"It's highlighting innovation, but it's also highlighting students in the Midwest," said Gary Vaughan, coordinator of Lawrence's Innovation and Entrepreneurship Program and a lecturer of economics. "It says, 'hey, we've got some bright students in our market here, and we'd like to keep them in our market.'"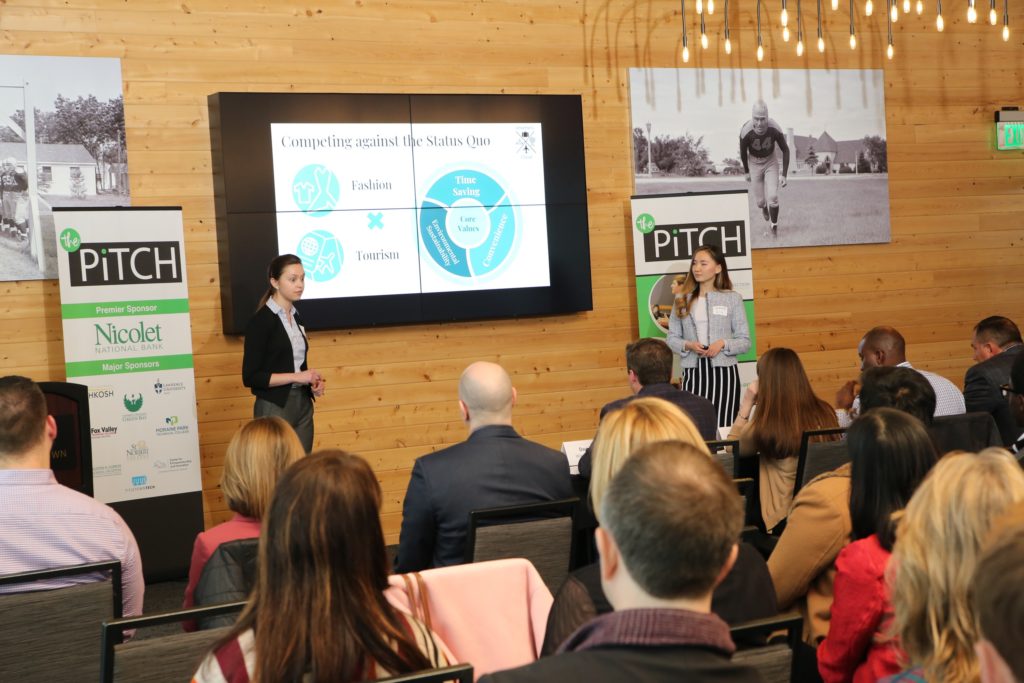 Lawrence's second team at The Pitch featured Emma Liu '19, studying ethics and public policy, and Katie Kitzinger '20, studying chemistry. They pitched Jetsetter's Closet, a company that would rent fashionable, brand name clothing to female travelers. It would begin in Paris and possibly expand to other destination cities. 
Liu said the idea stemmed from her frustration with having to lug around so many bags when traveling internationally. With Jetsetter's Closet, a fashion-conscious client would arrive at her hotel with a week's worth of stylish clothes already there.
"We wanted to find a very niche market where we could get started," she said of the decision to focus on women in Paris.
They didn't win, but the experience of The Pitch was invaluable, Liu and Kitzinger said.
"This is really interesting for me because until this fall I wasn't even thinking about doing anything entrepreneurial," Kitzinger said. "And then we got together and started talking about the Jetsetter's Closet idea and The Pitch. This has been such a great way to get experience, just getting up in front of people and telling them about an idea."
Daniel Salazar, a sophomore business management student from UW-Oshkosh, took first place and a prize of $10,000 in cash and $15,000 of in-kind services. His pitch was for a product called Pack-It, a small circular package holding plastic bags for disposing of dirty diapers or a dog's messes. The package is designed to be small enough to be carried in a purse, backpack or coat pocket.
Salazar, who is from Appleton, said he joined a couple of partners who already have a patent and are preparing to launch a business.
"They showed me the idea for Pack-It, and I said, 'Oh, that's a huge opportunity,'" Salazar said. "I said, 'I don't want to work for you, I want to work with you.' So, that's where the relationship started, and I joined the team."
Third place went to Breena Hansen, a business administration student from St. Norbert. Her pitch was for Clean Comfort Food Delivery, a business that would prepare and deliver healthy meals to clients. She won $5,000, plus in-kind services.