Sprig of That, an acoustic folk music trio featuring a pair of Lawrence alumni, is fresh out of Nashville after recording a debut album, bloom, with a noted producer and a Grammy-winning engineer. It's set to be released Feb. 10. This is the story of how Lawrence led them to this moment.
"I feel like I owe everything I know about music to my time at Lawrence," said Sprig of That guitarist Ilan Blanck '17. "I cannot imagine who I would be as a musician or as a person if I had not gone to Lawrence."
Blanck and violinist Isabel Dammann '17 met during Welcome Week their first year, and they went on to share numerous musical experiences before graduating in 2017. Blanck ended up a classical guitar performance and music composition double major; Dammann was a double degree student earning a bachelor of music degree in violin performance, a bachelor of arts in geology, and a minor in environmental studies.
In January 2018, Blanck and Dammann founded Sprig of That in Minneapolis with tabla player Krissy Bergmark, a 2010 grad from Northern Illinois University with a masters from the University of Minnesota.
While the band has already released two EPs (Sprig of That, 2019; Untold, 2020) and an album of commissioned pieces (Eight Threads, 2021), this new album is their first of entirely original compositions. The band has already released four singles, A Moment We Can't Understand, This Time, Last Week, Riversong, and Kirenaka to streaming services.
Sprig of That, featuring a violin, guitar, and tabla and blending contemporary classical and bluegrass styles with world music, performed in Appleton in early August at the Mile of Music festival.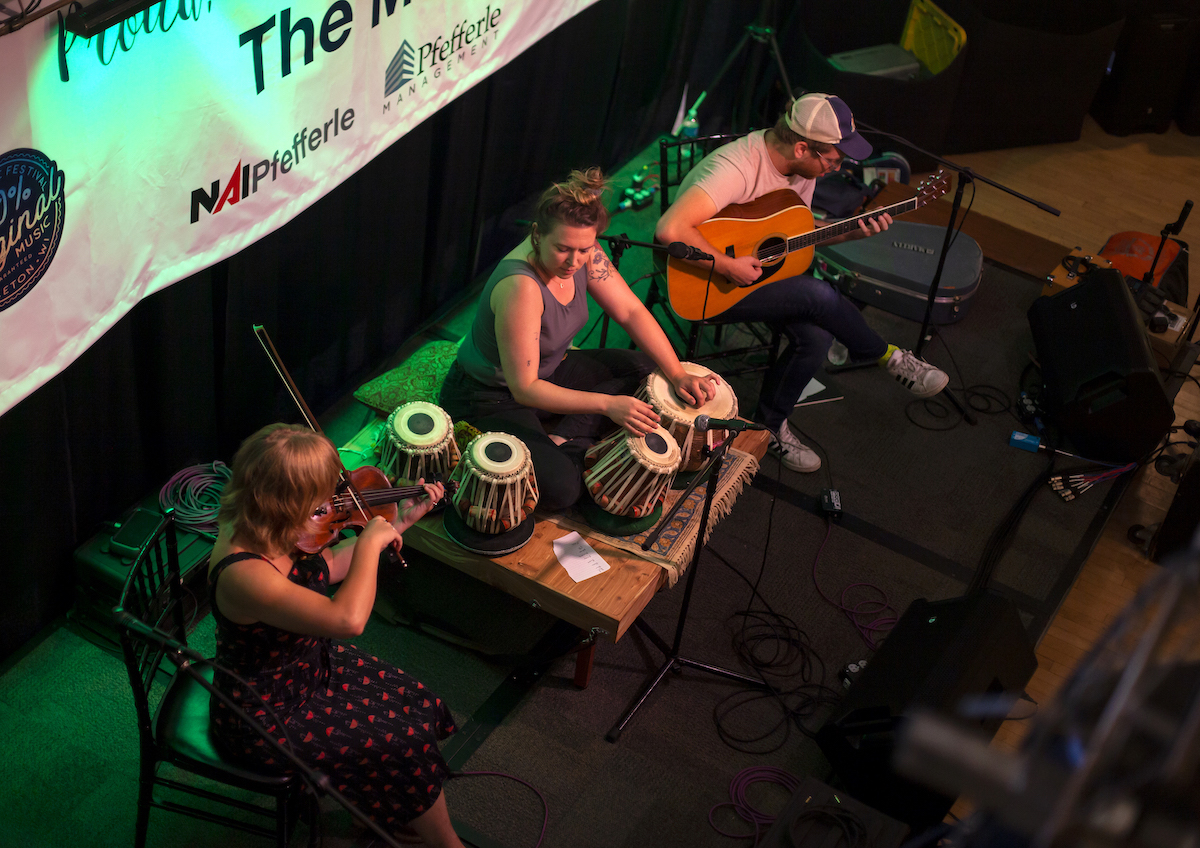 Dammann said although violin and guitar aren't uncommon combinations, Bergmark's tabla—a staple of Hindustani classical music—gives their sound a unique, rhythmic flair alongside their progressive folk and bluegrass influences. It isn't easily categorizable, and that's part of the fun.
"The tabla brings in this element where suddenly we don't have any canon to fall back on, so we're kind of creating our own genre as we go; it really keeps it pretty open to what is possible," Dammann said.
This doesn't mean the three have completely disavowed canon, however. Just as the old artistic adage says, one has to learn the rules before breaking them. Blanck and Dammann credit their years at Lawrence with giving them the needed music skills, connections, and encouragement of musical experimentation.
"What we've been doing is so Lawrence-y, which is to say I learned how to do what we're doing at school," Blanck said.
Dammann said she grew up playing classical violin but developed a love for fiddle music that Lawrence allowed her to explore. She created a fiddle club, Fiddlers of Lawrence University (FLU), brought her fiddle to play on geology field trips, and even ran a fiddle-playing workshop at Björklunden. As a prospective student, she remembers sitting in on a music theory class with Associate Professor of Music Gene Biringer that opened her eyes to new possibilities.
"I didn't know anything about music theory, I didn't even know what a V chord was, but I was like, 'Wow, this is fascinating,'" Dammann said.
While a student, Blanck joined Porky's Groove Machine, a funk ensemble formed at Lawrence, notable for their uplifting humor, theatrics, and wacky costumes. Blanck remains a member of Porky's along with Sprig of That. He said despite the bands' vastly different styles, they have much in common.
"They're both idiosyncratic and niche in what I think are really fun and exciting ways, and I think both are products of where the seeds were planted, that being Lawrence," Blanck said. "So many cool, quirky, different ideas are generated at Lawrence, and I think Lawrence students are often so good at finding ways to make them happen."
Learn more about Porky's Groove Machine (and what costume Ilan Blanck wears!)
Just as Lawrence teaches openness to the world and other perspectives, Sprig of That has always embraced the diverse, beautiful, and unique styles and perspectives the world has to offer. For example, their album of commissions, Eight Threads, featured Dammann singing a song in Turkish called Adalet (Justice). The song was written by Yiğitcan Eryaman, a Minneapolis doctor and classical guitar enthusiast whose birth city of İstanbul and its Üsküdar district inspired his own "Turkish-Balkan progressive music" band, Uskudar Eclectic.
Exploring the studio space
For their debut album, Sprig of That hired Wes Corbett, a music producer and banjo player who Blanck and Dammann said worked with many of their inspirations, including the Sam Bush Band.
Starting in May 2021, the band and Corbett began sharing demos and other recordings for critiques and advice. In December 2021, the band traveled to the Nashville studio Sound Emporium to record bloom.
Blanck and Dammann saw Corbett "like a teacher, a coach, a therapist, and a manager. He helped us connect to the studio and the engineer, and helped us set a calendar, but all the while being like, 'OK, I don't buy that C natural, it's gotta be a different note.' … He just ended up being the right person," Blanck said.
The team also recruited Dave Sinko, an audio engineer with more than 30 years in the business and three Grammy wins.
"Working with Dave was just a dream come true, too, because he has recorded all of my favorite albums, but is also such a gem of a person; such a sweet, sweet person who made us feel really comfortable, and was funny and great to work with," Dammann said.
Now that the album is in post-production, Sprig of That hopes to play more shows and festivals.
"Our plan is to try and play as much as we can, to take the opportunities we can get, to keep making music when we can," Blanck said.