Well done, Lawrence University Class of 2019.
More than 330 graduates received their diplomas Sunday morning in a Commencement ceremony on the Main Hall green.
Faculty Marshal Kathy Privatt led the march across College Avenue for an outdoor ceremony replete with pomp, circumstance and tradition, along with a colorful assortment of umbrellas and rain gear. A light but steady rain did nothing to dampen the enthusiasm of what David Blowers '82, chair of the Board of Trustees, called the "high point of the academic year."
President Mark Burstein praised the senior class for a myriad of contributions to Lawrence, for setting a tone of compassion and empathy on campus and always exhibiting a desire to learn and grow.
"In a time when community is such a scarce commodity and people of different backgrounds and views are likely to argue, compete, or ignore each other, you came together to learn, to celebrate, and to struggle, as one community, with the issues that face Lawrence, this country, and the world," he said.
See a livestream replay of the Lawrence Commencement ceremony and other 2019 Commencement Weekend events here.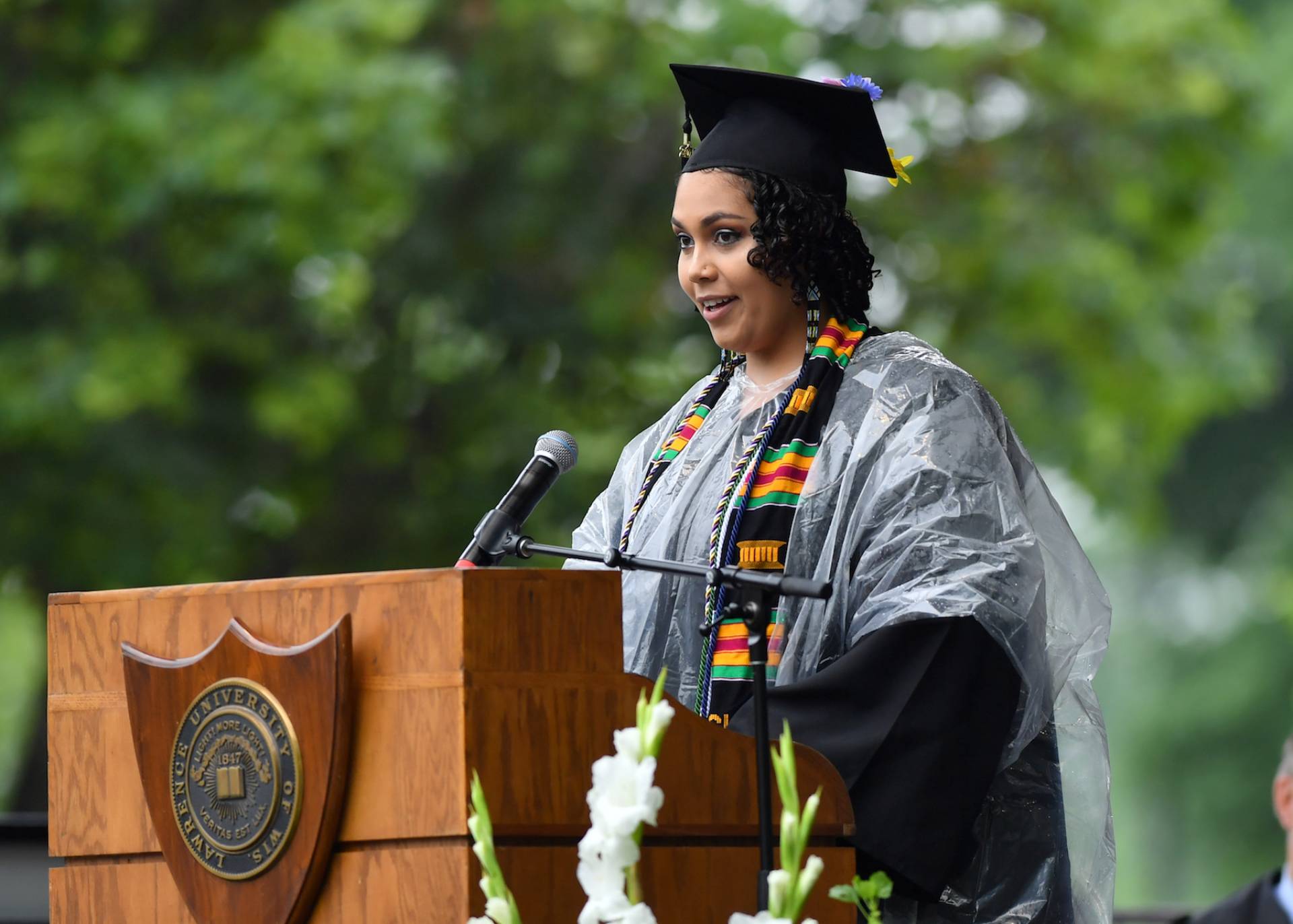 Burstein said the heart and drive of the Class of 2019 is wonderfully represented in Jordyn Pleiseis, who the graduates chose to be their senior class speaker.
"Jordyn has left her mark on Lawrence in ways both physical, like the mural that adorns the Wellness Center that she helped install as an ally of native students, and ineffable, like the connections and supportive environment she fosters," Burstein said. "Jordyn also speaks of the wonderful dynamic among Lawrence students both inside and outside of the classroom. You are friends, sharing fun and support, and you are also colleagues, learning from one another's insight and experiences."
Commencement speaker Lee Shallat Chemel '65, a longtime theater and television director who worked behind the scenes on some of the most beloved TV shows of the past 35 years, implored the graduates to embrace their liberal arts education, to be OK with uncertainty and to never let the fear of failure zap their creative energies. Her Lawrence education, she told them, has been a guiding light for more than four decades of beautiful chaos.
"You chose a liberal arts education; you chose to keep your horizon wide, to explore a broad range of cultural and intellectual content," she said. "You can adapt, improvise, synthesize. You can handle a world that is a bit chaotic."
Pleiseis, an anthropology major, told her classmates they are deserving of today's accolades, a four-year journey full of hard work and perseverance finally coming to fruition.
"We made our mark on this place, just as much as this place made its mark on us," she said.
Watch a replay of Jordyn Pleiseis' Commencement speech here.
Chemel's story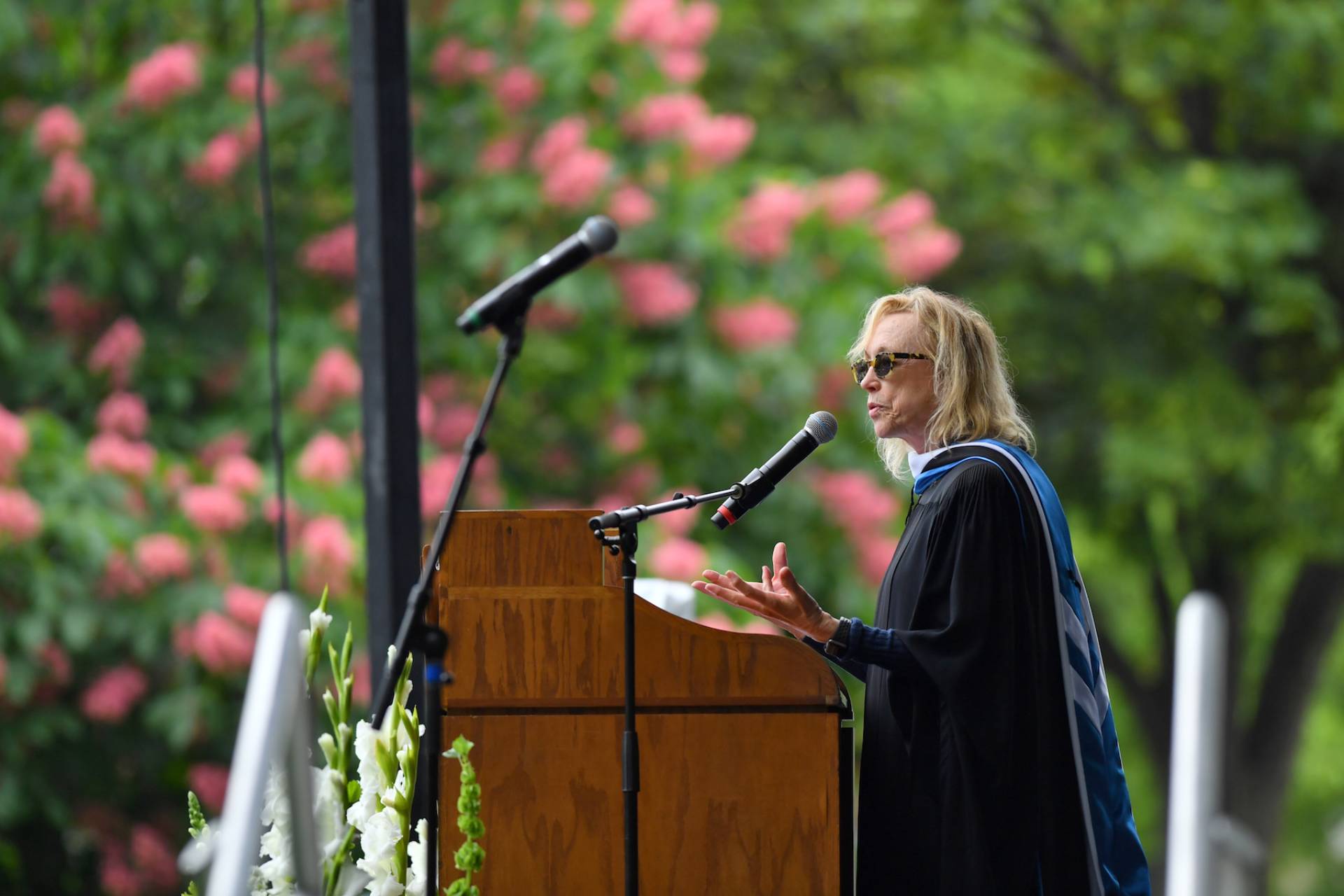 Chemel, whose directing credits include stints with Murphy Brown, Northern Exposure, Arrested Development, Gilmore Girls, Hannah Montana, and The Middle, among many others, told the graduates she made bold leaps of faith along her journey, jumping from teaching to acting to theater directing to TV sitcoms and dramas. There was never a promise of success at any step in the process, only the prospect of a worthy challenge and the knowledge that she had a strong liberal arts education to lean on.
She never stopped learning.
Chemel said some of her most profound life lessons came from her darkest days. She said firings and failures at one point had her so focused on not screwing up that she could no longer find joy in her work. Her creativity quickly waned.
She told the story of working on an episode of Gilmore Girls that was going so badly that production came to a halt — so badly that she and star Lauren Graham laughed until they cried.
"Then I suddenly stopped myself," Chemel said. "I shouldn't be laughing. The scene isn't working. … Lauren said, 'What's up?' I looked at her and said, 'Oh, I just got caught off-guard being happy.' … And from there we laughed our way back into rehearsing; the scene started to unlock itself. It got funny. 
"I'd been painting myself into a corner of seriousness in order to keep failure at bay. Don't do that. Let joy and spontaneity exist side by side. … Don't let fear of failure kill your joy."
Burstein encouraged the graduates to take Chemel's message of perseverance and career nimbleness to heart as they take that next step, embracing life after Lawrence with a mixture of promise and uncertainty.
"Perhaps her example will help as you, the Class of 2019, set out on the path that begins today," he said. "You have already raised our expectations for what is possible. We count on your talent, your work, your leadership to move us forward."
Watch a replay of Lee Chemel's Commencement speech here.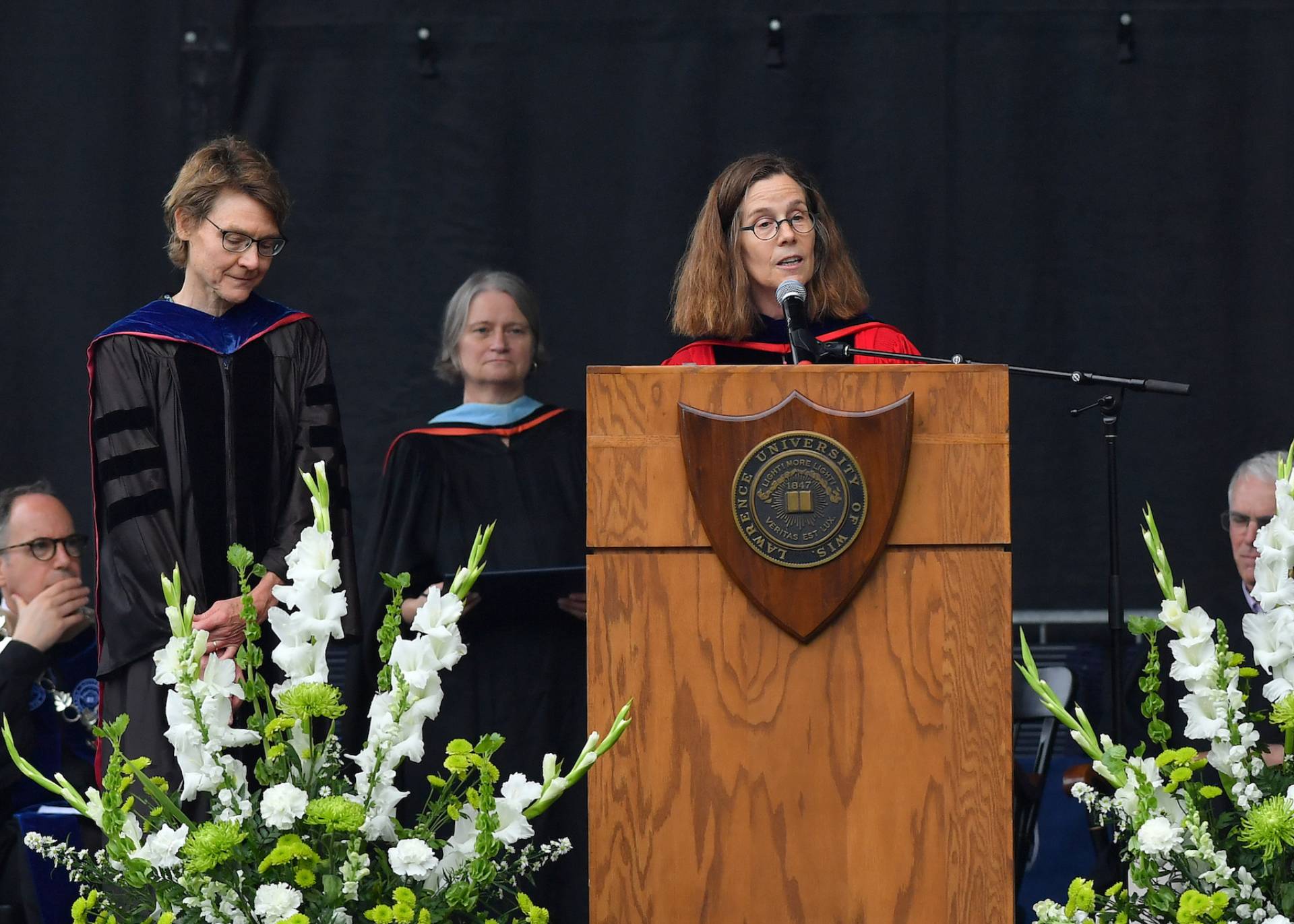 Awards and farewells
Two long-serving tenured faculty members — psychology professor Bruce Hetlzer and voice professor Kenneth Bozeman — were honored during the ceremony as they retire, each having taught at Lawrence for more than four decades. 
Three faculty awards were announced during the ceremony. Music professor Erin Lesser received the Excellence in Teaching Award, Director of Jazz Studies Jose Encarnacion received the Excellent Teaching by an Early Career Faculty Member Award, and geology professor Marcia Bjornerud received the Excellence in Scholarship or Creative Activity Award. 
For more photos from Sunday's 2019 Commencement, click here.