When someone says Let's Lift the Bandstand, they usually mean it metaphorically, but the audience's standing ovation at the recent premiere of Jasper Kashou's aptly named composition just might have done the trick.
Kashou, a fourth-year student from Cedarburg, Wisconsin, has been successful in both his composition and performance work at Lawrence. Double majoring in saxophone performance with a jazz emphasis and instrumental music education, Kashou said he is grateful for the support of the Lawrence community.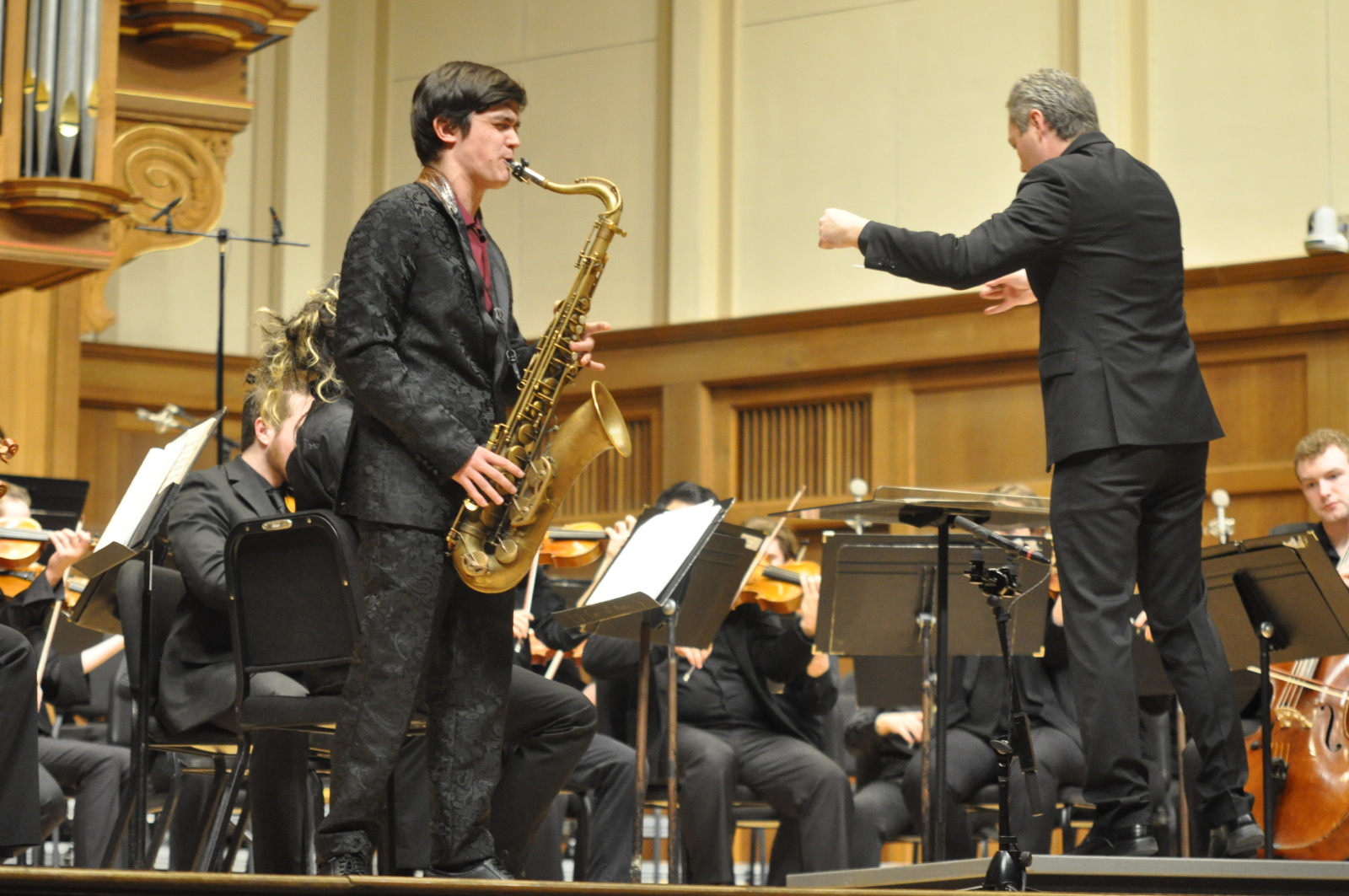 Kashou recently had two huge opportunities to showcase his work.
In early March, the Lawrence Symphonic Band, directed by Matthew Arau '97, associate professor of music education and associate director of bands, premiered Kashou's Let's Lift the Bandstand.
"I wasn't incredibly nervous when I came to the premiere," Kashou said. "I wrote the piece for this ensemble because of my trust in Dr. Arau and the musicians in the ensemble."
The performance of the piece drew a huge ovation.
A week later, the Lawrence Symphony Orchestra (LSO), led by Mark Dupere, associate professor of music and director of orchestral studies, performed Let's Lift the Bandstand at its Winter Term concert, with Kashou joining as a featured soloist. He earned the LSO honor by winning the Conservatory's annual concerto competition.
Drawn to the music
Being the fifth generation of professional musicians, Kashou was raised with music all around him. He started with Arabic drumming and piano but found his passion in playing the saxophone. Kashou has found Lawrence to be a spectacular fit for his musical interests.
"When you shop around for colleges [as a musician], the professors are practically the only thing that matters," Kashou said. "I came to Lawrence specifically for professors José Encarnación and Steven Jordheim. … My success is largely due to their guidance."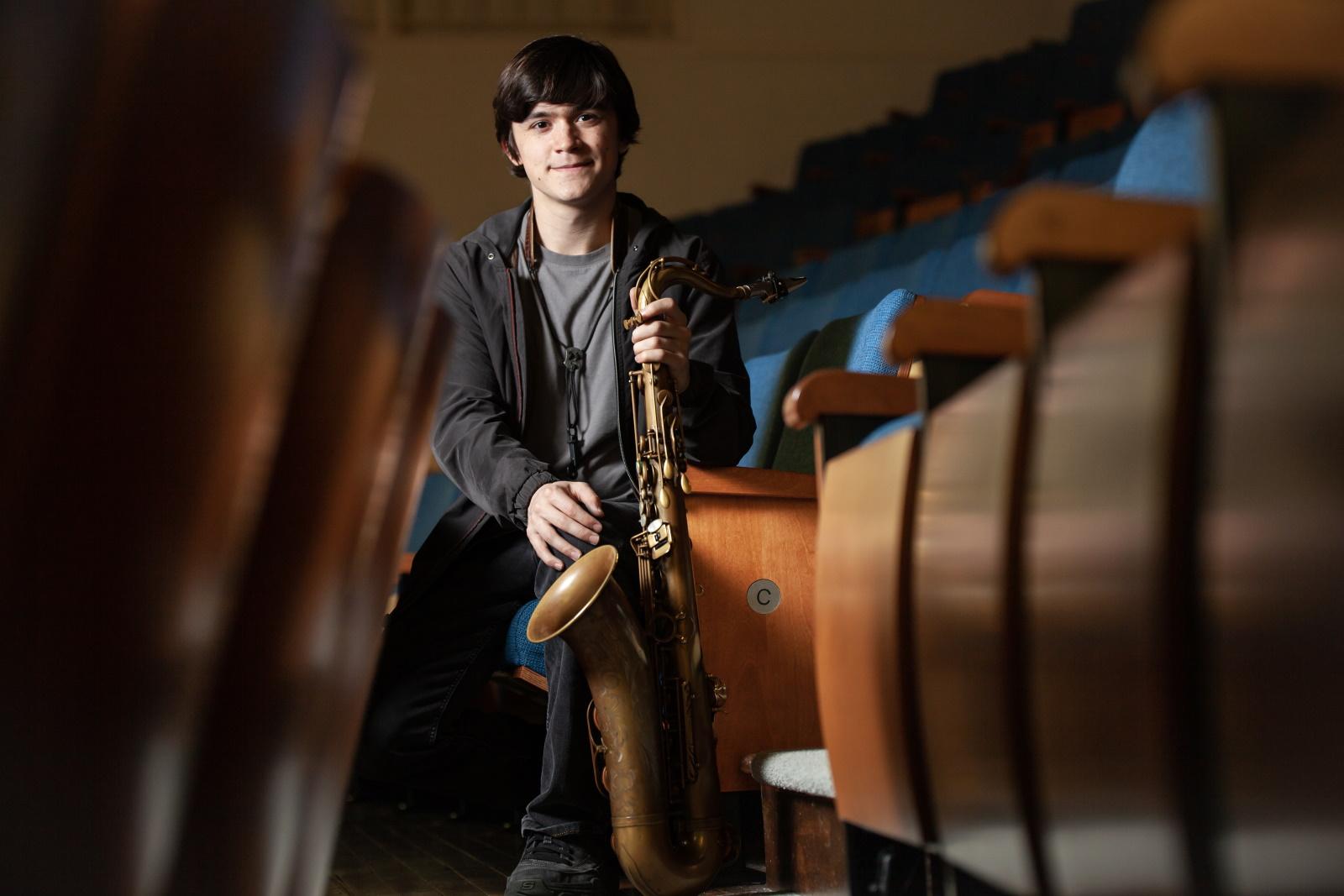 Kashou said he was honored to be a featured soloist with LSO and perform a jazz-inspired concerto with the orchestra.
"A lot of it is really a conversation between the orchestra and the soloist," Kashou said. "My posture during the performance was more aimed at being able to see Professor [Mark] Dupere and the orchestra [as opposed to facing the audience directly] because I wanted to communicate with them and make it more of a collaborative thing. I've been working on this piece for a year; It's a pretty big payoff to get to share it with so many people and to play it with so many people."
With four degree options, you can find your musical path in a supportive, creative community.
Let's Lift the Bandstand is part of a larger collection from Kashou called Monk's 25 Tips. Each piece takes its name from a quote from Thelonious Monk, the iconic jazz pianist and composer. These 25 pieces of advice were written down by jazz saxophonist and composer Steve Lacy early in his career as he traveled with Monk's band. The 25 tips are things Monk would often say. Kashou is taking these pieces of advice and turning them into music for a variety of ensembles, from solo saxophone to full wind ensembles. He's hoping to complete all 25 before he graduates.
Lawrentians can tune in for Kashou's senior recital at 5 p.m. May 13 in Memorial Chapel. He will be premiering four new pieces from Monk's 25 Tips, ranging from solo saxophone to a 15-piece jazz ensemble.