The 25th Annual Richard A. Harrison Symposium was held on Saturday to highlight the research of 28 Lawrence University students in the humanities and social sciences. Each of the presenters were nominated by a faculty member who felt their work represented the best undergraduate research of the year.
Named in honor of former Dean of the Faculty Richard A. Harrison, the annual symposium is dedicated solely to research in the humanities and social sciences—a key part of the liberal arts.
According to Assistant Professor of Religious Studies Connie Kassor, who organized this year's symposium, it can be difficult to showcase research from softer academic fields, since this type of research rarely lends itself to poster presentations. Junior Jonathan Hogan, who presented on the East German film, "Dove on the Roof," appreciates the platform the Harrison Symposium provides for humanities students to demonstrate the relevance of their work.
"It seems obscure—like, East German film, who cares, right?—but when you really start getting into it and how structures of oppression play out, it's really nice to have the opportunity to talk about this in a broader setting where it can be appreciated as it deserves to be," Hogan said.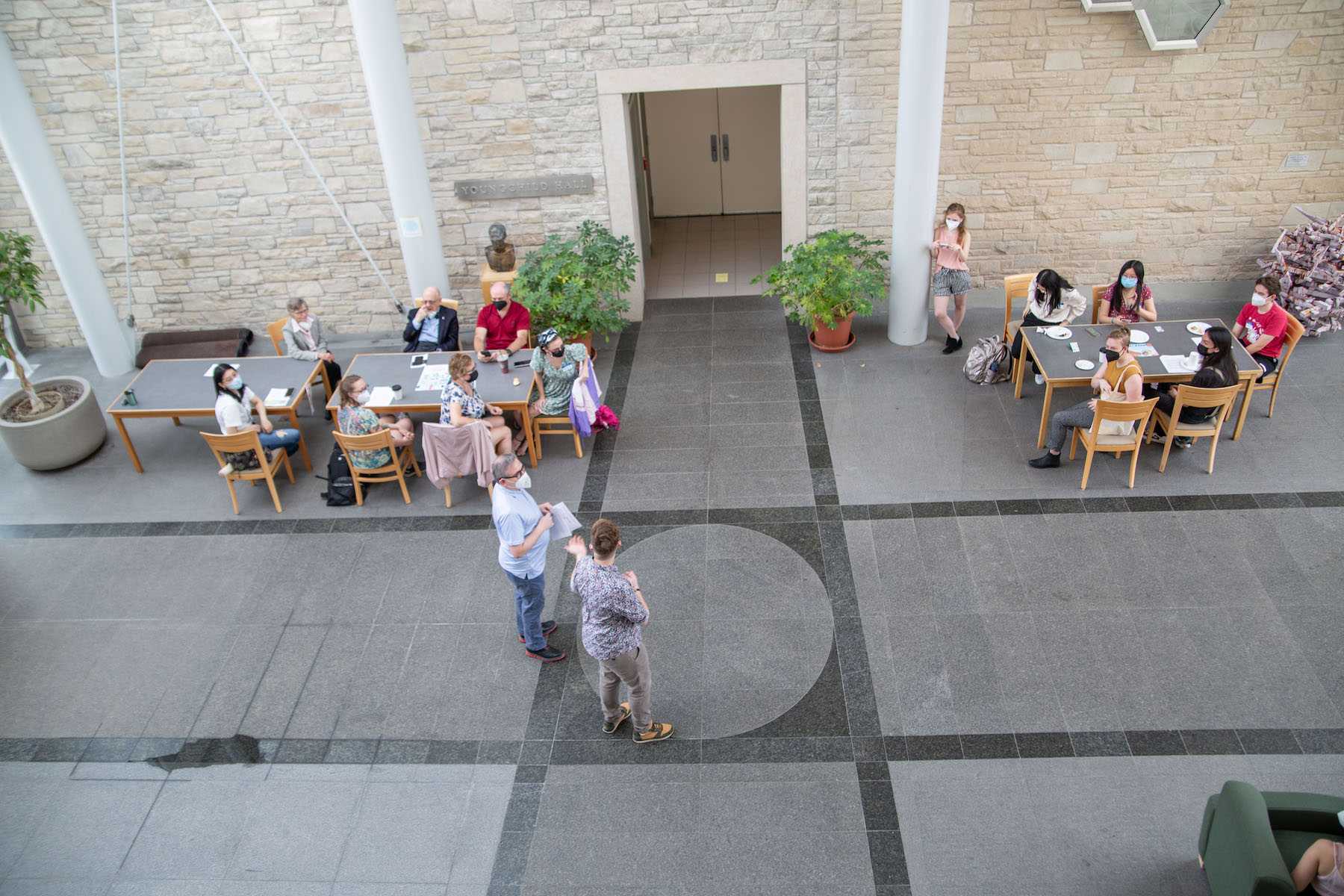 Although the student presenters are selected by faculty members, the event is open to the public, thus providing students with the rare opportunity to be both the educator and the educated, often at the same time. In addition to revisiting and highlighting their own work and interests, students can sit in on other presentations to learn about a completely new topic.
"We've all been doing a lot of really exceptional projects and essays throughout the school year, so it's important to give people recognition and credit where credit is due, and also for the campus community to learn about other disciplines they're not a part of," said junior Kim Du, who, after watching a series of other student presentations, presented on the commodification of African Americans in print. "That was really interesting, to see what our fellow Lawrentians are doing."
Learn more about the Harrison Symposium
In addition to learning about research in other fields, the presentation process itself also serves as a unique learning experience. As the presenters go through the process of revising, editing, and compiling their research into something that can be presented in 20 minutes, they hone existing skills and develop new ones.
For senior Jessica Toncler, who was one of the first presenters of the day with her government capstone research on "Compulsory Freedom: The Effectiveness of the U.S. Methods of Foreign-Imposed Regime Change," the Harrison Symposium was a lesson in packaging extensive research to make it digestible to a person who isn't already in her field. She feels that the ability to present the key points to an audience outside of academia is critical to effective research.
Further, the Harrison Symposium is where the research process comes full circle: students learn how an idea becomes a research question, how a research question becomes a paper, and how a paper becomes a presentation—which could potentially be used as their careers unfold.
Take junior Tee Karki, for example. She came into her capstone class knowing that she wanted to research restorative justice, a topic that she was already passionate about. Now, after presenting at the Harrison Symposium, she's inspired to use her research to facilitate change.
"When I was being posed questions about what I want to do further, I had this moment when I realized that something that I want to do in the future is to propose a policy for restorative justice in the U.S.," Karki said. "…Maybe it won't go anywhere, but to have that fully researched, someone could pick it up in the next 100 years. I might not be there, but my research will be."