Estelí Gomez and Catherine Walby, colleagues in the Lawrence University Conservatory of Music, were sharing time in the garden in the summer of 2022 when the conversation turned to practice. Specifically, how difficult it can be to teach music students the art of practice.
Gomez, a voice professor, talked about how she had used remote sessions with her students during the pandemic to discuss larger themes in their practice—breath, posture, text and translation study, composer research, and more. And she wondered aloud how that might translate into an in-person course focused on both concrete and abstract practice techniques and philosophies.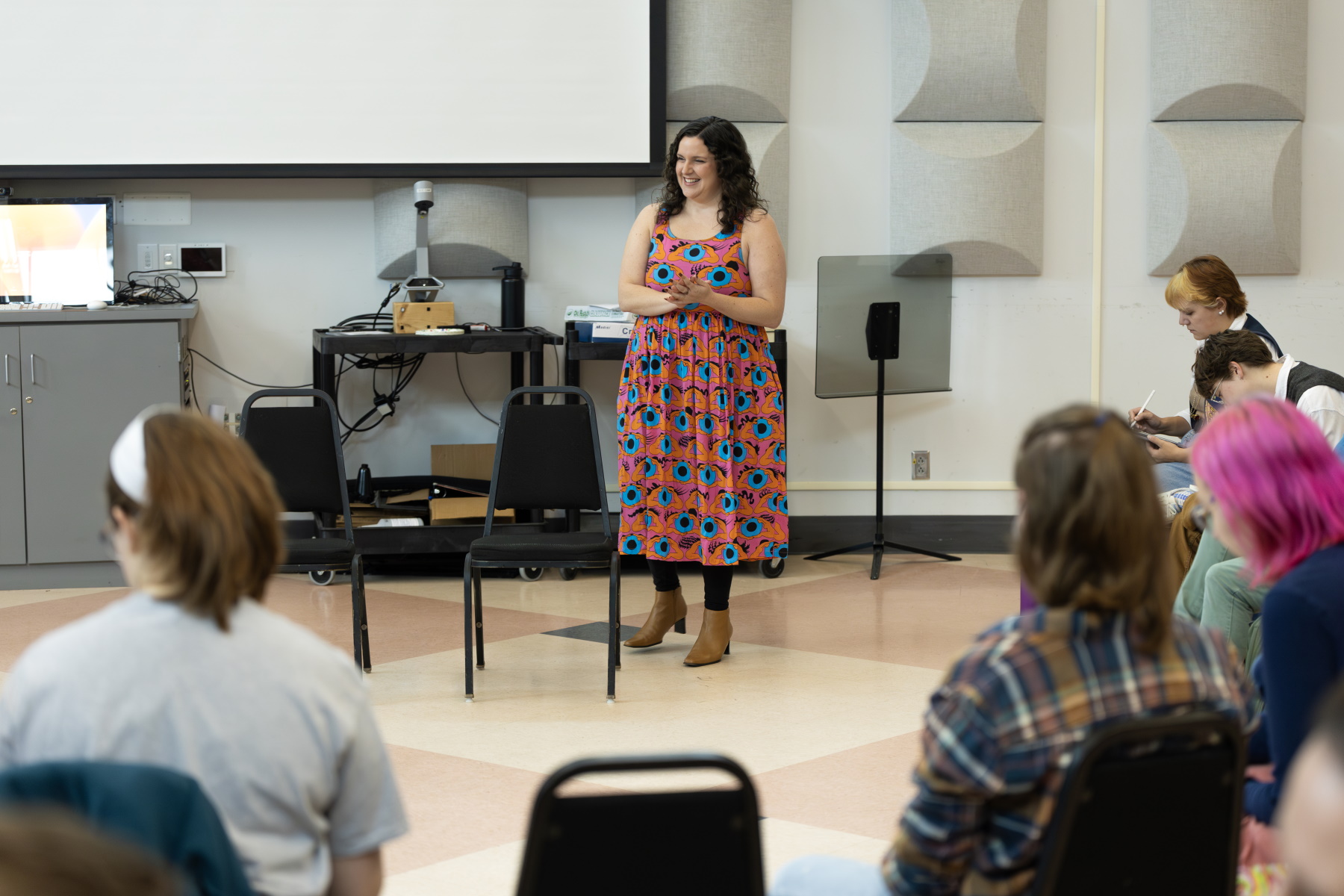 Walby, a teacher of piano and lecturer of music, was all in. Together, they began putting together the particulars of How to Practice, a one-unit course that debuted this fall and has drawn rave reviews from the 20 music students who gather every Tuesday afternoon in Shattuck Hall to hear from a rotating roster of Lawrence educators. And they are hearing from those well beyond the walls of the Conservatory. Yes, some are music faculty; others have come in from the areas of dance, religious studies, fencing, and hockey, all sharing insights on developing healthy and productive practice skills.
"Estelí and Catherine came up with the idea and it has turned into something incredibly beautiful," Dean of the Conservatory Brian Pertl said. "This class is such a celebration of cross-departmental collaboration and getting us all to think outside of our respective boxes."
Among the 13 lecturers, Brett "Wally" Wall, Lawrence's men's hockey coach, joined José L. Encarnación, director of jazz studies, to talk about practice within a team. Constance Kassor, religious studies, talked to the students about Buddhist lessons in diligence. Dance professor Mauriah Donegan Kraker joined Jessica Sommer, music theory, to discuss embodiment in the practice room. Tim Albright, trombone, and Greg Riss, percussion, double-teamed on a session about building and sustaining focus in your practice sessions.
"I find that the Con and LU Athletics have so many similarities that don't always get recognition," Wall said of his partnership with Encarnación. "The only difference is the Con calls it a rehearsal and a performance and Athletics calls it a practice and a game."
With four degree options, integrate intellectual and musical virtuosity in a supportive, creative community.
The insights from all the contributors have been well received by students.
Darren Lam, a fifth-year senior from San Francisco majoring in flute performance, is already putting the lessons into daily practice sessions.
"I find I am more mindful of myself and of my attitude going into practice, being more intentional," Lam said. "I've found that giving myself more grace is actually a more productive mindset and attitude than being my own worst critic, knowing that, yes, I can always be better but also knowing that there are other aspects of my practice that I am very much satisfied with, and that can be enough."
Elena Crino, a senior from Joliet, Illinois, majoring in voice performance, is thrilled to finally have a course focused on how to practice.
"I think it's assumed that young musicians intuitively know how to practice, but that's almost never the case," Crino said.
Seeds of an idea
Gomez said she first began pondering ways to focus on practice habits shortly after joining the Conservatory faculty in 2019. She noticed her students had varying levels of comfort in practice settings.
"Some had been in private lessons for years while others had mostly been in ensembles and were fairly new to individual lessons," she said. "I wanted to find a way to level the playing field and ensure that their time in practice sessions felt guided and effective."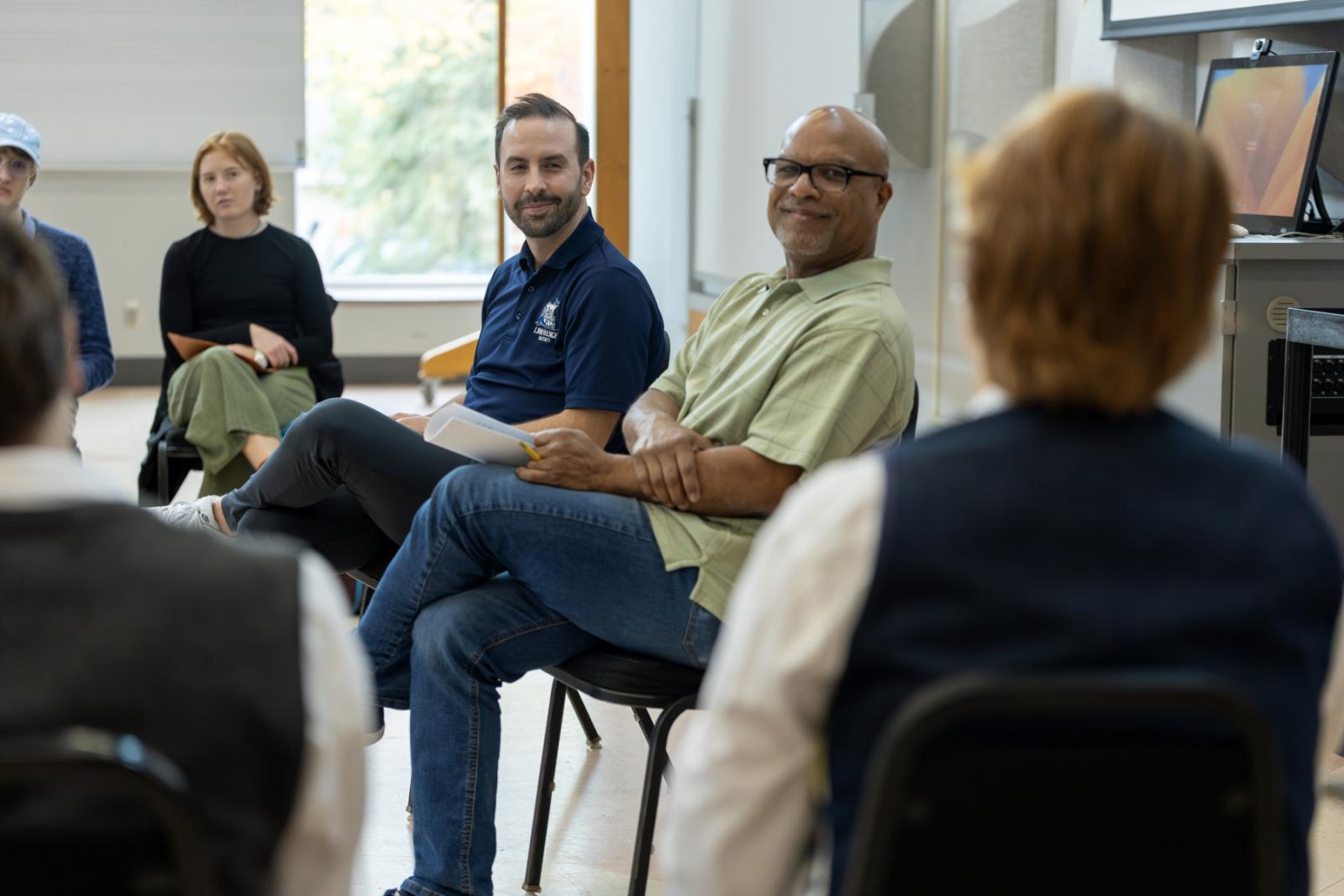 When lessons went remote during the height of the pandemic, Gomez found herself leaning harder into her "checkpoints" for practice. The lessons—and the conversations they stoked—were comforting at a time of discomfort.
"I tried out the method of having my students utilize guided practice objectives, or weekly themes, and come together to open up about the process of what worked and didn't for each of them—an innately humanizing experience," Gomez said.
When she and Walby began discussing those lessons, the idea for the How to Practice course was hatched. That led to conversations about bringing in professors and coaches from outside the Conservatory to widen the discussion.
Eric Momberg, Lawrence's fencing coach, jumped at the chance.
"The class fills a need that goes beyond just the Conservatory and addresses less of what we do and more of how we do it," Momberg said.
Each of the weekly lecturers is invited back to open the following week's class so they can hear from students about how they fared putting the lessons to work. The discussions, Walby said, have been fabulous.
"These students, who I know fairly well, have grown greatly with self-reflection and opening themselves to new ideas," she said. "I think each one of us has approached some aspect of the class skeptically, but we have been willing to try, thus adding another tool to our practice skills."
Finding that 'aha' moment
The students in the class are seated in a semi-circle in Shattuck 163; the conversation is insightful, casual, sometimes personal. A separate set of chairs is set up behind the students, open to visitors.  Each week, a handful of other Conservatory faculty show up just to observe.
"To see a successful, teaching, performing colleague sitting in the back quietly absorbing the information each week is an inspiration," Walby said. "We all have space to grow. The faculty and students are modeling this for each other every week."
It's a one-unit course, meeting for one hour each week. It's not meant to be a major commitment, nor a substitution for other areas of study, and Gomez and Walby hope to continue it in future years. That's partly for selfish reasons. Gomez, a celebrated vocalist who has won a Grammy Award with the contemporary octet Roomful of Teeth, finds herself learning as much as teaching.
"Every single visiting lecturer has provided an 'aha' moment to take into the practice week," she said. "For me as a practicing musician and also as someone who practices teaching, I couldn't be more grateful for the chance to organize for and be a part of this collective, of people who are committed to their practice at Lawrence."