Lawrence University recognized more than 30 staff for years of service and announced the President's Award of Excellence, which annually honors an individual for outstanding performance. This year, the recognition also included the President's Award of Excellence for a team. 
Bob Guzman, Facilities Operations' materials management coordinator, received the President's Award of Excellence—Individual. Guzman was also recognized for 35 years of service.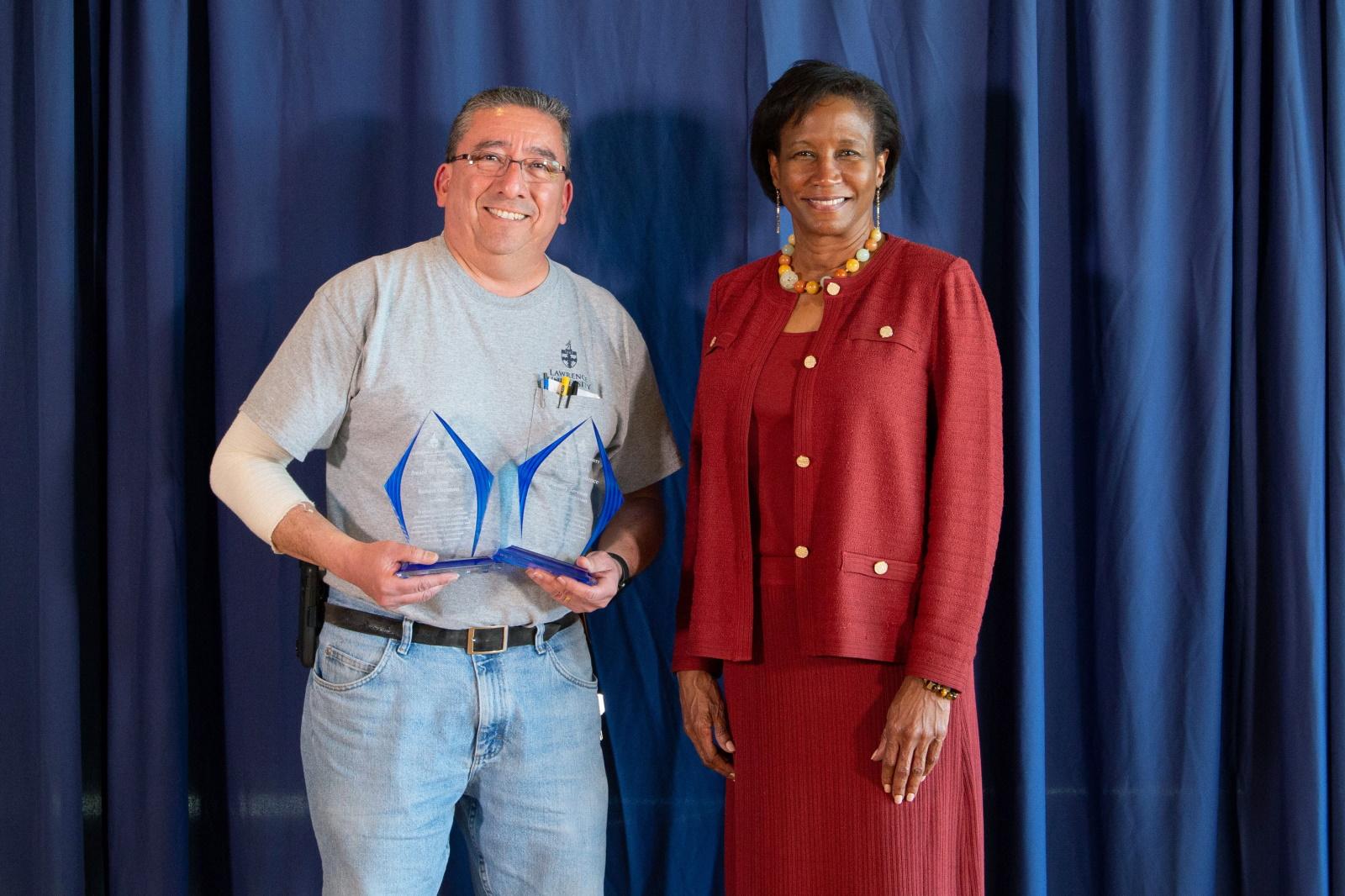 The inaugural President's Award of Excellence—Team was awarded to the Facilities Operations team, which includes custodial services, facility services, and grounds crew. The team is led by Joe King, assistant vice president of facilities operations. The award recognizes the team's professionalism and "can do" philosophy in ensuring community safety, maintaining and enhancing university grounds and buildings, facilitating university events, and moving units and individuals across campus.
"I continue to be inspired by the work of our staff," Lawrence University President Laurie A. Carter said during Lawrence's annual employee award and recognition ceremony on April 3. "Today's celebration is a testament to the dedication, commitment, and care each of you bring to serving our students and meeting the university's mission."
Employees who were recognized for service milestones include:
35 YEARS
Bob Guzman, Materials Management Coordinator
25 YEARS
Steven Armstrong, Director of Information Technology Services
Mark Breseman, Senior Principal Gift Officer
Gretchen Revie, Acting Director of the Seeley G. Mudd Library
Charles Schroeder, Database and System Manager
20 YEARS
David Berk, Director of Instructional Technology
Antoinette Powell, Music Librarian and Associate Professor
15 YEARS
Nicholas Mainville, Fire Safety Coordinator
Daniel Martin, Laboratory Supervisor and Assistant Swimming and Diving Coach
Wendy Osero, Administrative Assistant—Center for Academic Success
Keith Powell, Teacher of French Horn
Nicholas Towns, Collaborative Pianist
10 YEARS
Ryan Boehm, Custodian
Cheryl Boyle, Assistant Director of Lawrence Community Music School
Edward Krzyzak, Custodian
Laura Nurse, Custodian
Mike Ross, Wind Ensemble Conductor
5 YEARS
Karen Brennan, Executive Assistant for Student Life
Sarah Dunnagan, Senior Research Analyst & Data Manager
Amy Sue Hutchings, Associate Director of Donor Engagement
Betsy Kowal Jett, Conservatory Tour and Outreach Coordinator
Kevin LeBeau, Director of Annual Giving
Eric Lewellyn, Biology Laboratory Supervisor
Krystal Light, Staff Counselor
Jen Mielke, Technology and Print Service Manager
Marie Putman, Class Voice Teacher
Patrick Randerson, Campus Safety Officer
Guadalupe Schwaller, Custodian
Jill Senso, Accountant
Megan Spranger, Director of Major Gifts and Gift Planning
Troy Torzewski, Senior Network Engineer
Keegan White, Director of Admissions – Chicago Regional
Riley Woldt, Head Women's Basketball Coach