2 Minutes With … is a series of short features to introduce us to the passions and interests of Lawrence students on and off campus.
A lot of students have had a pet fish, but it is not every day someone can turn having a pet fish into the nation's largest aquarium show and a YouTube channel with nearly 120,000 subscribers. Lawrence University's George Mavrakis '19 has done just that. 
"It was all about seeing what other people thought of my tank," the Lawrence senior says. "I always wanted to show off my tank and see if other people think this is an awesome tank."
It was. And they did. And a hobby focused on coral fish was about to explode.
George, an economics major from Golf, Illinois, who played on the LU basketball team, runs the YouTube channel CoralFish12g. He and a business partner have also launched Aquashella, an aquarium festival show that debuted first in Chicago last year and then Dallas earlier this year, drawing thousands of aquarium enthusiasts with a mix of fish, music and art.
Getting hooked
George went through 10 fish before he finally got the hang of things. In his defense, he was 14 and working with a much more difficult kind of fish than your standard gold fish — coral. There was much to learn about keeping salt water fish alive.
"YouTube, Google and books," George says of his eight-year journey. "Like, my coral would die and I'd just be like, welp, it wasn't calcium. Then I'd check that off, then my next coral would die, and I'd be like, well, it wasn't calcium or the light. By trial and error, I taught myself to keep coral." 
Then he set out to teach the rest of the world via YouTube.
His first videos were mostly just his tank. He eventually went in front of the camera, sharing knowledge on salt water aquatics through what he refers to as "infotainment."
He found an audience, and now he has the biggest salt water aquarium channel on YouTube, making him the biggest salt water aquarium influencer, all operating out of a dorm room at Lawrence.
He traveled to Israel over holiday break with Facebook influencer Nas Daily. His 1-minute video has more than 3 million views.
Check out CoralFish12g, including the Nas Daily video, here.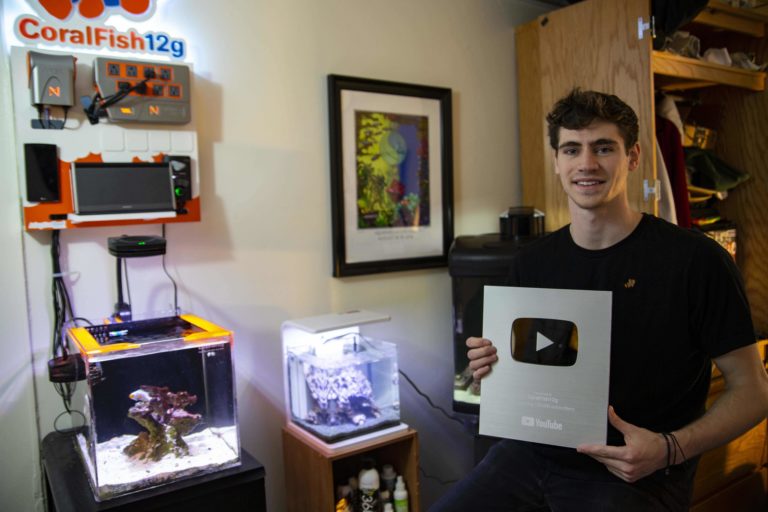 He created Aquashella last year with a friend while studying abroad in London. They were both fans of aquarium festivals but wanted to launch one that infused art and music with the showing of the fish. Mission accomplished. More than 4,000 people showed up for an August 2018 show in Chicago, while 7,000 came out for an early spring show in Dallas. Chicago is again on the books for August 2019.
He tapped into skills learned through Lawrence's Innovation and Entrepreneurship Program. Balancing his coral fish hobby-turned-business with school has been a challenge, George says, noting he was "pulling more all-nighters" than desired and was giving up free time in pursuit of his fish adventures. The payoff, though, for all that hard work is on YouTube for all to see.
Sharing YouTube wisdom
Want to start a YouTube channel of your own? We asked George for four tips:
1: "Being different is better than being better."
2: "Persistence is the key. It won't happen overnight."
3: "It's a third luck, a third skill, and a third the quality of your content." 
4: "Provide people with value."  
George Mavrakis
Class Year: 2019
Major: Economics
Hometown: Golf, Ill.
Activities: Innovation and Entrepreneurship Program