Ann Ellsworth joined with musical friends three years ago to form the Lawrence Graduate Bayreuth Tuben Quintet, an ensemble that mixes doses of curiosity, humor, and social awareness with hauntingly powerful music played on the Bayreuth tuben.
On May 11, they released their self-titled debut album, a celebration of LGBTQ composers and this most unconventional of brass instruments, also known as the Wagner tuba.
It's a means of using music to lift up the LGBTQ community—the group's acronym is LGBTQ, which is all part of the fun—said Ellsworth, a horn professor in the Lawrence Conservatory of Music and the brainchild of this musical adventure.
The ensemble has its roots at Lawrence; two recent graduates are emeritus members and senior Rei Coman composed a piece, "Gaelic Call," that's featured on the album. But it also includes talented tuben players from across the country who share a passion for the instrument and a commitment to make music informed by inclusivity, visibility, and diversity.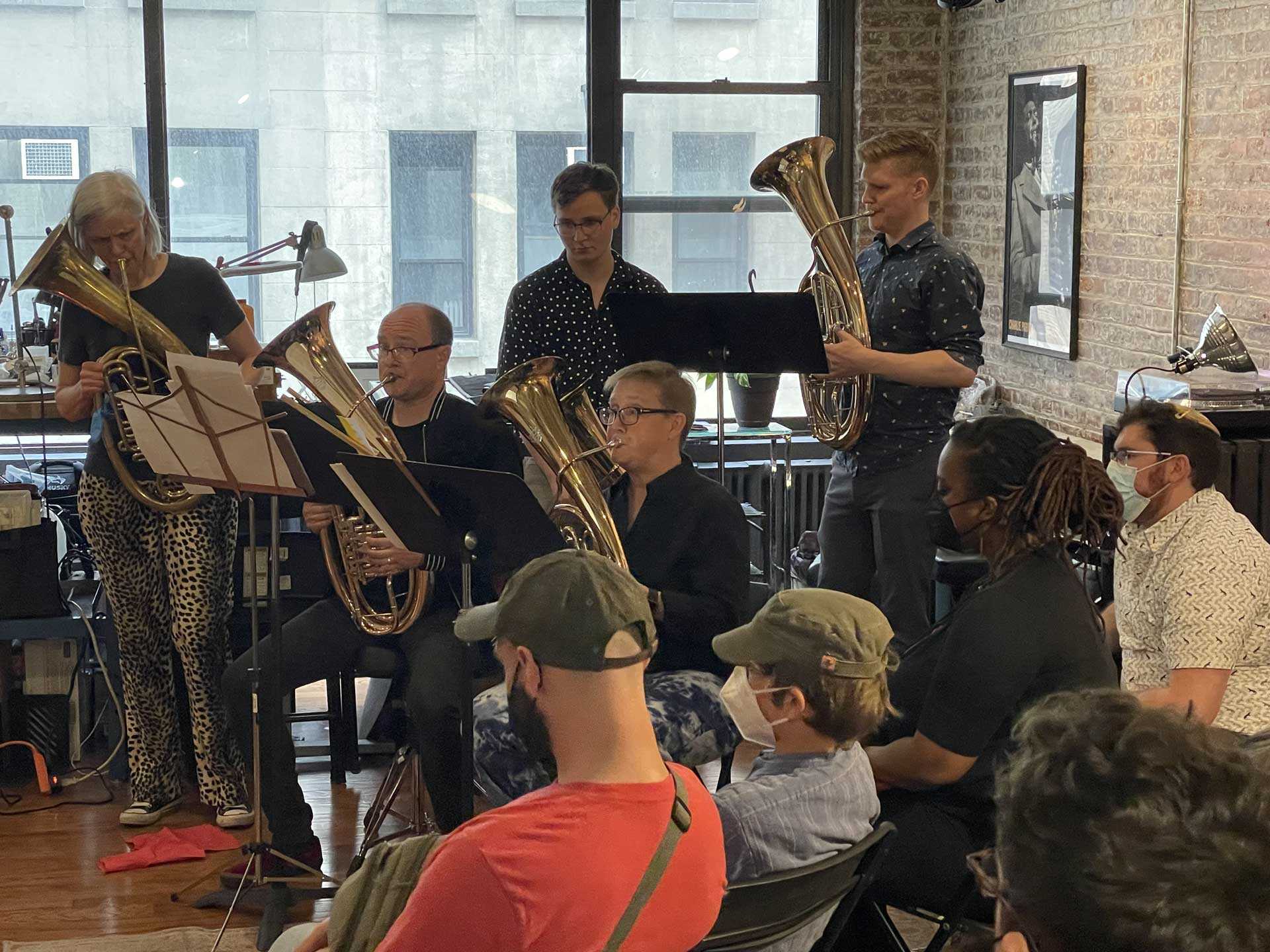 The Bayreuth tuben is a little known and even lesser played instrument that Richard Wagner invented for his Ring Cycle and named after his Bayreuth Opera House in Germany, Ellsworth said. It's such an odd instrument that one must approach it with both a sense of humor and a commitment to find the creativity within it.
"It is a hybrid instrument with a haunting but powerful sound, combining the worst technical attributes of the Waldhorn and the trombone," Ellsworth said. "It is played by horn players as an auxiliary instrument. By queering Wagner, we celebrate and give voice to unconventional instruments and non-traditional ensembles."
Through the music, Ellsworth said, the tuben players aim to affect positive social change and create broader representation for the historically under-represented.
The album features primarily works from LGBTQ composers, including adapted works by Eve Beglarian, John Cage, Moondog, Arvo Pärt, and Alex Temple.
"The actual way this group came to be was me coming to Lawrence and seeing young people transitioning or coming out as queer, and feeling like this was an opportunity for me to use my privilege and power as a faculty member to include and support this community on campus," said Ellsworth, a professor in the Conservatory since 2018. "I am in a heterosexual marriage and cis-gendered. But I was married before, divorced, with a woman for two and a half years and then married again to a man. I was the same person in all these relationships and yet treated differently by society. I noticed. And while I was never marginalized in any real way, I felt the burden and cost of living a life that was true to myself but outside the norm. And that is not OK."
Ann Ellsworth, assistant professor of music, has taught horn in the Lawrence Conservatory of Music since 2018.
From there, Ellsworth said, she began putting together the making of the LGBTuben Quintet, reaching out to "colleagues and students who are on the front lines, openly living with the stress of public opinion and political actions against their health and safety."
The ensemble felt right, even when the COVID-19 pandemic interrupted recording and performance plans. The group provided some shelter when classes went remote and other plans were thrown into disarray, Ellsworth said.
"They are so articulate, brave, aware, open, and generous," she said of the collection of musicians who have moved in and out of the ensemble. "I have never felt so included and safe in a chamber music group or had so much fun."
Performers on the album, besides Ellsworth, include John Gattis, known for his work with Wavefield Ensemble, Kyra Sims, a comedian horn player from New York, Leander Star, a horn player with the new music wind quintet The City of Tomorrow, and Lydia Van Dreel, noted soloist and member of Quadre Horn Quartet. Lawrence alums Julian Cohen '18 and Mariel Lopez '21, part of the ensemble in its earliest days, have remained connected.
Having met in person as an ensemble only once before the pandemic began, they were able to record the album remotely thanks to the skills of oboist and sound engineer Stuart Breczinski. Their recording efforts took place individually, laying one track at a time, before Breczinski did his work in the studio.
"Tracking and working together on this project was one of the things that brought us together as a group and provided a sense of purpose as performers during the early days of the pandemic," Ellsworth said.
The ensemble wanted to showcase the technical and sonic range of the tuben horn while providing a platform for queer composers, Ellsworth said. The ensemble recommends listening to the album from start to finish to get a sense of the musical journey. 
An album release party was held in New York City, with Lawrence dance professor Margaret Paek joining the ensemble for a performance.
The group has been using its music to support causes its members are passionate about, including Harbor House, an Appleton shelter for victims of domestic violence, regional chapters of LGBTQ, and climate change advocacy. They've tried to infuse humor along the way, including holding a "bad art" auction as part of a fundraiser for Harbor House.
The group will be coming to Lawrence in January for performances and masterclasses.
"We welcome everyone from music curious, instrument curious, queer curious, performance curious, you name it," Ellsworth said of the quintet's targeted audience.
She said from the outset she saw the LGBTuben Quintet as non-hierarchal, an opportunity to bring creative performers together for something both collaborative and unpredictable. Three years later, that still holds true.
"I hope people can relate to our group and musicking at many different levels and at whatever level is interesting or comfortable for them," Ellsworth said. "At a personal level, I hope people can feel a sense of belonging, of well-being, community, compassion, and also a sense of humor that can meet us at the hard edges of these difficult times and help soften our stresses and help us reset."
Learn more about the quintet at lawrencegraduatebeyreuthtubenquintet.com.
Ed Berthiaume, director of public information at Lawrence, contributed to this story.