2 Minutes With … is a series of short features to introduce us to the passions and interests of Lawrence students on and off campus. 
One of the best parts of the Lawrence experience for many students is getting a chance to explore a deep interest even if it's not in your primary area of study. Earl Simons Jr. '22 can attest to that.
The junior from Queens, New York, isn't working toward a degree in music—he's majoring in international relations and minoring in Japanese—but has had the opportunity to nurture his trumpet skills with the Conservatory of Music. He's played with the award-winning Lawrence University Jazz Ensemble, and this term is taking trumpet lessons as an independent study with trumpet professor John Daniel. 
Simons has been playing the trumpet since fourth grade and has gotten instruction along the way from some accomplished trumpet players, including Peter Archer, the New York City middle school teacher who was an inspiration for the Disney-Pixar film, Soul. 
"He has had a big influence on my life; he is also a Black trumpeter," Simons said of Archer. "Fun fact, he was a big inspiration for the movie Soul. The middle school in the film is almost an exact replica of our middle school band room. Really proud of him for that."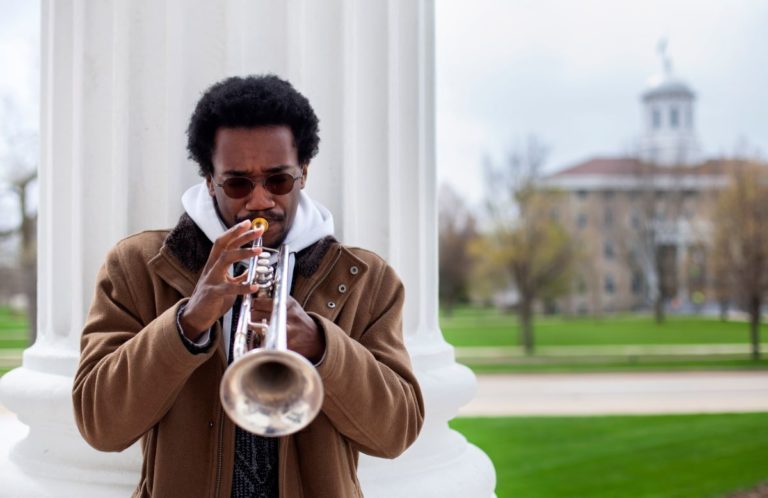 A common misconception with the Conservatory is you have to be majoring in music to take part in ensembles or other aspects of the music program. That's not the case.  
"For two years I was part of the Lawrence University Jazz Ensemble," Simons said. "When I was looking into Lawrence, I was in contact with Ken Anselment (vice president for enrollment and communication), and he told me about the jazz program. He also got me in contact with Patty Darling, director of the Jazz Ensemble."  
Studying abroad in Japan
Along with following his passion in music, Simons has been able to explore his interest in East Asian culture.  
"I've always been interested in East Asian cultures, ever since I was a kid," Simons said. "For elementary and middle school, my schools were prominently Asian. So, I was always engaged in and had a deep apperception for the cultures. It wasn't until high school where I focused on Japanese culture and language. I knew I wanted to pursue it in college."  
Simons started studying Japanese at Lawrence his first year and had the opportunity to participate in an eight-week summer immersion program with the Middlebury Language Schools in Vermont.  
"My professor, Akimi Adler, told me about it and I got in," Simons said. "When you do this over the summer, it's an immersion program, so it's eight weeks of the language, no English. For eight weeks you have to honor a pledge to only speak in the language you are studying. And that really helped."  
During this program, Simons realized how much he enjoyed learning Japanese and has decided to take his study of Japanese language and culture to Japan. He will be participating in the Waseda University semester program for Fall and Winter terms.  
"At the Middlebury Language Schools is where I really fell in love with Japanese," Simons said. "A lot of the professors there were asking me, 'Are you going to go to Japan?' That's when I thought about it and decided I wanted to study abroad in Japan."
Simons will be taking classes at Waseda University. He then will participate in a cultural internship before returning to Lawrence in mid-March.  
"I want my experience in Japan to enlighten me about new opportunities I could take," Simons said. "That's what I am most excited for; I want to be inspired to do more things." 
Simons will be bringing his trumpet with him to Japan.  
"I want to see their jazz clubs," Simons said. "I don't know what the jazz scene is like in Japan, but I heard it's good." 
Earl Simons Jr.
Class Year: 2022
Major: International Relations
Hometown: Queens, N.Y.
Activities: Trumpet performance, Lawrence University Jazz Ensemble