"Arwaaarh!"
The screeching comes from an insect-human hybrid creature (voiced by Dungeon Master Charles Brailovsky '23) as it takes eight points of damage from the new staff that Melimion (played by Daniel Crook '23) just had custom-made.
Brailovsky, switching out of monster voice, turns to Crook.
"It seems to have noticed that you hit it with one of its own legs and it's both confused, shocked, and almost a little offended."
Acting out their characters is just part of the job for these two—they're in the middle of recording an episode of Blame the Dice, the WLFM radio show that's become a Twitch livestream during Lawrence University's spring term.
Airing every Saturday at 4 p.m. on the @lu_dandd Twitch channel, Blame the Dice follows an ongoing campaign in Dungeons and Dragons, a role-playing fantasy adventure game. As the dungeon master, Brailovsky creates the plot and situations that confront the five players, Crook, Ethan Perlow '23, Lea Brownlee '23, Matt Balfe '23 and Liam McQuade '22.
Collaborative storytelling
Blame the Dice is more than just a game—it's an interactive story.
Although Brailovsky is the one who spent 20 hours planning out the adventures before the group began and still spends two to five hours between each session working out the details, he attributes much of the story to collaboration with the players.
Utilizing the player-created character backstories to develop the overarching plot of the adventure, Brailovsky plans out each session before it starts—but sometimes those plans go completely awry. It's up to the players to decide how they'll interact with Brailovksy's world.
This, of course, is a responsibility they all take very seriously.
"We're working together to create something magical," Crook said. "It's really truly a great world Charles made, and by taking on these characters, we've taken Charles' trust in us to really make this into something special and we're running with it."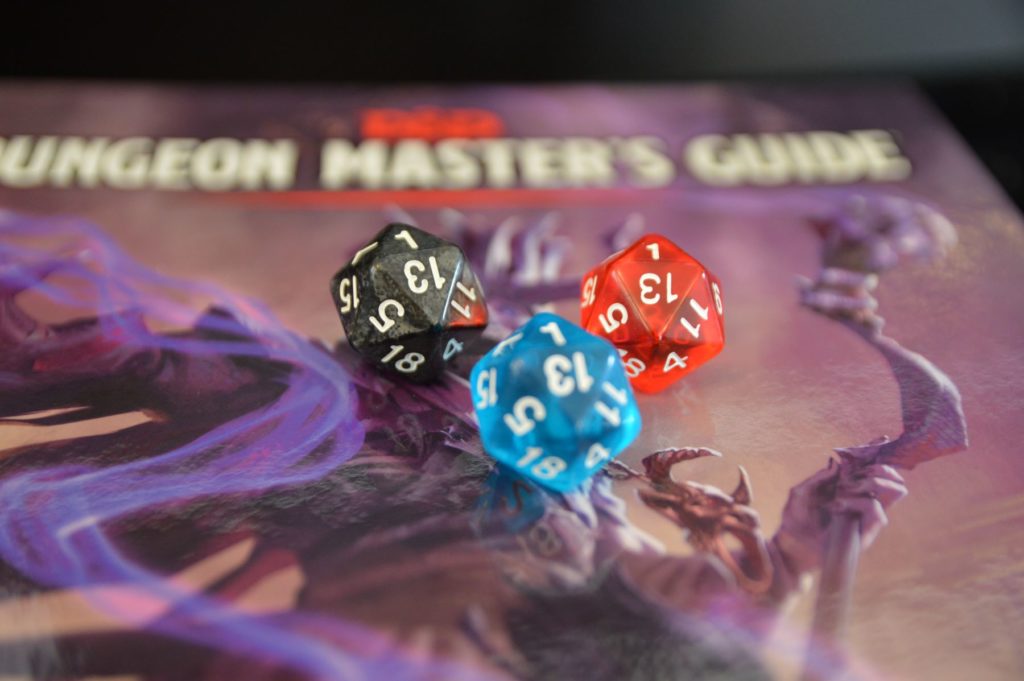 For the players, that means getting immersed into their characters: mimicking their voices, figuring out how they would think, remembering where they came from.
To build their complex, engaging story, this immersion has to run deep. For Brownlee and Balfe, one playing an ex-mob boss and the other a logical thinker who grew up in poverty, it means butting heads, even when they're not in a combat scene. For Perlow, it means acting out a panic attack when his character, a former monk, is being interrogated. For Crook, it means channeling his inner London Tipton (of Suite Life of Zack and Cody fame) to recite the slam poetry he has written for his character, a wealthy and egotistical bard.
Though they manifest it in different ways, the team has a shared goal: collaborate to tell an epic story.
"It's my world, but it's their story," Brailovsky said.
Keeping a connection
Since spring term was moved to distance learning, the weekly stream has taken on the additional role of bringing the friends together, even though they're hundreds of miles apart.
"When you're just having a conversation completely improvised back and forth between two characters, you can almost forget that you're sitting at home, in front of a computer screen," Brailovsky said. "You can sort of picture the environment they're in, you can think about what they look like, and you can start to sort of feel more like you're face-to-face with the person."
With some of the group still on campus due to travel restrictions and others home alone, they can still connect for a few hours every week—interacting almost face-to-face, goofing around, and being creative with each other. Even if they're not in the same place physically, no one is going through this alone.
"At the risk of sounding like a Boomer, social media just isn't the same as in person," Brownlee said. "You are kind of missing that human part to it. Doing something where you are actively trying to engage with not just another person but with another person playing a character, that's kind of raising the level of engagement that you have to give. It's a lot closer to what I tend to feel is the natural give and take of life."
Link to first nine episodes (from WLFM): https://soundcloud.com/untitled-d-d-show
Link to Twitch episodes:  https://www.twitch.tv/lu_dandd
A sense of stability
Spring term brought many changes to the personal lives of the group, but the way they see it, the weekly Dungeons and Dragons sessions didn't have to change—at least not too much.
"It helps distract from problems that might be going on in the real world, of which there are many right now," Crook said. "It helps us just kind of forget things here and go to a place where, 'Oh, the real problem is there's a dragon terrorizing this farmstead, and we've got to help.'"
Whether it's a sense of purpose to wake up before 4:30 on a Saturday afternoon or merely an excuse to spend some time laughing with friends, Blame the Dice, in its own way, provides some sense of normalcy. Despite everything else, this group of six knows that they can get together and play a game that they love for two to three hours, just like they did before.
This group formed back when life was a bit more "normal"—and as far as they're concerned, there's no reason to let some uncertainty get in the way of their weekly adventures.
"We all just love it," Brownlee said. "It's something to do with people we love, a game we love, characters we've gotten attached to. … You don't want to let some pesky little plague get in the way of that. We can still do it, and so we're just going to do it in a way that we won't get sick."