A newly launched weekly course at Lawrence aimed at teaching students about best practices in disconnecting from technology and being fully present—mentally, physically, and emotionally—is drawing wide interest.
Constance Kassor, associate professor of religious studies, introduced the 1-unit course, Doing Nothing, for Fall Term. It drew 52 students, the largest enrollment for any course this term. A rotating roster of 13 faculty members are volunteering to teach on subjects ranging from sleep hygiene and deep listening to tai chi and meditation.
"The course has three requirements: show up on time, be fully present and participate to the best of your ability in each class meeting, and leave your phone outside of the classroom," Kassor said.
She recently shared information about the course on her Twitter account, and the tweet quickly went viral, the thread drawing more than 150,000 likes and 10,000 retweets. Most of the Twitter response applauded the Doing Nothing course as positive outreach to students navigating a world in which they're always connected and often overwhelmed. Many highlighted how the course is giving needed space and attention to students' mental health. There have been many online critics as well, of course, some questioning the need for such an academic venture. 
"This is a credit-bearing course because we want to encourage students to really make the commitment to show up and learn these skills," Kassor said. "But it's only 1 unit because we intend for this to supplement the academic curriculum, without burdening students even further, or asking them to overload their schedules."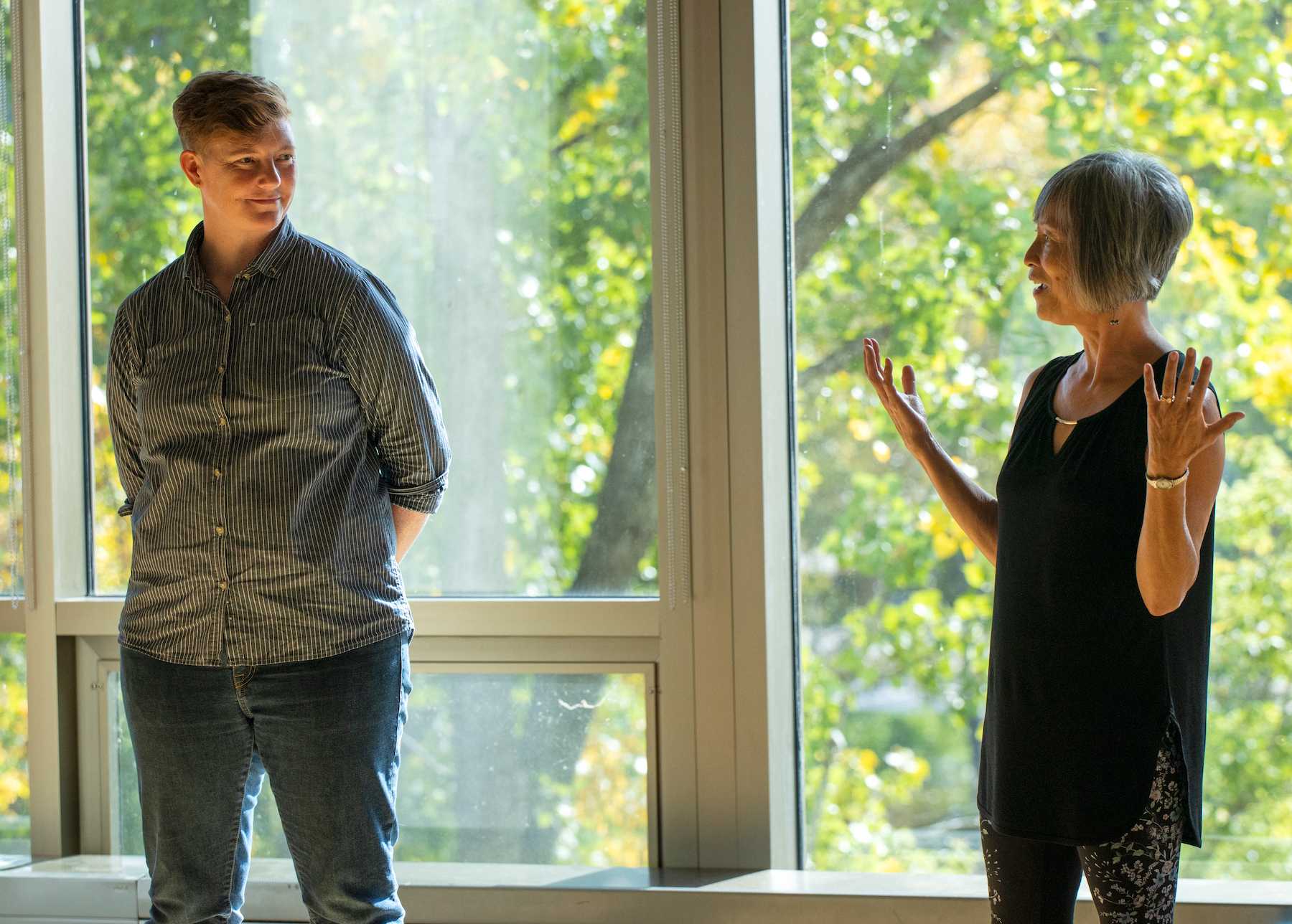 The Twitter conversation has drawn the attention of media. TIME magazine featured a lengthy interview with Kassor, and National Public Radio and CNBC reached out for interviews for upcoming stories. A handful of podcasts invited Kassor to be a guest to discuss the course and the need to initiate these conversations with young people.
"We know that certain things like meditation, getting enough sleep, moving your body, and just being bored are things that can drastically improve our quality of life," Kassor said. "But these are skills that need to be learned, practiced, and cultivated. Students are overworked, overburdened, and stressed. On top of that, they have constant opportunities for distraction and on-demand entertainment. We're trying to equip them with some skills and resources to combat their stress, in order to promote creativity and deep learning. We believe that this will help students in their other courses, in their college careers, and in life after Lawrence."
Kassor said she hopes to make the 1-unit course a part of every term at Lawrence. The response from students certainly suggests it's needed, and appreciated.
"One of the key ideas behind this class is to encourage students to be fully present with their whole selves: mentally, physically, and emotionally," Kassor said. "The course isn't structured with an end goal or final product or project in mind. It's about being intentional about how and why we choose to do the things that we do. Our aim is to really build a culture of belonging and inclusion at LU."
Find your path in our world-class College of Arts & Sciences and award-winning Conservatory of Music 
The course, which meets for an hour each Tuesday during Fall Term, is graded on a satisfactory/unsatisfactory (S/U) basis. Besides Kassor, instructors include Amanda Draheim, Mauriah Donegan Kraker, Brian Pertl, Leila Ramagopal Pertl, Linda Morgan-Clement, Madera Allan, Kathy Privatt, Margaret Paek, Alyssa Hakes, Lori Hilt, Melissa Range, and Austin Segrest.
Esther Mullen, a senior environmental studies major from Lafayette, California, is among the 52 students who jumped at the chance to take a course about "Doing Nothing." She said she was drawn to the course because of how intentional it was in breaking from the norm.
"The thought of doing nothing seemed so dystopian to me initially, simply just because I had spent the last four years at Lawrence trying to fill every minute with productivity," she said. "This course made me realize that productivity is not necessarily quantified by the amount of work I accomplish, but more the way that I feel after each day. You cannot give yourself to anything, especially not your work, if you do not give to yourself first."
Several weeks into the course, Mullen said she already finds herself being much more cognizant of stepping away, connecting with her thoughts, and taking a breath.
"Every Tuesday, for one hour, I come to class with no pressure or expectations and get to remove myself from the academic stress all around me," she said. "Admittedly, we are technically doing 'something' in class. However, these things are based in mindfulness. Ranging from deep listening to tai chi, the one hour is meditative and the stream of stress around me is less apparent."
That, Kassor said, is entirely the point.
"Student response has been overwhelmingly positive so far," she said. "Some students have shared with me that they wouldn't have made time to do this if it wasn't a class, but because they're earning credit, they feel like it's OK for them to take a break and disconnect from technology and other stressors for an hour or so once a week."