Lawrence University music students will soon be getting specially made face masks suitable for their music-making needs.
The music, after all, must go on even though life in the Conservatory of Music has been altered in almost every conceivable way in this pandemic. Every student, whether playing a brass or woodwind instrument, will have an appropriately designed mask so they can safely partake in ensemble practices or performances.
That's the short story.
The deeper story is about alumni connections and Lawrence ingenuity, all leading to students in the Theatre Department's costume shop, fresh off a master class from the alumna who designed the masks, creating more than 100 of the face coverings for their fellow Lawrentians. Masks and music-making are not easy partners.
"The Conservatory has been wrestling with how to get their large ensembles together this term," said Karin Simonson Kopischke '80, instructor of theatre arts and costume shop supervisor. "Just trying to figure out a safe way to do it."
Enter Katy Hopkins '85, who operates Yahara River Woodwinds, an instrument-repair shop in Stoughton, Wisconsin. With much of her business curtailed because of the pandemic—out-of-work musicians are less likely to need instruments repaired—she began making and selling face masks, including three specialty models she designed and developed for musicians, one for playing brass instruments, one for playing the flute, and one for playing other woodwinds.
"It took a long time for me to design these masks because there's just a different set of issues," Hopkins said. "If you're playing a reed instrument, you have to have a mask that's not going to interfere with your mouth, and you don't want the reed to break. You have to be very careful about the kind of material you use. For flutes, when they blow across the instrument, a lot of their air goes out into the room. You have to figure out how to contain that air.
"You also need to find the right material that will still stay on your face when pulling a mouthpiece in and out," she said. "It still has to contain your air when you're not playing. The material has to be lightweight enough that the poor musician doesn't die from heat exhaustion. Most wind players, they get pretty warm when they play anyway. To have something over your face and mouth can exacerbate that feeling of being flushed. There are just a lot of things to consider when you're designing these."
Students pitch in to make cloth masks for campus. Read more here.
When Hopkins, an oboe player who majored in music performance at Lawrence, landed on workable designs this summer, she shared them on Etsy. The response was immediate. She has been flooded with orders from around the country, to the point where she's had to turn down sales because she can't keep up.
Among those who came calling was her alma mater. After flute professor Erin Lesser gave one of the Yahara masks a thumbs up, Dean of Conservatory Brian Pertl, a Lawrence classmate of Hopkins in the early '80s, reached out for a large order, perhaps 100 or more.
"At that point I was already overwhelmed by orders," Hopkins said. "I said I'd love to help out, but I can't keep up."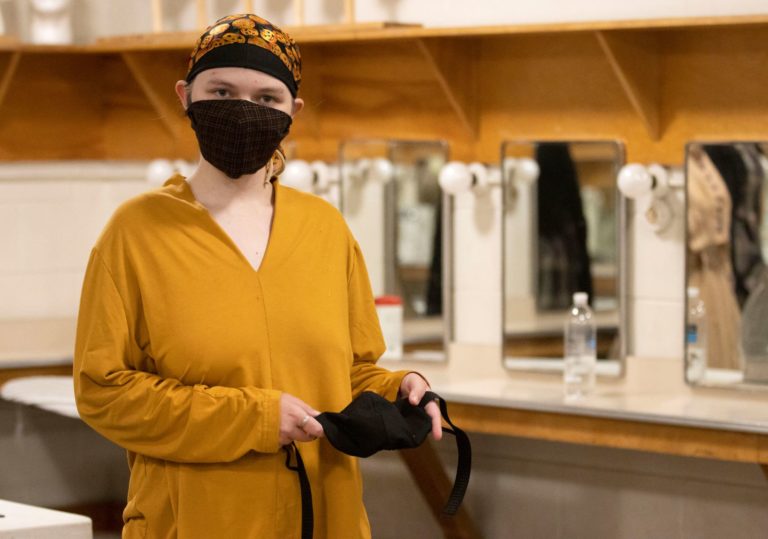 Pertl then floated the idea of Hopkins teaching her design to the costume shop students, under the direction of Simonson Kopischke. Funds were allocated for a contingent sale of the design and for a master class that involved Hopkins coming to campus to teach the particulars of her design.
It's a win-win, Simonson Kopischke said. The musicians get their masks and the students in the costume shop, who had been looking for a project to take the place of theatre costume work that has been partially sidelined by the pandemic, get a chance to put their creative skills to work.
"It's a chance to use their hands and use their creativity and release the stress," Simonson Kopischke said. "And it's a work-study program, so a lot of them depend on the money they make."
Hopkins delivered the master class to seven students in the costume shop on the lower level of the Music-Drama Center, reconfigured with sewing machines now spaced eight feet apart.
The masks will be black, suitable for concerts. The Conservatory purchased the black fabric, but other material, from the thread to the elastic, was already on hand.
"We're set up pretty much like a professional costume shop," Simonson Kopischke said.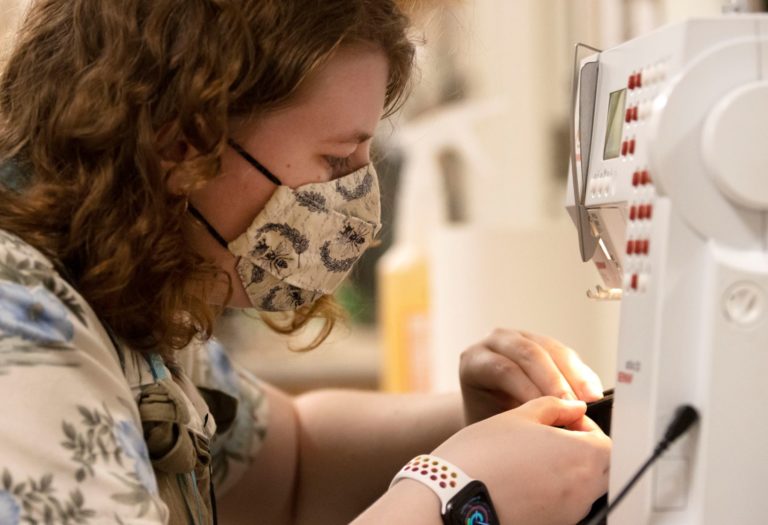 For Hopkins, the mask work is a satisfying detour for an instrument repair business that just launched a year ago.
"I was a lifelong sewer and I started just making regular masks for friends and family," she said of the early days of the pandemic. "And they all said, 'Hey, these are really nice, you should sell them.' I needed extra income and I needed something to do and I'm a very creative person, so I started making masks and selling them on Etsy.
"In mid- to late summer, I started getting requests from my music educator colleagues and friends saying, 'Have you thought about developing masks for musicians? We all have to go back to school and our administrators are requiring us to have something that's going to work and protect us and our musicians."
She went into her lab and started tinkering with designs, finally settling on three that are distinct and functional.
Hopkins is hopeful this is but a brief rerouting of her business.
"I hope for all of us that COVID is short-lived and we can go back to normal," she said. "I expect this is a short-term business venture. But I've enjoyed the creative process, and I'm very excited about working with Lawrence students again."