When two choral groups from Lawrence University's Conservatory of Music take the stage at Chicago's Harris Theatre on Feb. 18, there will be some knowing nods of respect for one of the country's elite college music programs.
Having one of your school's choirs selected to perform at the American Choral Directors Association's Midwest conference is a big deal—only 16 choirs from a 10-state region are accepted after a thorough auditioning process. Having Lawrence's Concert Choir and Cantala both get the invite is beyond impressive, say the directors who will lead those choirs in their Chicago performances.
"It's a huge deal on its own, let alone to have two choirs from the same school," said Phillip Swan, director of Cantala. "We're the only school represented that will have two choirs there."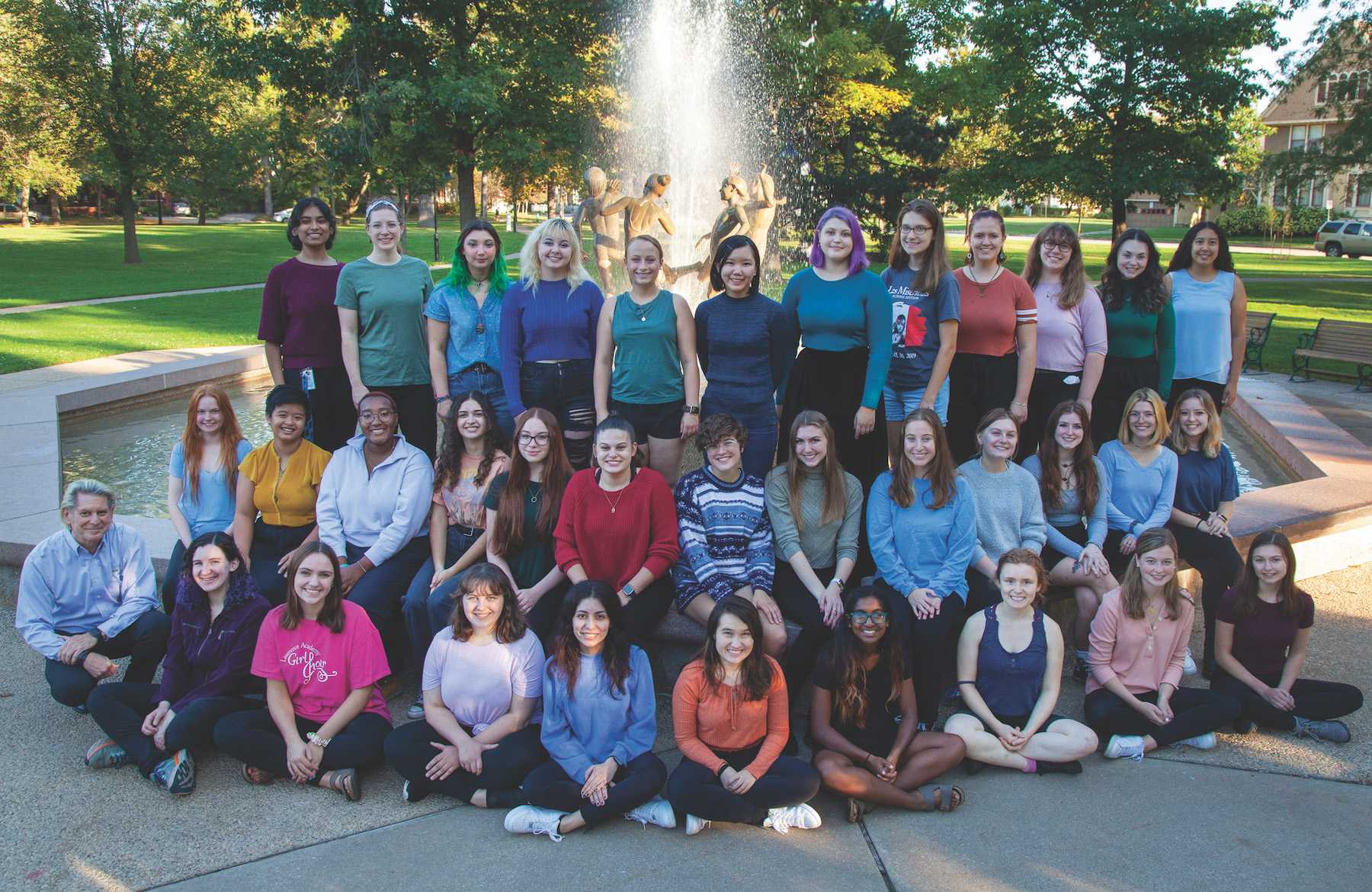 "Being invited to sing at a regional or national conference is sort of like making it to the Final Four of the NCAA tournament or winning a Grammy. It's that big of a deal."
To qualify, choirs need to go through an auditioning process that includes submitting recordings from each of the three previous years. The three-year rule ensures the choir is consistently excellent even as its membership changes from year to year. A panel of judges then makes the selections from submissions that include college, high school, and youth choirs. The competition is robust.
"Being invited to sing at a regional or national conference is sort of like making it to the Final Four of the NCAA tournament or winning a Grammy," Swan said. "It's that big of a deal. It's highly competitive; they are seeking choirs that will demonstrate the highest standards of excellence in their performance."
See more on the Lawrence Conservatory of Music here
Swan will lead the 37-student Cantala, a women's choir, while Stephen Sieck will lead the 28-student Concert Choir. They are co-directors of Choral Studies at Lawrence.
"I look at this concert as an opportunity to share out what makes Lawrence special," Sieck said. "We're a small liberal arts college choir of scholars who approach texts with thoughtful discernment; and, we're a Conservatory ensemble that performs difficult music with fluency and artistry, highlighting Lawrence students' exceptional vocal technique."
The regional and national ACDA conferences are interspersed every other year. If you're chosen to perform, you must then wait two years before you can apply again. Since 2006, Cantala has been selected to perform at the regional conference four times and the national conference twice. Concert Choir has been chosen for the regional conference three times and the national conference once.
"It's an important and impactful experience for our students," Swan said. "It reinforces the consistent work they are doing in the Conservatory and allows them to share their music-making with a highly discerning audience."  
This trip to Chicago also marks the first time the choirs have taken to the road for a performance since the start of the COVID-19 pandemic. There will be a bevy of health and safety protocols put in place by the conference organizers, including proof of vaccination for all performers and conference attendees.
"Our performances will be masked," Swan said. "That's not such a big oddity for us because at Lawrence everything has been masked for the last year. All of our performances have been masked, so we're used to it now."
But just getting to take to the road and perform in person provides a certain sense of normalcy that has the choirs excited, Swan said.
"I think there's a genuine enthusiasm about actually connecting with people in person again," he said.
Keeping the music alive has been a priority in the Conservatory for the two years of the pandemic, Sieck said. This trip is one more step forward.
"We are excited to be able to take this major stage, and we are deeply grateful for the safety protocols at the Harris Theatre and at Lawrence University for prioritizing public health while allowing music-making to continue," he said.