Members of Lawrence's Class of 2020, dressed in regalia and with family, friends, and faculty looking on, took their walk across the Commencement stage on Saturday morning, a moment two years in the making.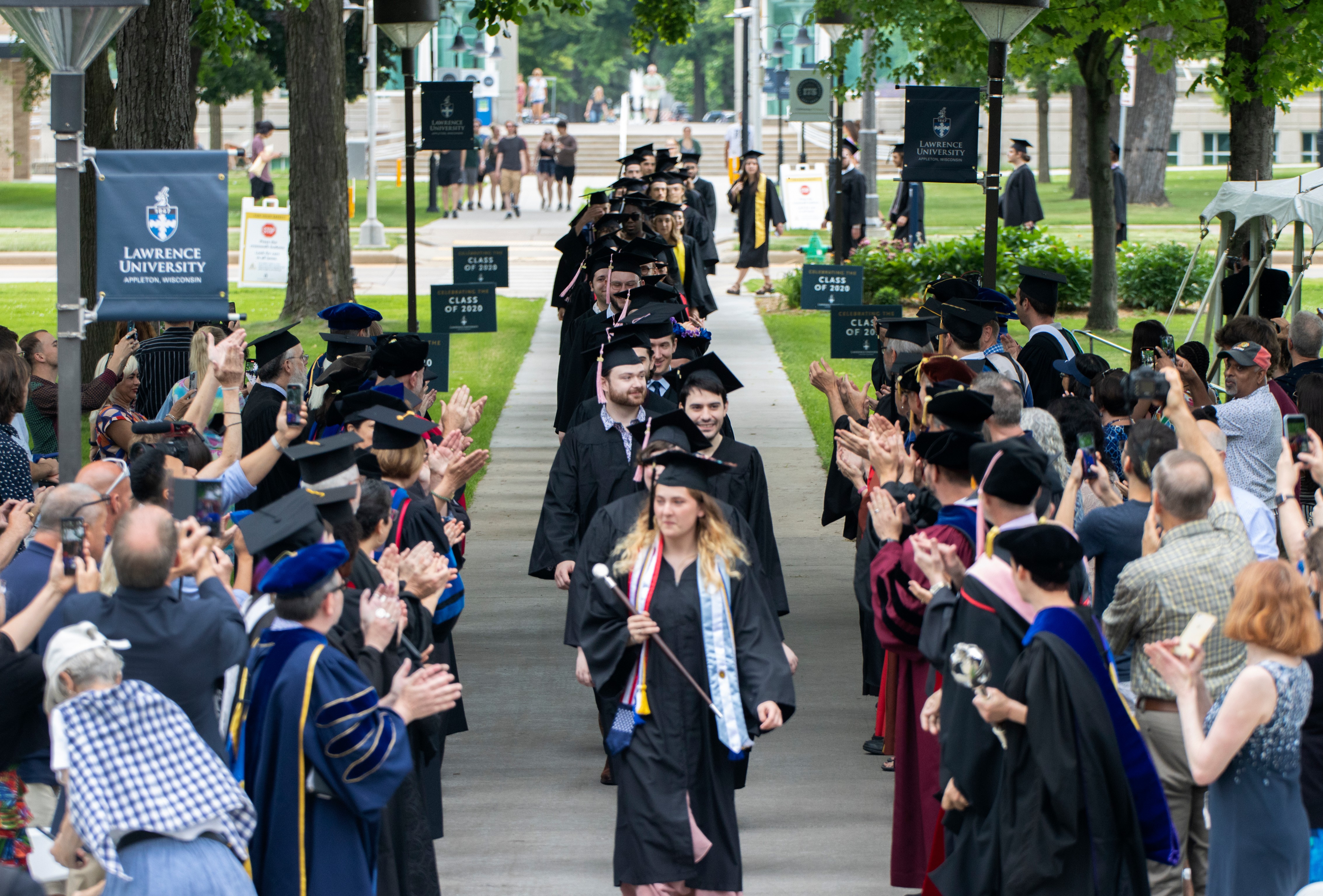 The ceremony in front of Main Hall, and related weekend events, provided a sense of closure for a class that saw its June 2020 Commencement ceremony go virtual three months after COVID-19 was declared a global pandemic and all sense of normalcy was upended. The graduates processed with wide smiles, and some misty eyes, amidst the cheers of their family, friends, and the Lawrence community.
Samantha Lizbeth Torres '20, senior class speaker in the 2020 virtual ceremony, returned to address her classmates. Helen Boyd Kramer, a lecturer in gender studies and an author and activist on gender and transgender issues, delivered a stirring commencement address. And at an evening dinner and reception following the Commencement ceremony, former President Mark Burstein shared a heartfelt video message to the graduates.
More than 135 of the 270 graduates returned to campus. It was an emotional reunion and a long-awaited opportunity to don a cap and gown and celebrate a moment that was otherwise stolen by a pandemic that was only beginning to take its toll when these alumni were last on campus.
"It's only been two years since we've graduated and yet it feels like it's been a decade," Torres told her fellow graduates. "Seeking solace during a pandemic has aged us as we were forced to grow up quicker than most. This was evident when we were the lucky bunch to be selected for the honor of 'The Pandemic Class of 2020.' Our pre-covid expectations for our spring of senior year were painfully ripped away and superseded by the uncertainty that remains with us today. Though it may not have felt like it from our living room, we graduated into an alternate timeline no one could prepare us for. Without the expected congratulations, we set foot into the world with no ground beneath us."
Despite all that uncertainty—and the turmoil of the world in general—these graduates returned to campus a strong, resilient group with bonds that will endure. The Lawrence community was there to welcome them home.
"There was no instruction book on how to navigate this world turned upside down," said Brian Pertl, dean of the Conservatory of Music. "But you are Lawrentians. You are smart, creative, innovative, collaborative, and compassionate. It hasn't been easy, but you figured things out. You persevered, even thrived. I have never been so proud of a class."
Dressed in full regalia, faculty joined the graduates for a processional onto Main Hall Green. The front of Main Hall served as the Commencement stage. Family and friends cheered the graduates and rang cowbells as they made that emotional walk.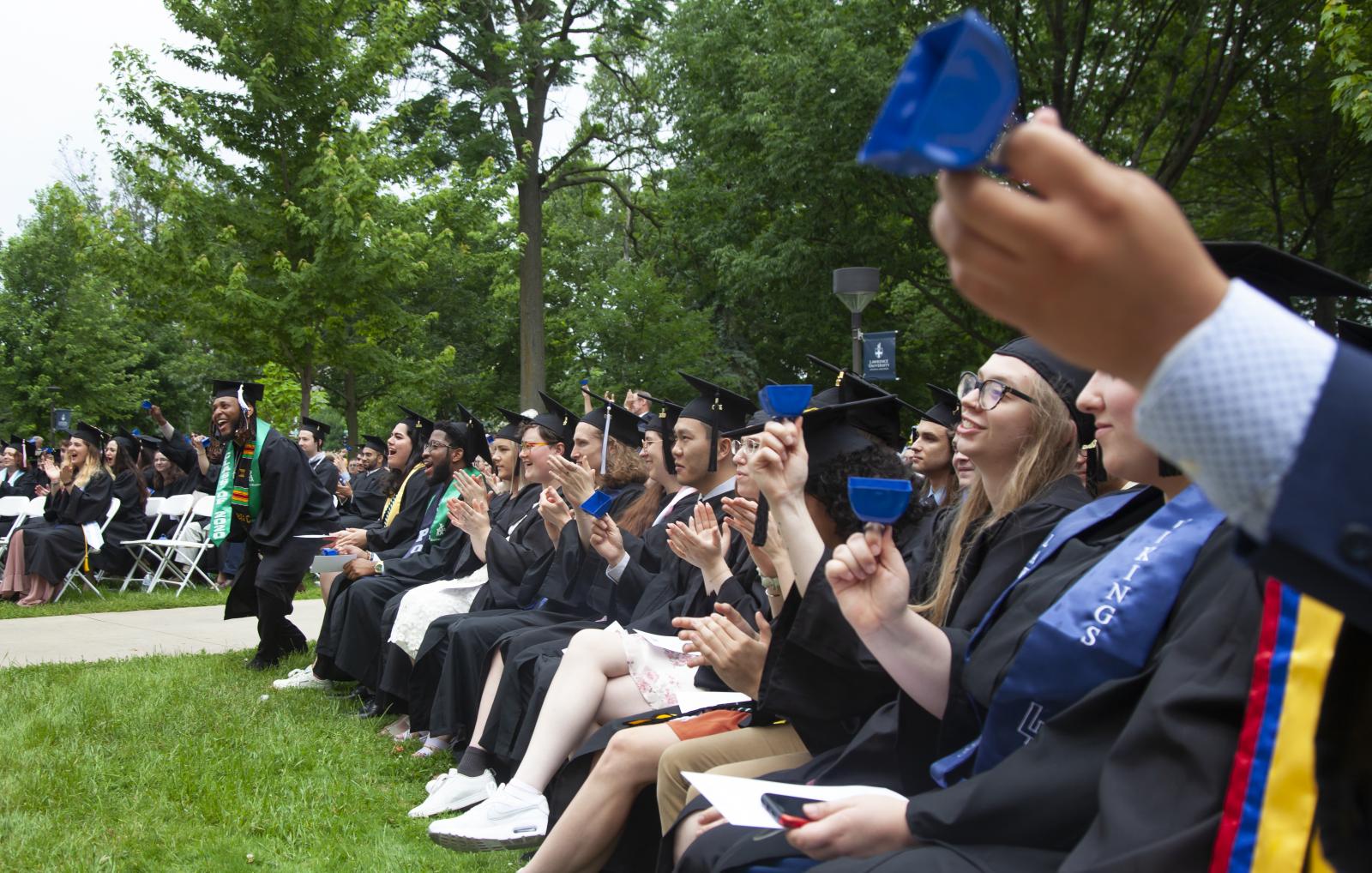 Kramer told the graduates to always remember and celebrate from where the lessons they've learned came from—family, ancestors, educators, mentors, communities, and cultures.
"I have been taught so many things by so many people, so many kinds of people, and they are all of them in me," she said. "Yours are different than mine, and different from the person sitting next to you. We are only a few hundred in person, but we represent millions of lives, millions of experiences, so many knowledges, and we bring their stories, their lessons, their dances and music and cuisines. Just, you know, cite your sources: credit the culture, the person, the scholar, the poet, the artist. Honor your ancestors whether you know who they were or not. Thank your teachers, for whatever kind of education you got from them, formal or informal."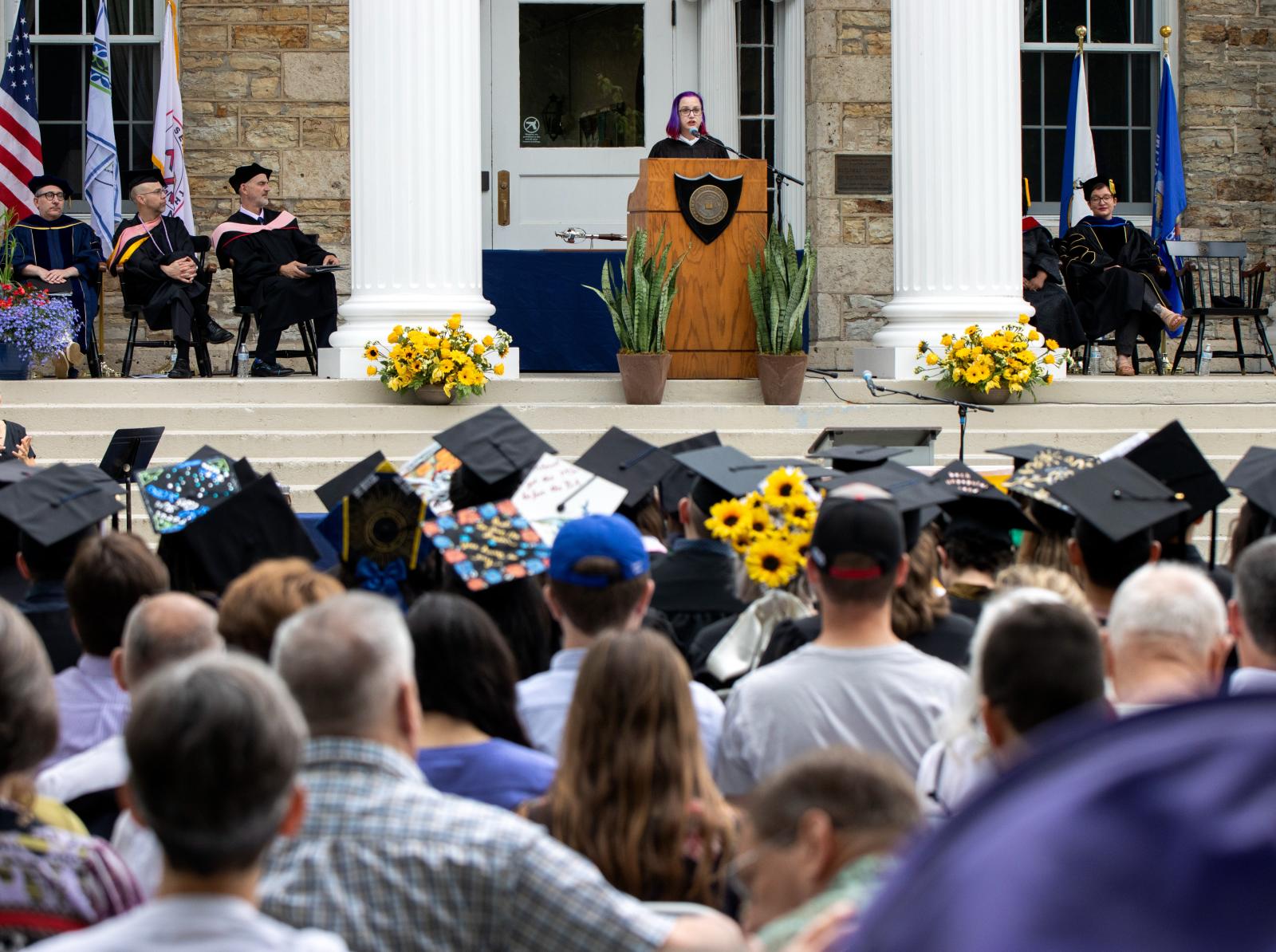 Torres reminded her classmates that the pandemic hasn't been the only challenge facing this class and this generation. They have graduated into a world in distress. How this generation responds, how these Lawrentians respond, will be significant in the days, weeks, months, and years ahead.
"It would be daunting to say this was our world to fix, but I am moved by our desire and drive to try anyway," said Torres.
Each member of the class had the chance to do what wasn't possible in 2020: walk across a stage and shake the hand of the person conferring their degree. Though diplomas were awarded and mailed in 2020, each graduate received a letter from President Laurie Carter and a lapel pin featuring the Lawrence crest. Of course, some members of the class even brought their diplomas with them to carry and mark the moment.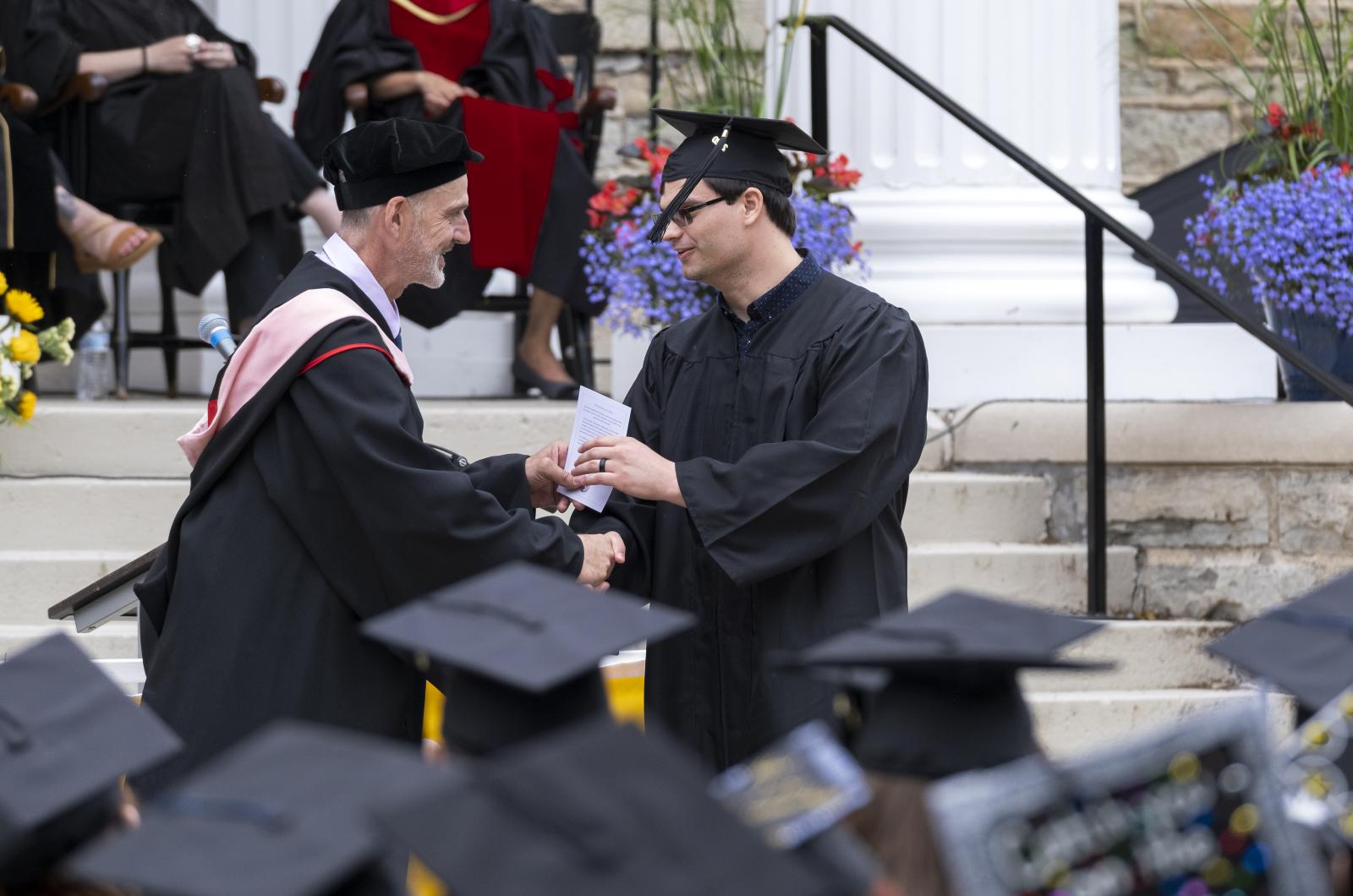 At the evening dinner, Burstein greeted the graduates by video. He was president during the 2019-20 academic year. He acknowledged the difficult emotions of that spring when the pandemic shut down in-person learning across the country. But he said he'll always draw comfort and strength from the way the senior class responded.
"The events at the end of winter term of your senior year have inspired me," he said. "Your remarkable efforts to celebrate in three days through gatherings and performances what a senior class normally orchestrates over an entire term moved me then and continues to inspire me now."
While there will always be grief tied to the events of that spring, the graduates returning to campus for an in-person Commencement is a celebration, Kramer said.
The world will do what it does. It's not only normal to grieve; it's vital. But as C. S. Lewis wrote in The Silver Chair, 'Crying is all right in its way while it lasts. But you have to stop sooner or later and then you still have to decide what to do.'
"I'm sure some of you have had moments of that feeling that things weren't supposed to be like this," she said. "You were supposed to get your Spring Term, the celebrations over those 10 weeks, and instead you were home with families and Zooming your last classes, and while I know some of you just worked it out, others of you still might feel a little cheated, a little angry. It's OK. The world will do what it does. It's not only normal to grieve; it's vital. But as C. S. Lewis wrote in The Silver Chair, 'Crying is all right in its way while it lasts. But you have to stop sooner or later and then you still have to decide what to do.'"
Torres called the paths carved by the Class of 2020 "uniquely our own" and encouraged her classmates to use this Commencement as an opportunity to look forward.
"We are a generation of loss, but we are not lost," she said. "For all that we lost, we became so much more. … Taking a step away from your life today to commemorate your past is a testament to the self-love and affirmation necessary for our preservation. We gave ourselves permission to release these painful memories and experience closure for this chapter of our lives."