Take a walk across the Lawrence University campus and along College Avenue and you will find a diverse range of public art pieces that are part of Appleton's downtown.
From murals to sculptures to poetry engraved in the sidewalk, you'll find art in unexpected places. Some pieces have rich backgrounds and others connect to traditions that define Appleton, in all its uniqueness. Next time you're taking a stroll on or near campus, check out these 17 pieces or projects to enjoy the artistic grooves of Appleton.  
1. Aerial Landscape sculpture, across from Wellness Center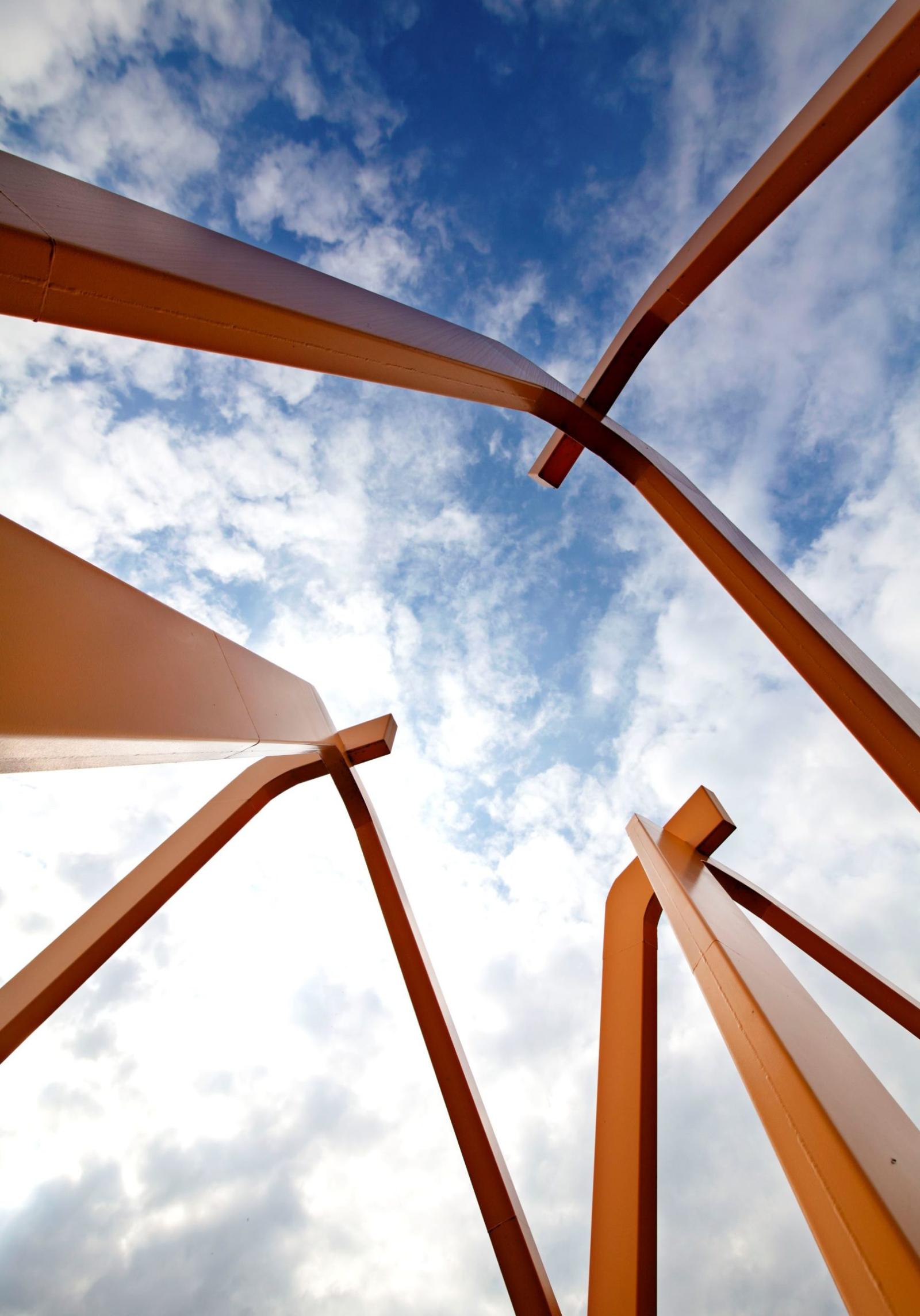 By the late Rolf Westphal, Lawrence's first Frederick R. Layton Distinguished Visiting Professor in Studio Art, Aerial Landscape can be found on campus outside the Wriston Art Center. Originally installed in 1988, this bright trio of yellow arched structures have become a recognizable landmark on campus—and honestly, the upside-down LU is more iconic for Lawrentians than the McDonald's yellow arches. For more on art and art history at Lawrence, see here.  
2. Indigenize Education mural, on side of Wellness Center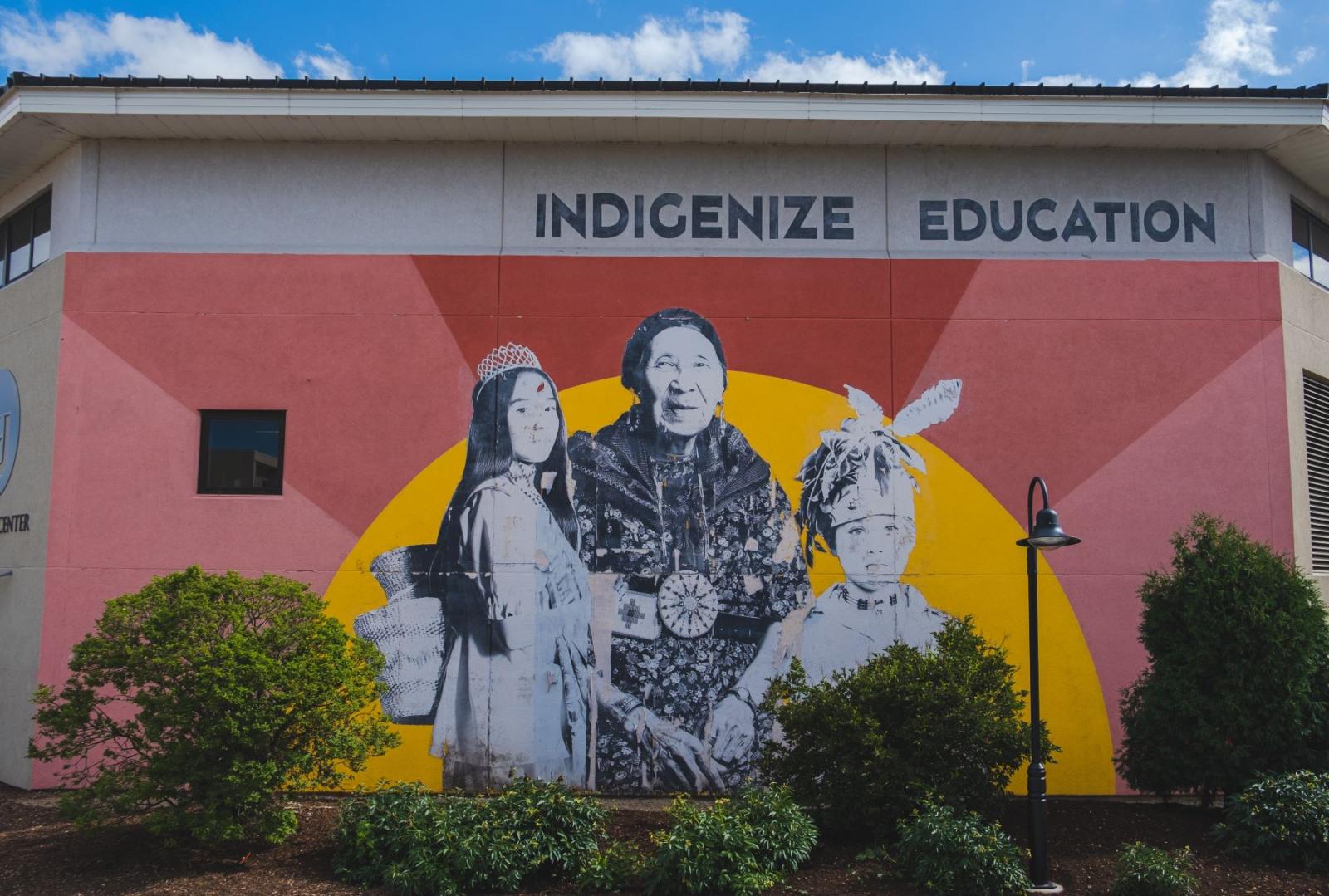 Having indigenous representation on a college campus is a huge and necessary step in acknowledging our own history. The Indigenize Education mural on the north exterior wall of the Buchanan Kiewit Wellness Center is part of Matika Wilbur's Project 562—a project that aims to create positive indigenous role models through artistic representations to counteract stereotypes about Native Americans in the mainstream media. This non-permanent wheatpaste mural is a reminder for us to truthfully embrace who we are and encourage us to make sure everyone's story gets told. 
3. The Merrill Hall Sundial, Main Hall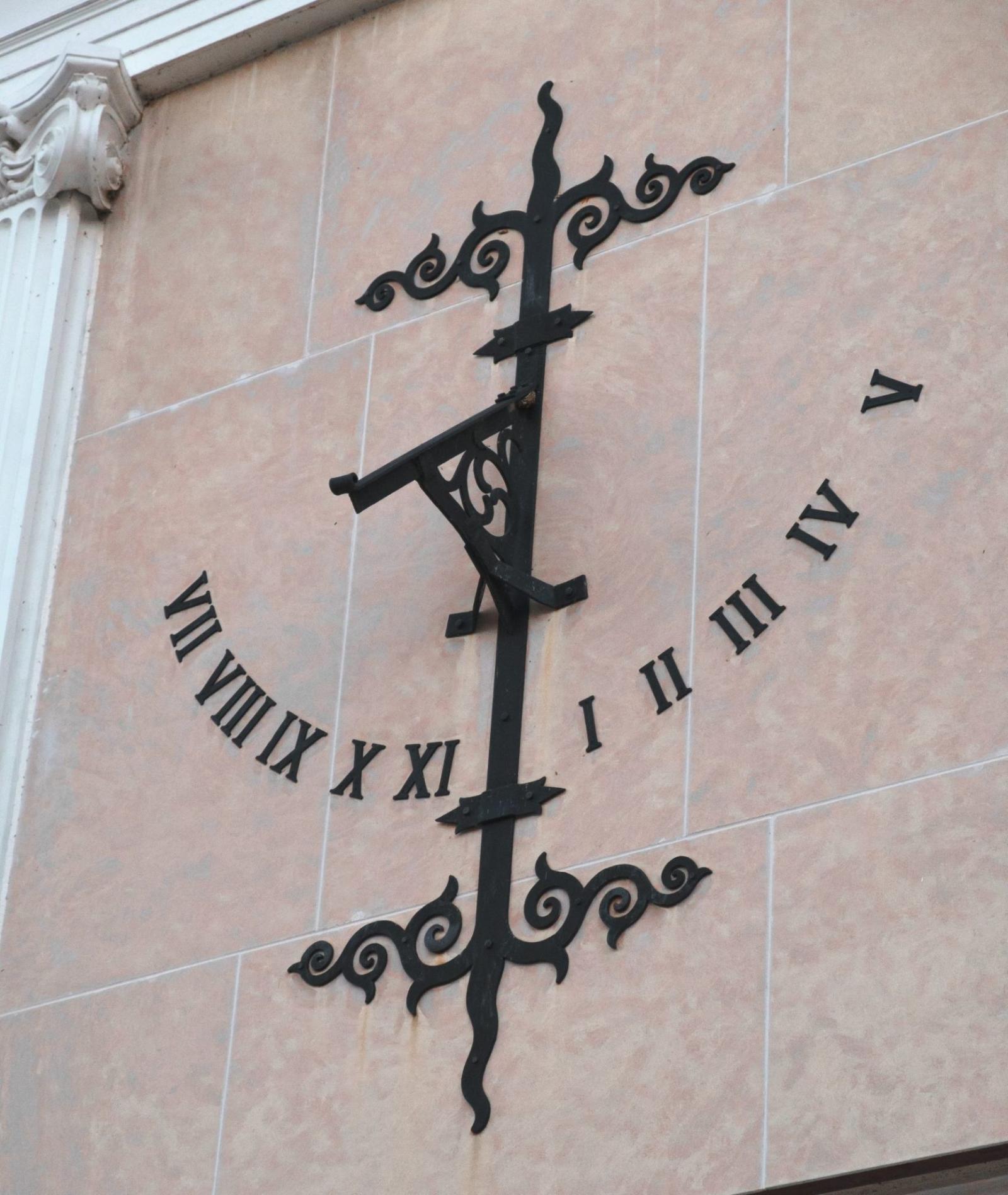 On the south side of Main Hall, you'll find a sundial adorning the building above the stairs. Milwaukee-Downer College and Lawrence College merged in 1964 to form Lawrence University, and the Merrill Hall Sundial was transferred to Lawrence in 1973 as a gift from the Milwaukee-Downer class of 1932. This sundial was formally installed and dedicated on the south face of Main Hall in 1975. Plus, it offers a built-in timestamp in your photos.  
4. Hawthornden, outside of Colman Hall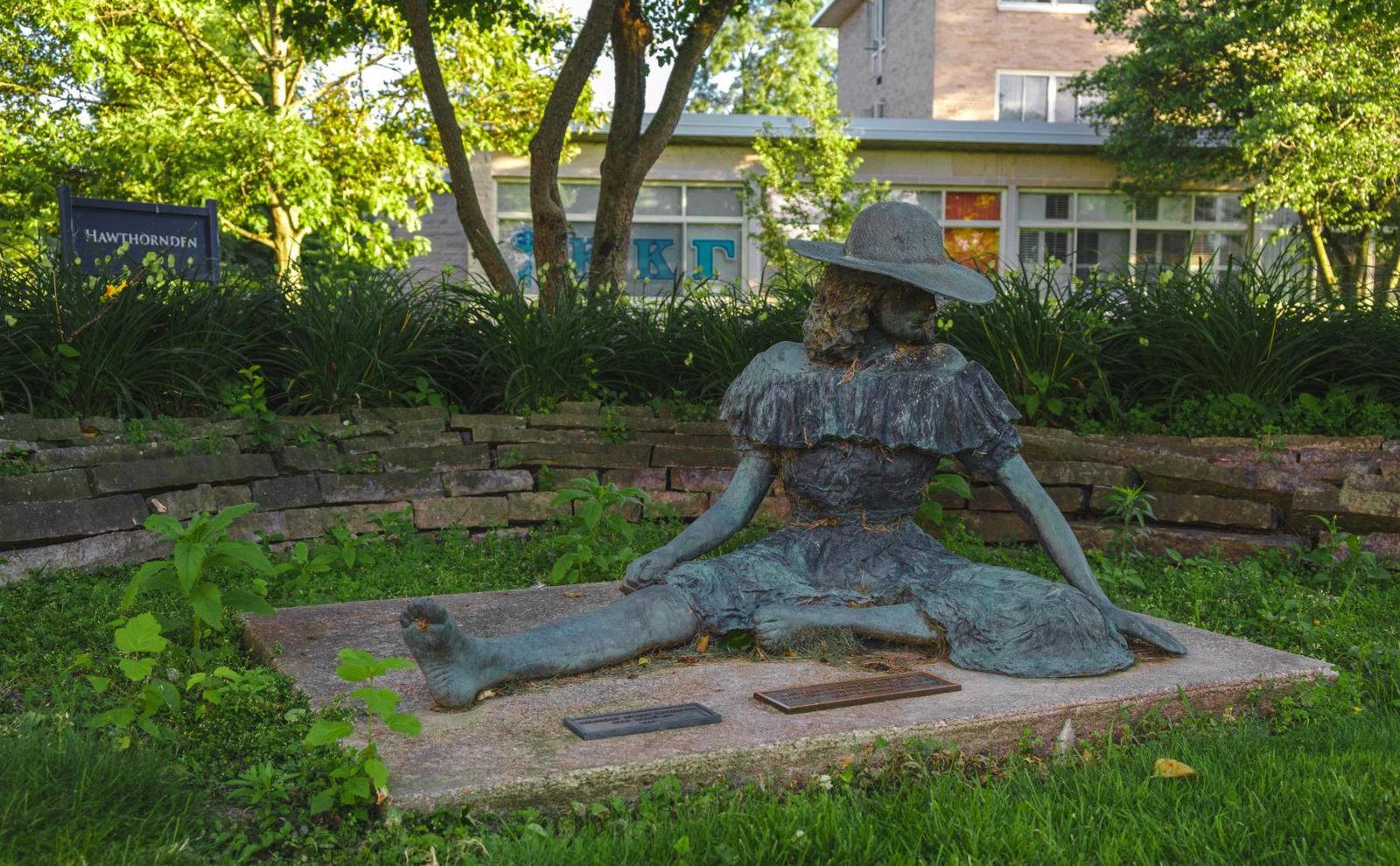 A beloved grove of Hawthorn trees from Milwaukee-Downer College, known as Hawthornden, has been recreated near Colman Hall together with a statue of a young woman sitting in grass and dressed in 1890s attire. The class of 1961 helped plant the trees, designed the statue and commissioned it as a memory of Milwaukee-Downer College.  
5. Kimball Alley mural, across from Colman Hall 
Located across from the main entrance of Colman Hall (and behind Brokaw Hall), the black and white lines swirl and densify themselves to create many abstract shapes. The other black and white mural shows the skeletons inside a flying creature's silhouette. They bring so many dynamics to the gray and boring backgrounds in a lesser known corner of campus.  
6. After the Storm, in green space north of Brokaw Hall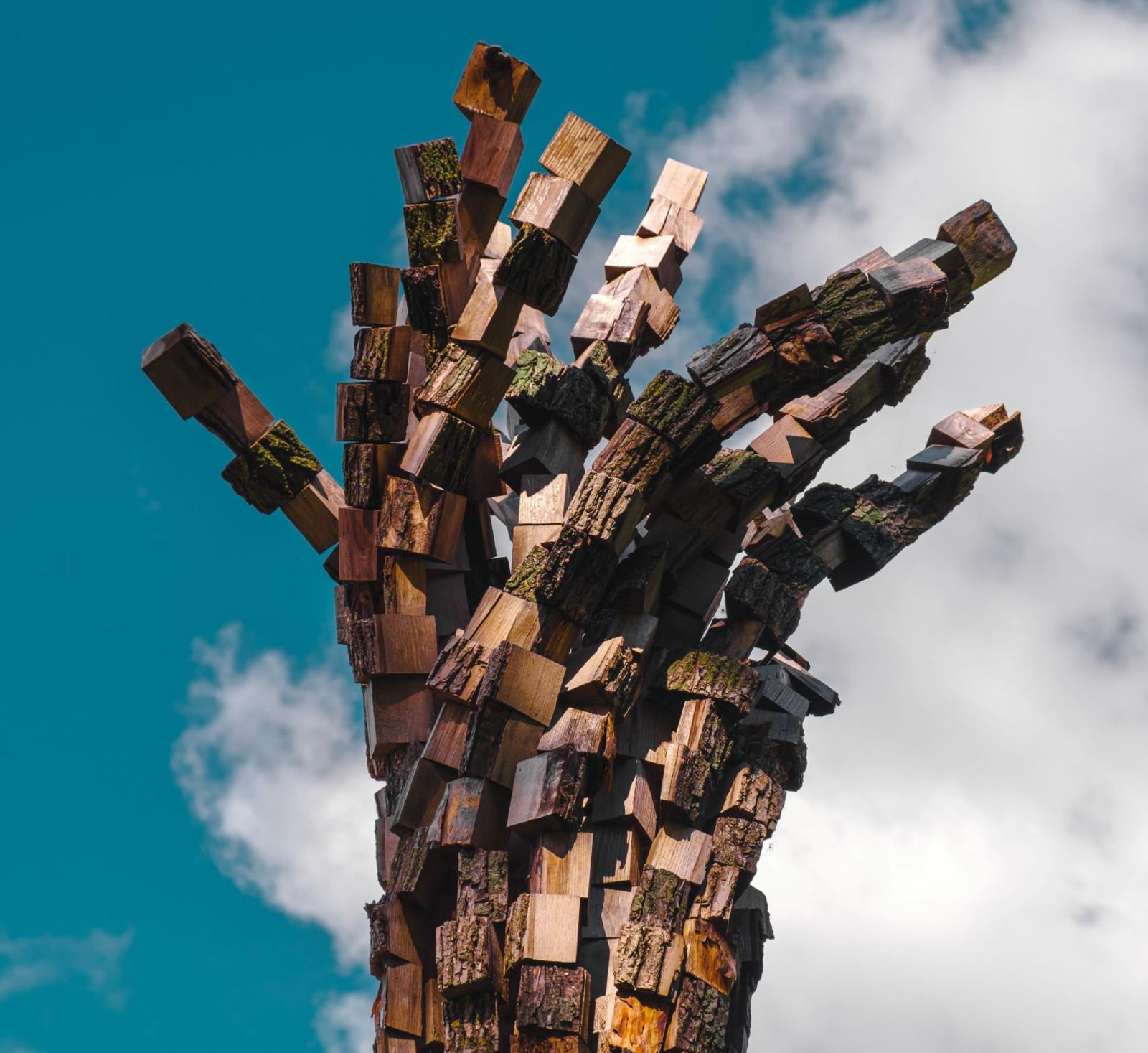 Created by sculptor Anthony Heinz May as a part of Sculpture Valley's Acre of Art, After the Storm is a representation of reform after a disaster. Installed in August 2019 near the intersection where downtown Appleton meets the Lawrence campus, a tree formed of cubes represents the discomfort and displacement after our fights against nature. The branches twist and soar in the sky, symbolizing nature's consequence to humans' acts of over-exhausting it—a lesson we should all take to heart.  
7. The Alley Project, west side of History Museum at the Castle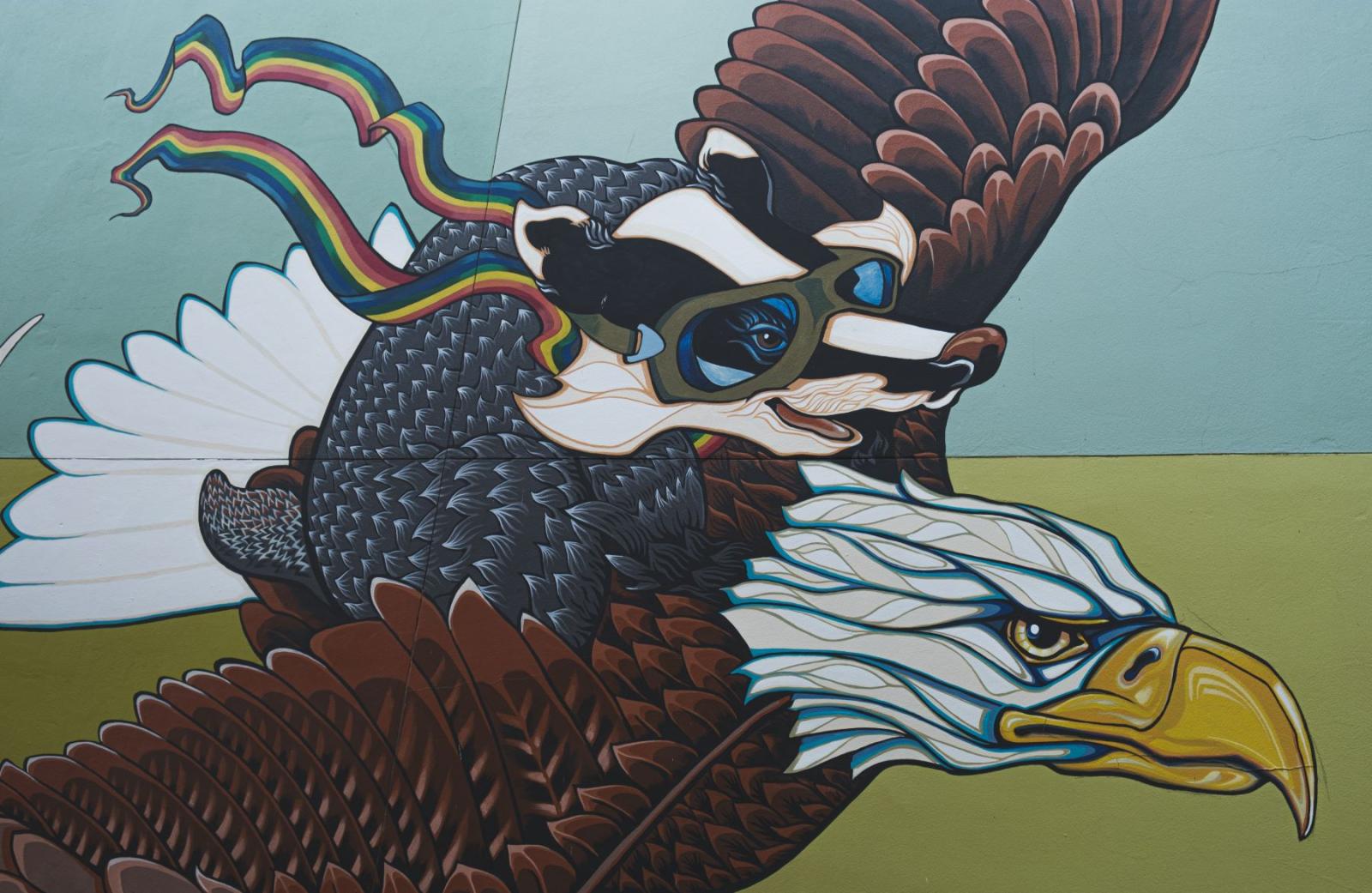 Across College Avenue from the Taste of Thai restaurant, the west side wall of the History Museum at the Castle is painted, courtesy of Chad Brady. Blocks of vibrant colors and the theme of badgers bicycling celebrates Appleton's active living style. This mural adds energy to the annual Mile of Music Festival and re-energizes any student making their way to a downtown coffee shop to cram for finals.  
8. Heid Music murals, back and side doors of Heid Music  
Near Heid Music, a music instrument and accessories store a block west of campus on College Avenue, there are two murals. One contains black-and-white silhouettes of different musicians, with a hint of blue. The other one paints a colorful tropical garden where plants are enjoying a music festival. They are really visible and universally recognized by Lawrentians.  
9. Compassion Project manhole covers, various locations along College Avenue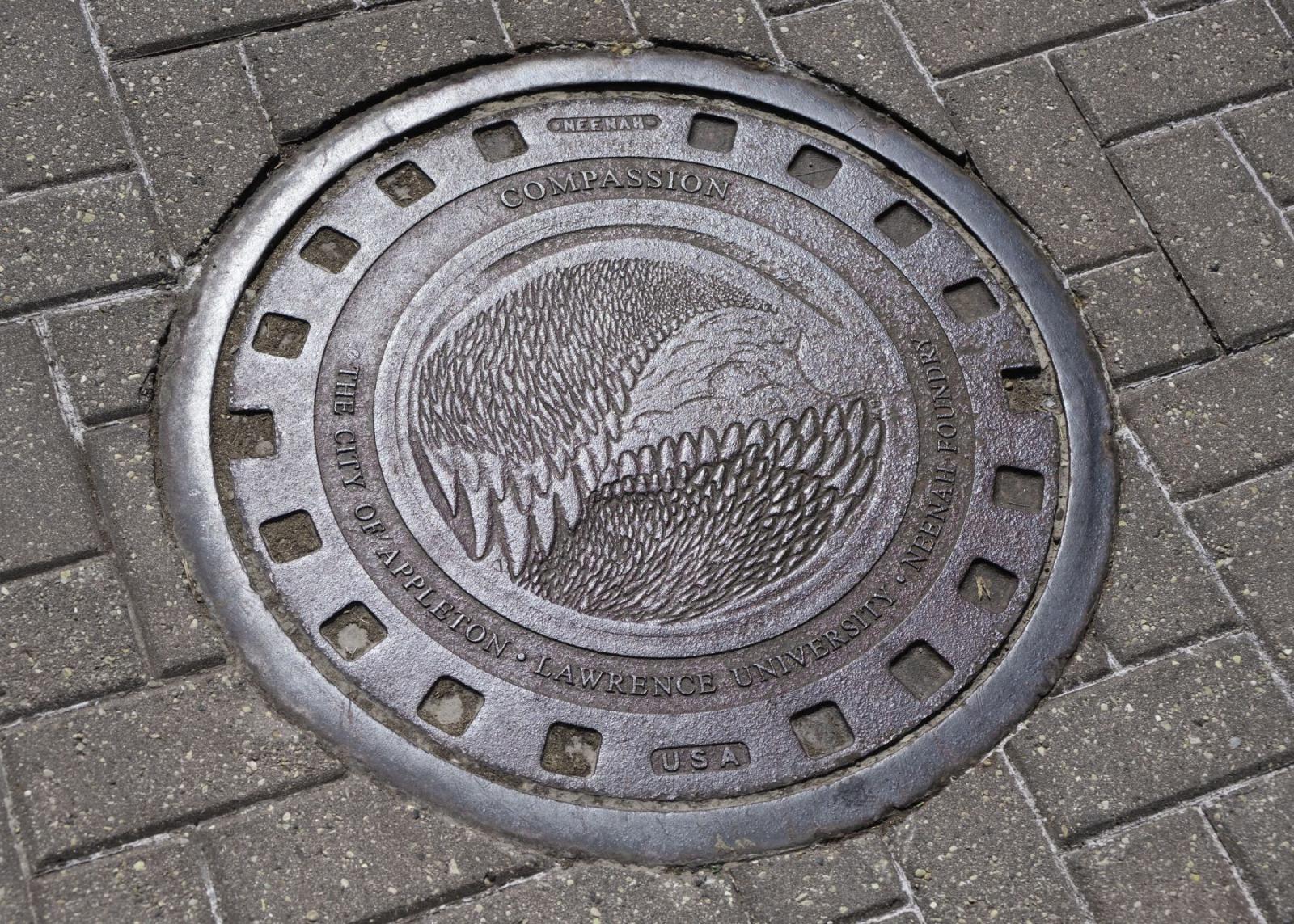 Designing manhole covers and installing them on the sidewalks was inspired by the community-wide Compassion Project. Led by Lawrence's Frederick R. Layton Professor of Studio Art Rob Neilson in 2011, Lawrence students were asked to express what compassion means to them via their artwork. It was part of a larger effort that included young students across Appleton using art to explore compassion. For the Lawrence creations, Neenah Foundry helped facilitate and install these customized covers along College Avenue. There is even one compassion manhole in front of the Warch Campus Center. Look around at how unique they are. It will change the way you see manhole covers.  
10. The Fire mural, near The Fire pottery studio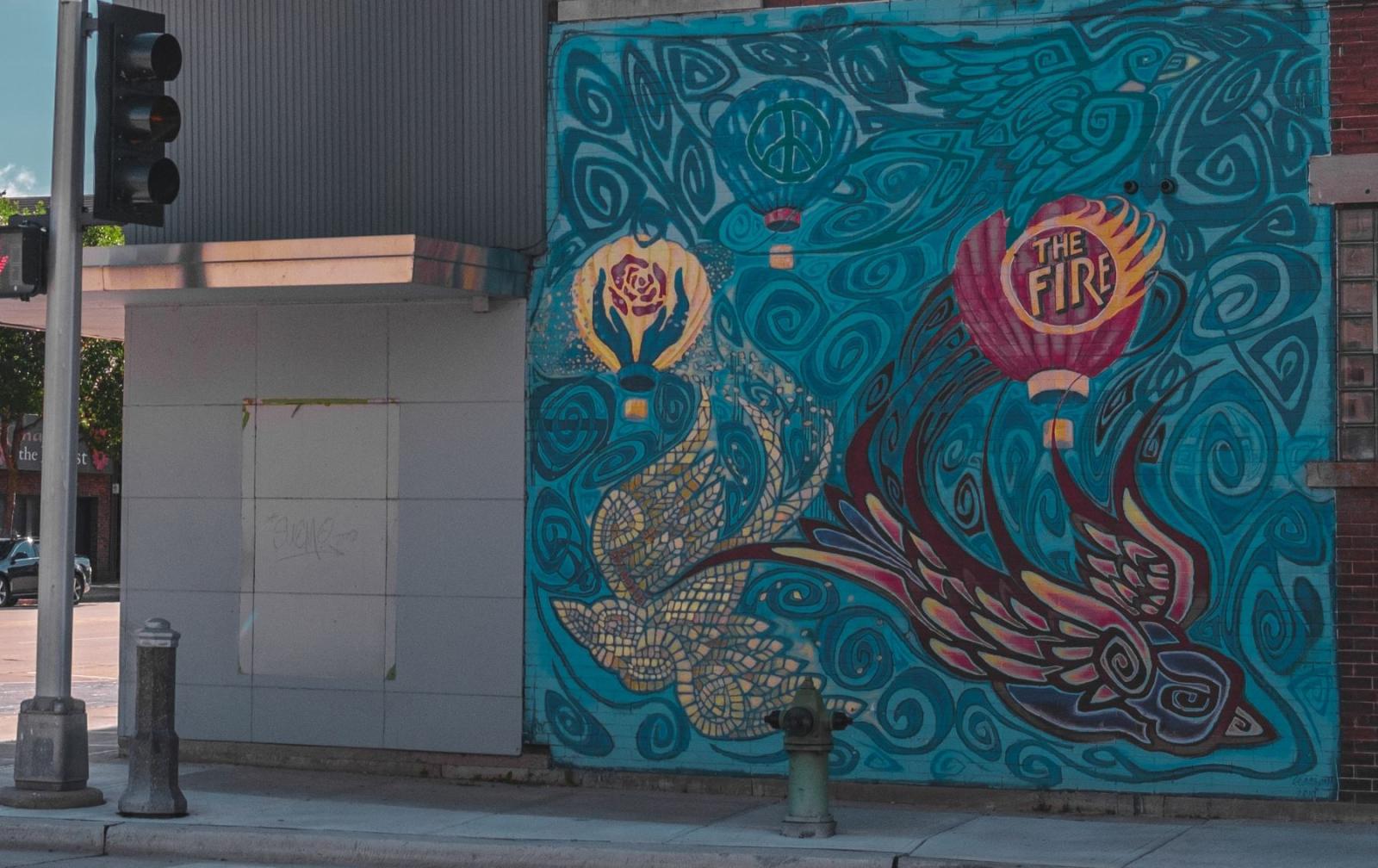 The Fire is a pottery, mosaic, and glass-fusing studio on College Avenue a block off campus. It features a cool blue background with two phoenix-like birds, one red and the other made of abstract yellow-brown blocks; swirls in the background and the shape of the birds' wings add motion and excitement. They make you want to go into the store to explore your own artistic potential.  
11. Traffic Box Art Project, various locations throughout Appleton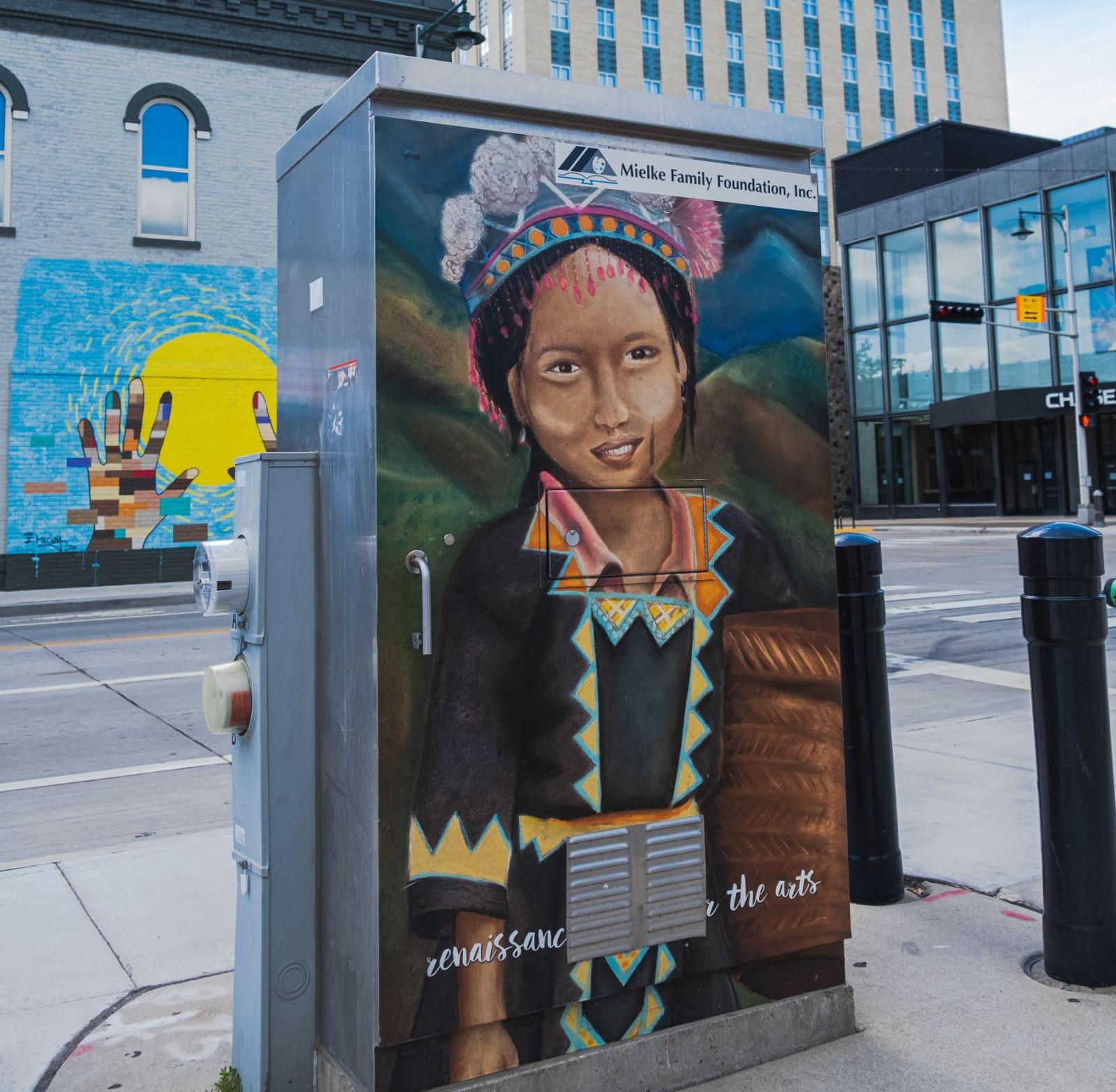 Highlighting the stories of diverse populations and their culture, the Traffic Box Art Project involves the collective actions from youth and community partners to paint a more colorful Appleton. Installed in July 2016, the 16 traffic control boxes are scattered around downtown Appleton. Take a walk to look at the stories on the colorful boxes, all located near traffic lights.  
12. Mile of Music mural, corner of College Avenue and State Street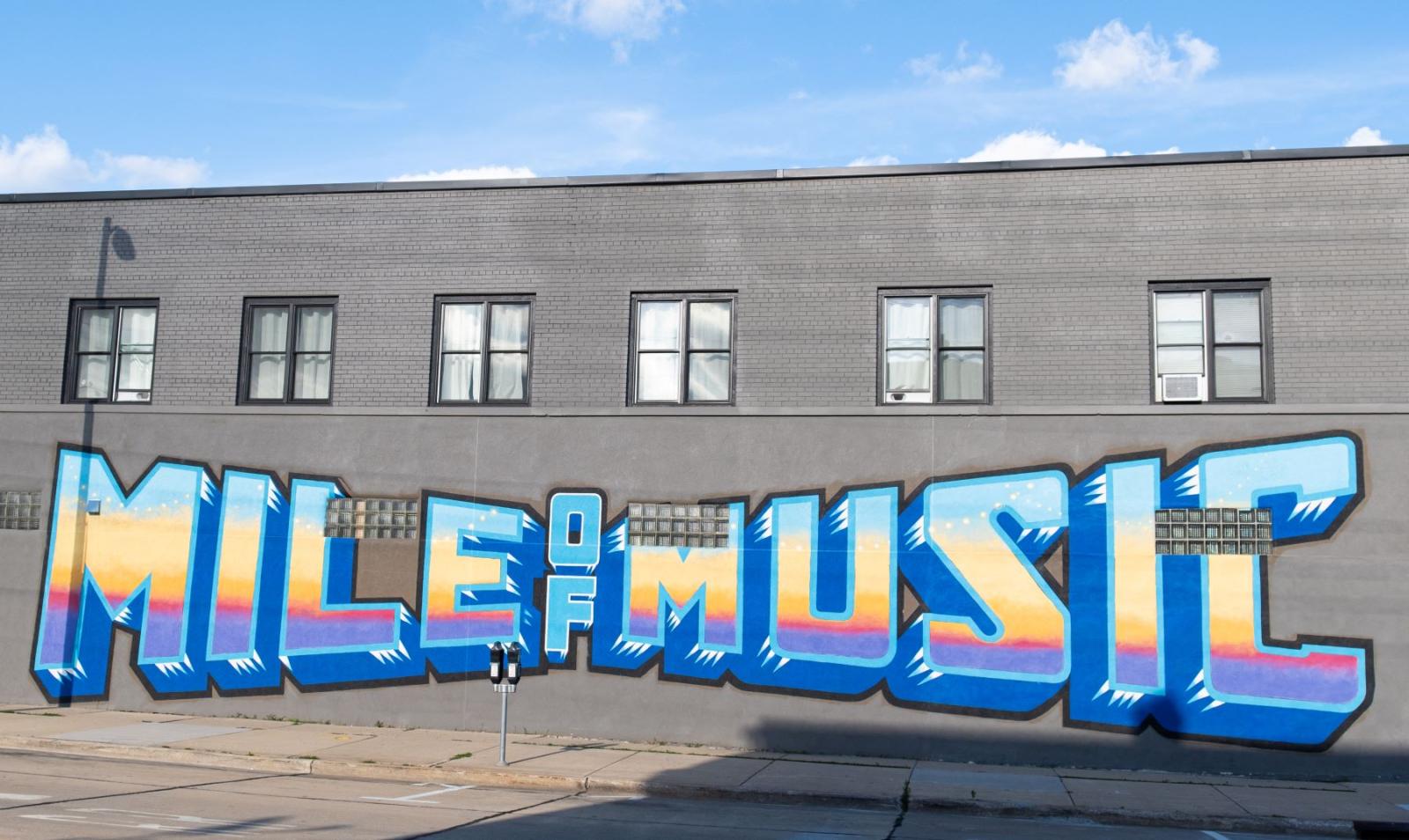 Nothing defines summer in Appleton better than Mile of Music. Each August, the four-day all-original music festival attracts about 80,000 people to enjoy live music and hands-on workshops, including some led by Lawrentians. Chad Brady painted this mural, located at the corner of College Avenue and State Street, seven blocks west of campus, during the summer of 2019 to commemorate Mile of Music. The cool blues and light yellow-browns, plus hints of purple, makes it seem like you're watching the sun set in real time.  
13. For Us mural, Houdini Plaza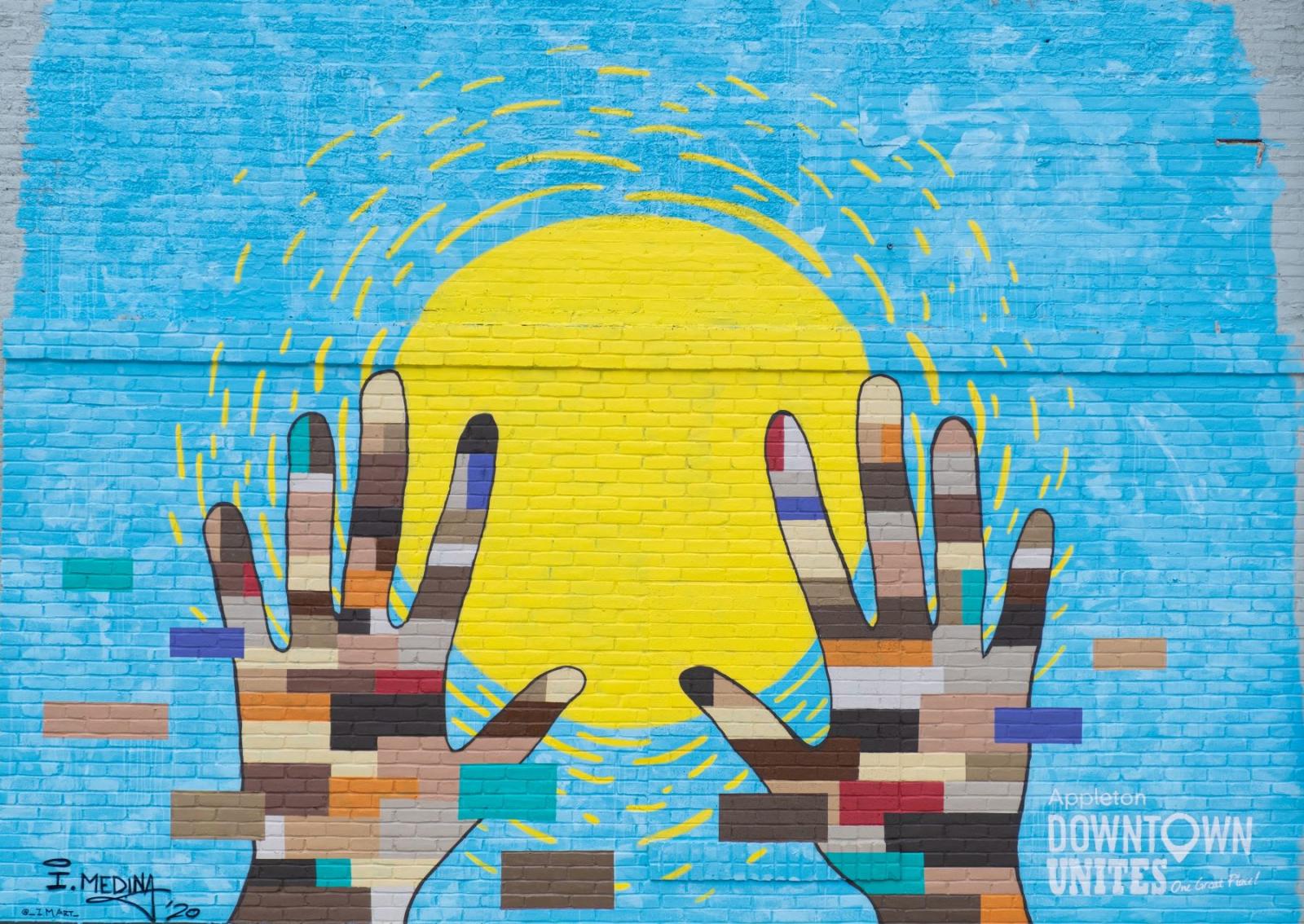 For Us is a must-see mural that went up earlier this summer in downtown Appleton. Inspired by the protests following George Floyd's death, this mural is meant to spread love, peace, and positivity. Painted by Irineo Medina in June, For Usaims to amplify the voices of minorities and offer support via art. This mural is located across from Houdini Plaza, the centerpiece of downtown Appleton and the gathering spot for a number of recent racial injustice protests.  
14. McFleshman's Brewing Co. mural, 115 S. State St.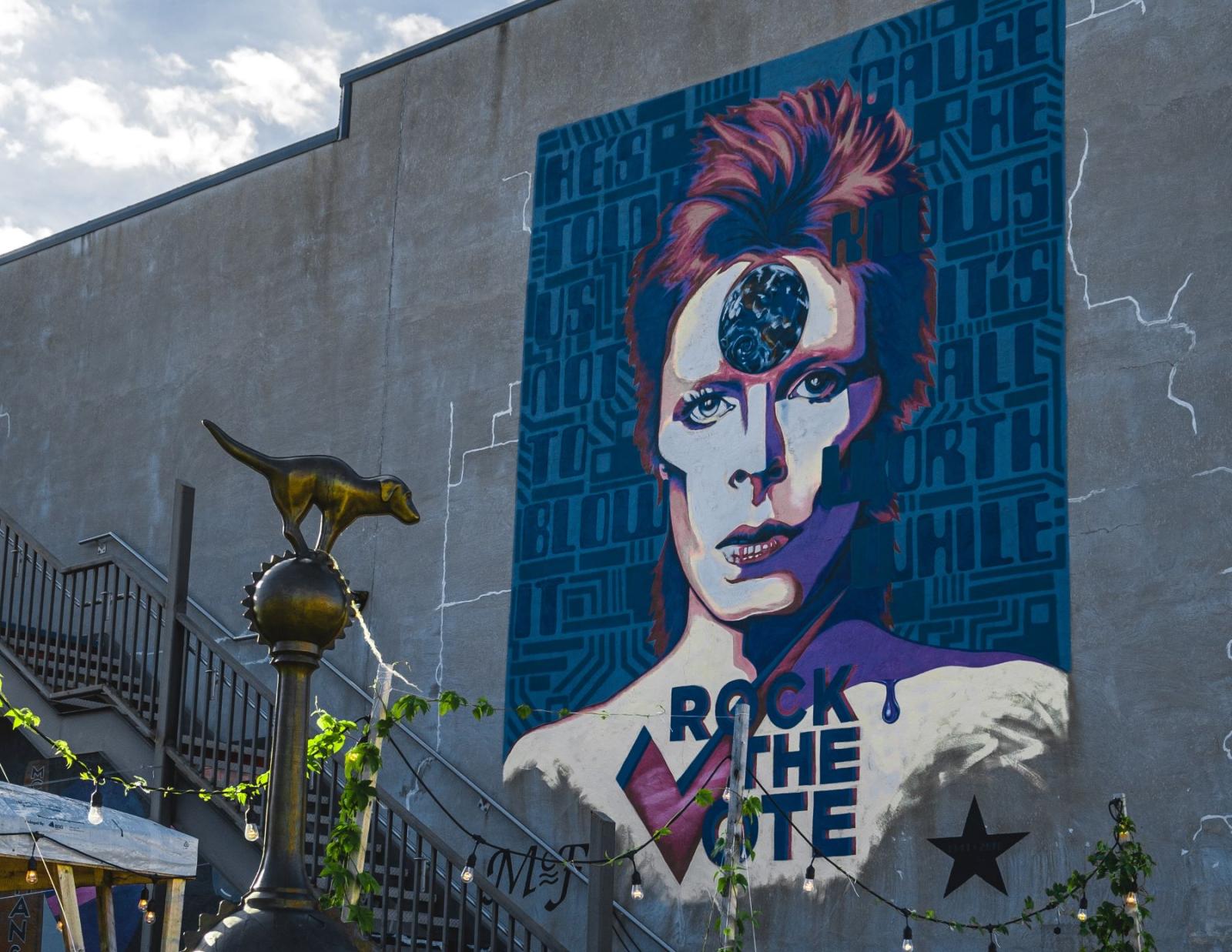 This is another work by Chad Brady, painted on the wall of McFleshman's Brewing Co.'s beer garden. The owner of McFleshman's (Hint, the owner has a strong LU connection) commissioned this mural to "Rock the Vote" before the 2016 presidential primary. The cool tone and the bold David Bowie portrait are so catchy that you will not miss it.  
15. Sidewalk poetry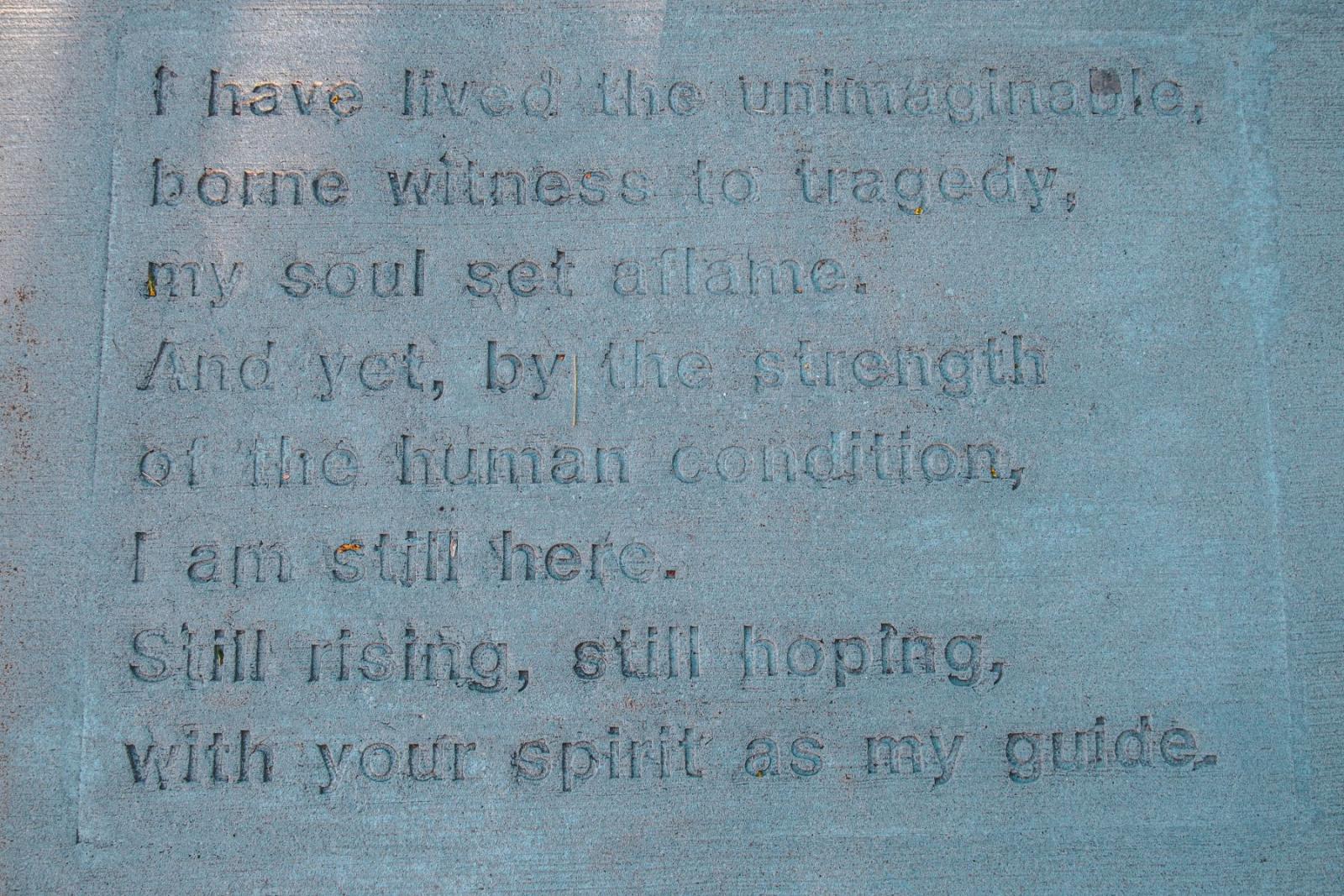 Transforming Appleton into an open poetry book, the sidewalk poems make you look down on the sidewalks so that your mind can wander to another realm for a little bit through poetry. Poems are selected from submissions by residents of Appleton each year to be carved into the sidewalks. The poem you are reading might come from a fifth grader; how cool is that?  
16. Muncheez mural, 600 W. College Ave.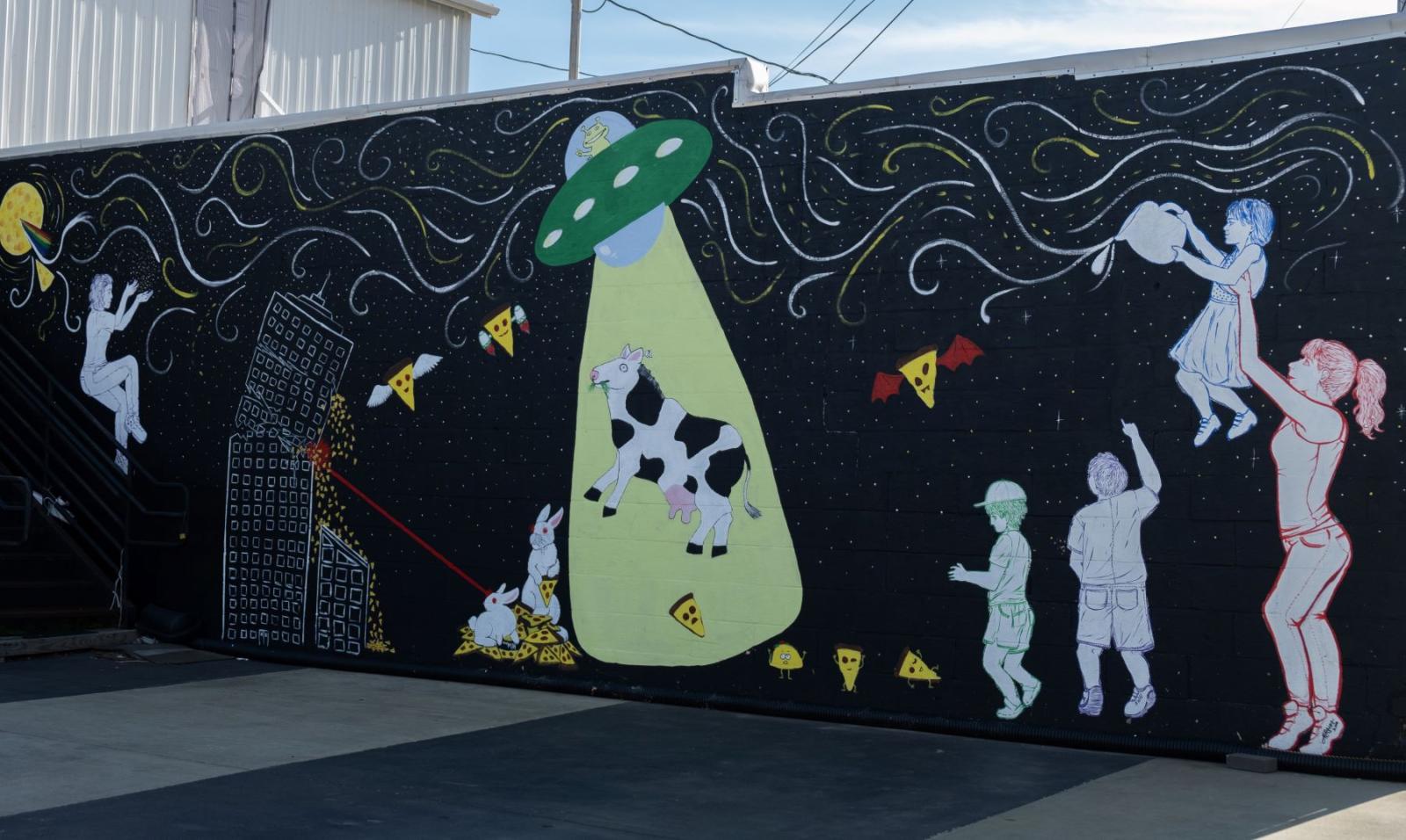 Located by the beloved Muncheez Pizzeria, the mural paints stories about aliens. Yes, you read that right. The starry black background adds a mysterious atmosphere to the scenes of flying pizzas, rabbits eating pizzas, and the alien ship trying to steal our cows.
17. The Collective, west end of the E. College Avenue bridge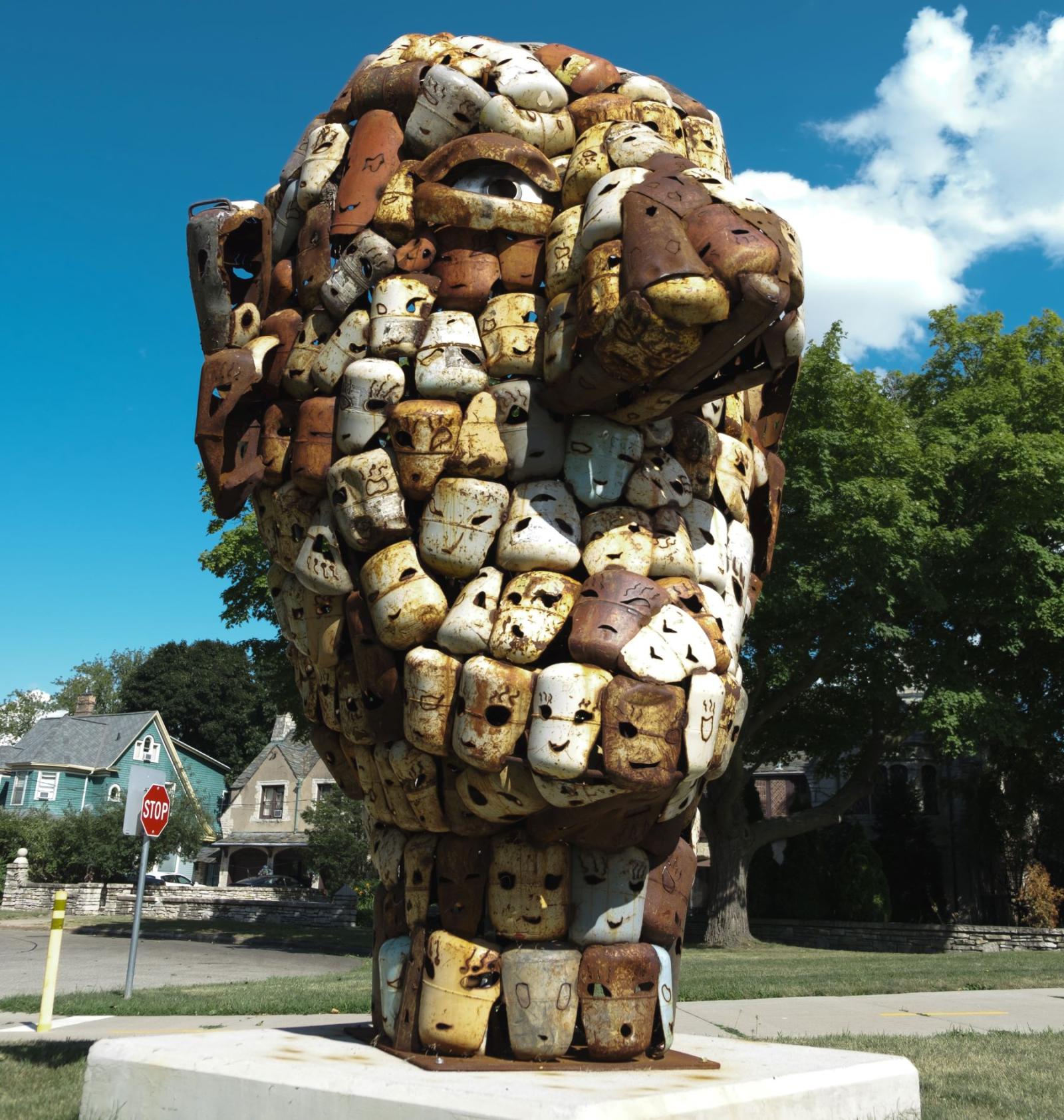 The Collective also is part of Sculpture Valley's Acre of Art. Many empty propane tanks have been used to create faces that together make up a big head sculpture located at the west end of the bridge on E. College Avenue, just a few steps east of the Lawrence campus. Take a walk around it to see faces of past and present friends and supporters of the sculptor, Paul Bobrowitz, who has said: "The collective unconsciousness is the major source of my inspiration, energy, and solutions. Everyone I have encountered form a collective." Since this sculpture has been a little divisive, check it out while you can when taking a walk along the beautiful Fox River.  
_ _ _
This isn't a list of all of the public art in Appleton, just favorites on or near the Lawrence campus. Some of the sculptures change periodically, so there is often something new to explore. The fresh pieces, along with some traditional art projects, show Appleton as an innovative, exciting, and tight-knit community. Know other public art pieces you really like in Appleton? Next time you spot your favorite, grab a picture and tag us on Instagram @lawrenceuni!