Lawrence University capped a historic weekend Saturday with a Brighter Together Picnic—and a bevy of related events—that celebrated President Laurie A. Carter's inauguration and the 175th anniversary of Lawrence's founding in 1847.
The picnic on Main Hall Green featured food, live music, games, and a resource fair with more than a dozen area nonprofits that have been ongoing community partners with Lawrence. With the Fox Cities community invited to join the Lawrence community for the festivities, it provided an opportunity to build community and celebrate shared histories under sunny skies.
The celebration came on the heels of Friday's inauguration, officially welcoming Carter to Lawrence as its 17th president. Banners displayed across campus trumpeted the 175th anniversary year.
"There was a lot of work put into this weekend," said Matthew Baumler, associate vice president of Alumni and Constituency Engagement. "Thank you to faculty and staff across campus for making this a celebration that will go down in history. Inaugurations are truly special moments and I hope everyone had a chance to stop, breathe, and take it all in. We are fortunate to be a part of such an incredible community."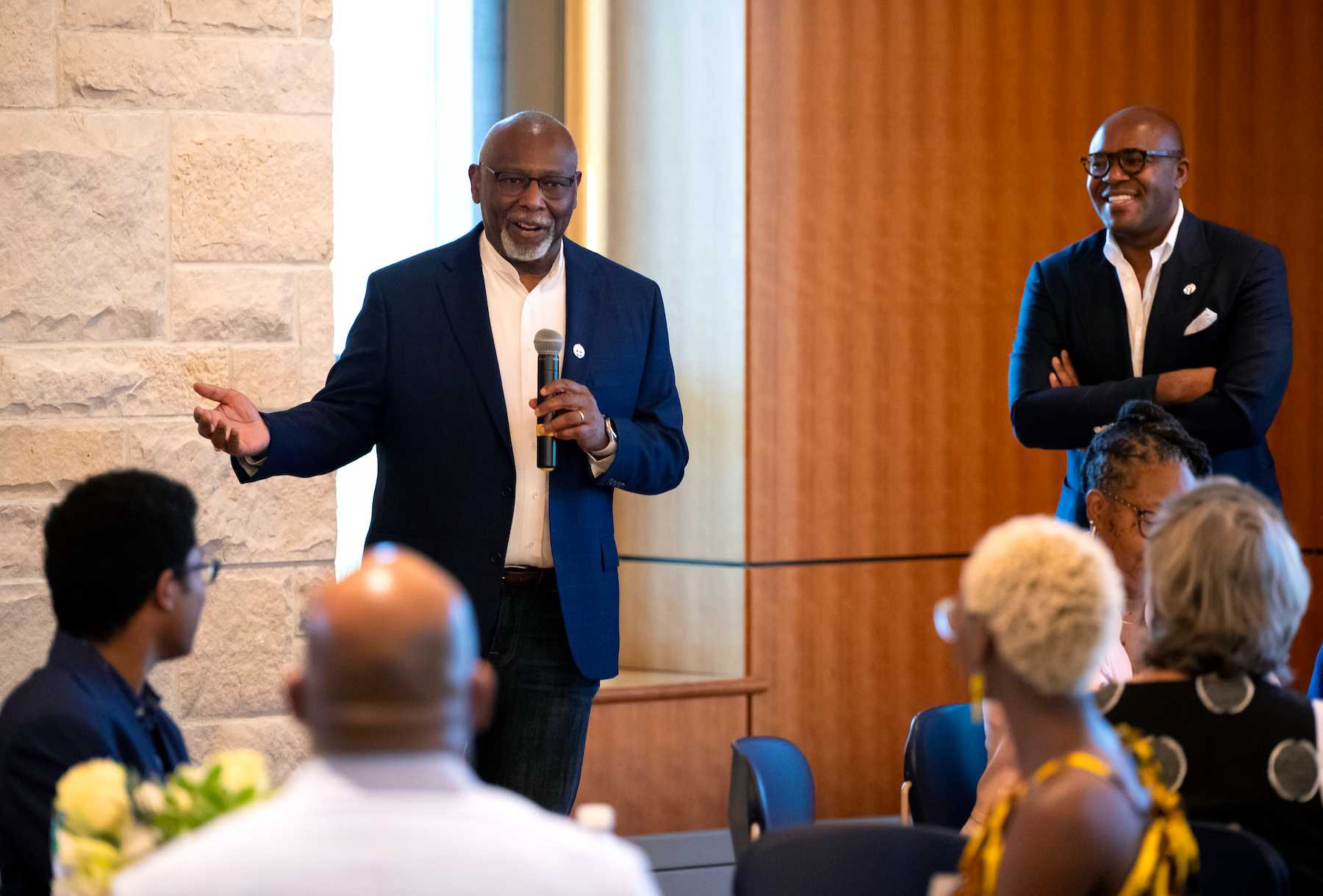 In addition to the picnic, students presented their works and took questions during the Harrison Symposium in Main Hall; the Lawrence University Black Alumni Network (LUBAN) met with Carter and presented a gift of $175,000 to the university; and a half dozen faculty and alumni gave talks in their areas of expertise. In the Wriston Art Center, tours of Spring Term exhibits and a print and ceramic sale brought out art lovers. Later Saturday, a Spring Term theatre production, towards precipice + glacier, was presented twice in Stansbury Theatre; and the night was topped off with a Jazz Series concert in Memorial Chapel featuring the Mark Guiliana Jazz Quartet.
The LUBAN brunch was a celebration within the celebration, with Black alumni applauding Carter at this historic moment in Lawrence's history. She is Lawrence's first president of color.
"Thank you for being here at this unbelievable time, this historic time, this celebratory time," Cory Nettles '92, chair of the Board of Trustees, told those gathered in Warch Campus Center.
He said the financial gift from LUBAN is an opportunity to embrace the moment and help move a great institution to even greater heights.
"We belong here, too, and it's our opportunity to impact this place and make it greater than it already is," Nettles said. "To our current students in particular, you are the reason we are here, you are the reason we do this work."
Carter told those gathered how grateful she is for their support and their ongoing commitment to Lawrence. That support is an important message to current students of color and those who will come in the future.
"I want our students to know they can do anything they set their minds to, just as you have," she said.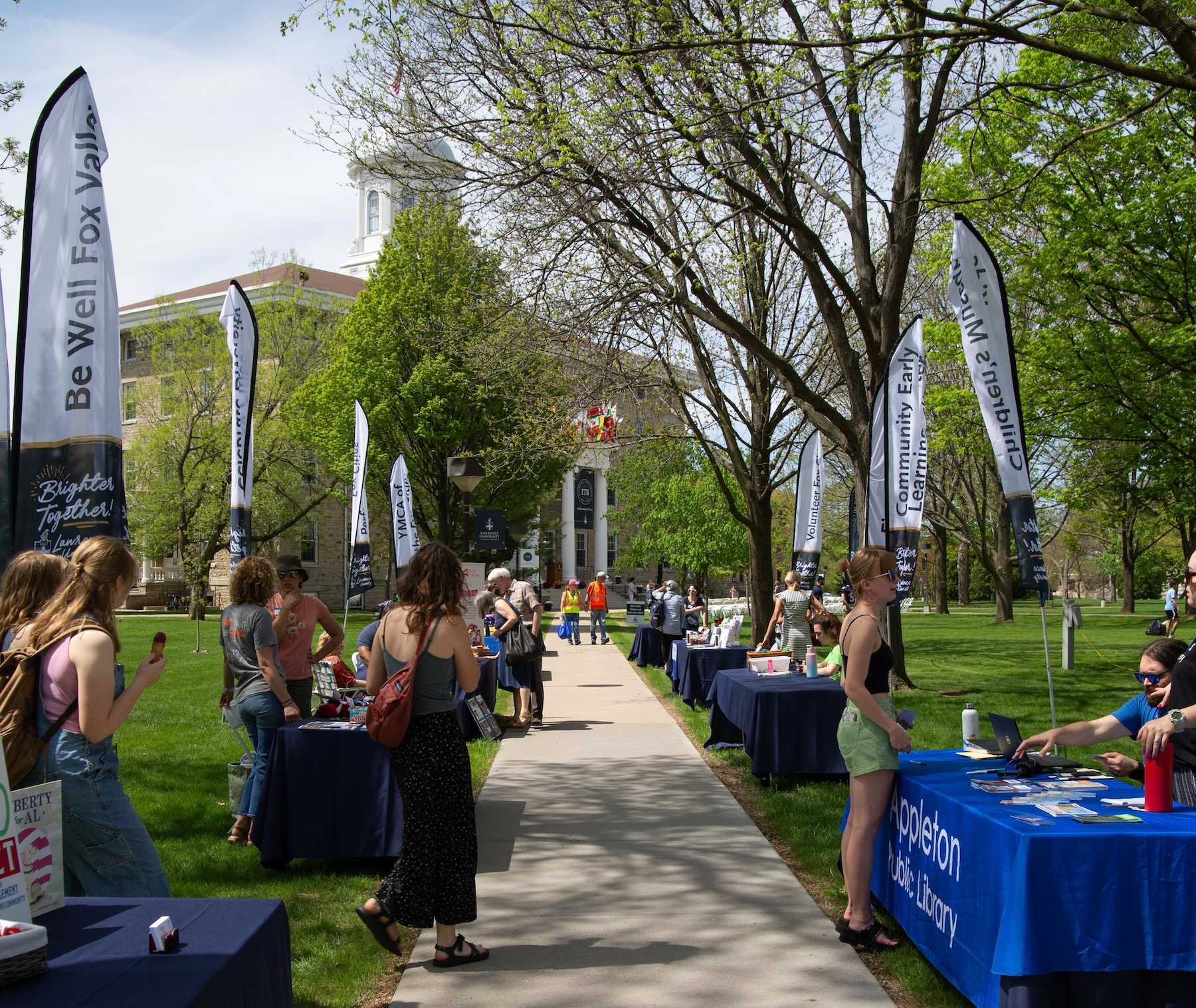 On Main Hall Green, the celebration included student athletes giving sports demonstrations and interacting with visitors; live music from student musicians in front of Main Hall; children enjoying a bounce house, and representatives from nonprofits handing out literature and other giveaways while chatting with visitors about the work they do in the community.
The resource fair featured 13 organizations that have been important partners with Lawrence through the years—African Heritage Inc., Appleton Area School District, Appleton Public Library, Be Well Fox Valley, Building for Kids Children's Museum, Celebrate Diversity Fox Cities, Community Early Learning Center, Community Foundation for the Fox Valley Region, First 5 Fox Valley, Fox Cities Performing Arts Center, United Way Fox Cities, Volunteer Fox Cities, and YMCA of the Fox Cities.
175th anniversary: See more on Lawrence history and find 175th merchandise 
Photo galleries: See more photos from inauguration and Saturday's festivities
It was a day of celebrating community and building community.
At the table for the Fox Cities PAC, visitors were invited to use colorful markers to put their handprints on dinner plates that will become part of a gala this summer.
"We're excited to be here," said Amy Gosz, chief programming officer for the PAC. "We've been part of the downtown community for nearly 20 years now, as we'll be celebrating our 20th anniversary this fall. I think this is a great opportunity to celebrate what this downtown community has to offer—bringing the community together, celebrating the richness of everything we have together. … There's a great collaboration and partnership between Lawrence and these organizations."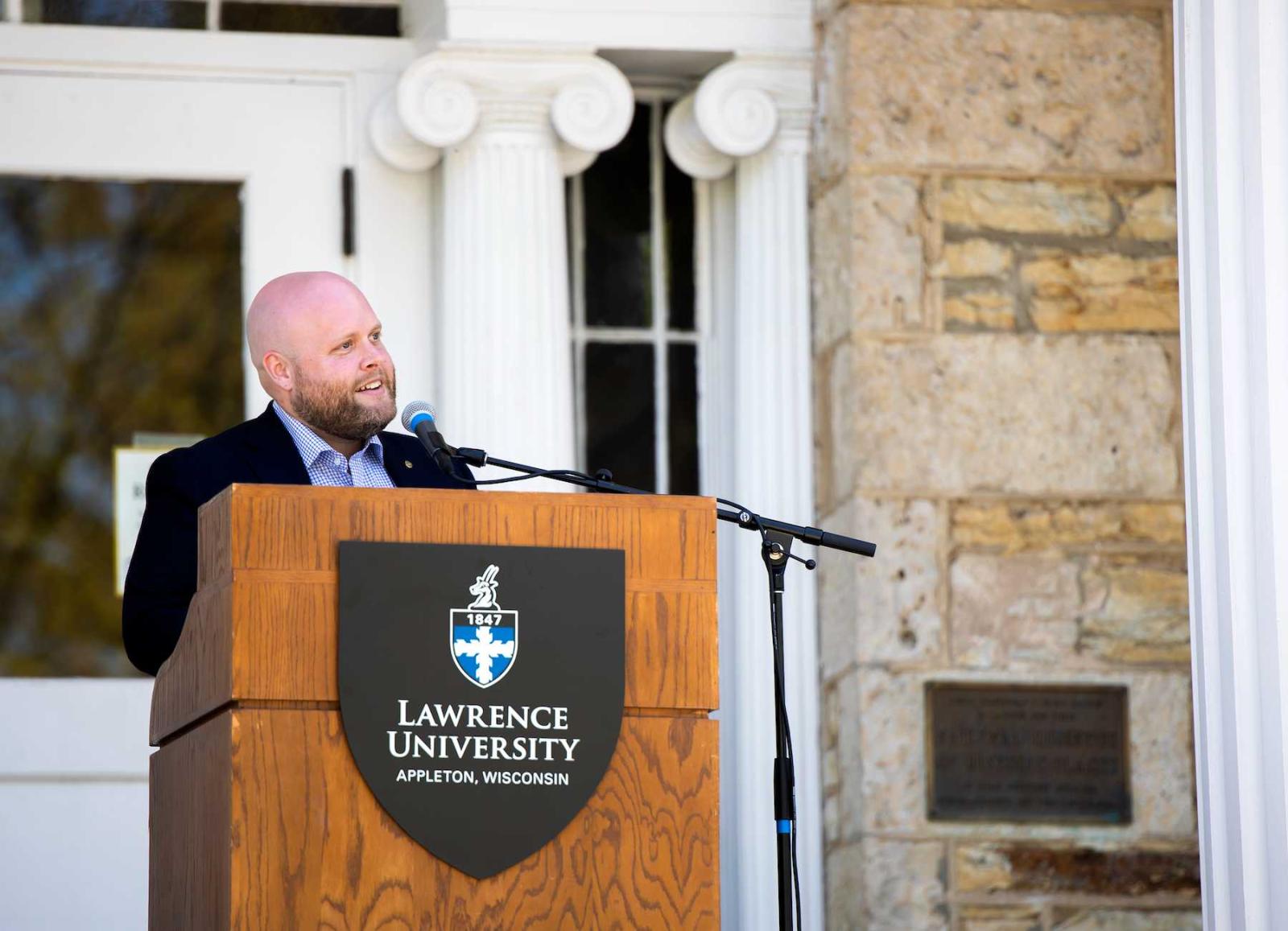 Appleton Mayor Jake Woodford '13 joined the picnic festivities and read a mayoral proclamation that declared May 14 Lawrence University 175th Anniversary Day in Appleton.
"The City of Appleton and Lawrence University share an inextricable connection; neither would exist in its present form without the other, and Lawrence University has contributed to the development, culture, education, and quality of the City of Appleton in myriad ways through its comprehensive liberal arts and sciences curriculum, conservatory of music, and the extracurricular engagements of its students, faculty, and staff," Woodford said as he read the proclamation.
He referred to himself as a "proud Lawrence University alumnus" and encouraged residents to celebrate the relationship and "look forward to generations of partnerships to come."
Woodford, elected mayor in 2020 after working in the president's office for seven years, joined the closing ceremony on the steps of Main Hall and spoke of the strong bonds that unite Lawrentians, bonds that may have felt frayed a bit during the COVID-19 pandemic but are fully evident during weekends such as this one.
"I spent 11 of my 32 years on this campus," Woodford said. "With a couple of years of distance during the pandemic, I'll admit I started to forget a little bit what this place feels like and what it means—the good work that happens here, the challenges, the growth, the learning. It's just so joyful to be with you today. I'm so grateful for the intellectual life of this place, the music, the creativity, the culture. It's a really special place."