A year after the launch of campus-wide guiding coalitions to help inform a strategic planning process, Lawrence is already seeing fruits of that labor, President Laurie Carter said Friday in a message to the Lawrence community at the annual Matriculation Convocation in Memorial Chapel.
From updates to residence halls and other campus facilities this summer to the creation of the Center for Teaching Excellence and other academic initiatives, the early work stemming from the Board of Trustees' strategic investment is taking shape, with much more to come, she said.
"Our mission is clear: we are stewards to liberal learning," Carter said. "The task before us is clear: lean into our strengths, bond together against forces that come against us, and always be mindful of the privilege and challenge that come with being guardians of the liberal arts."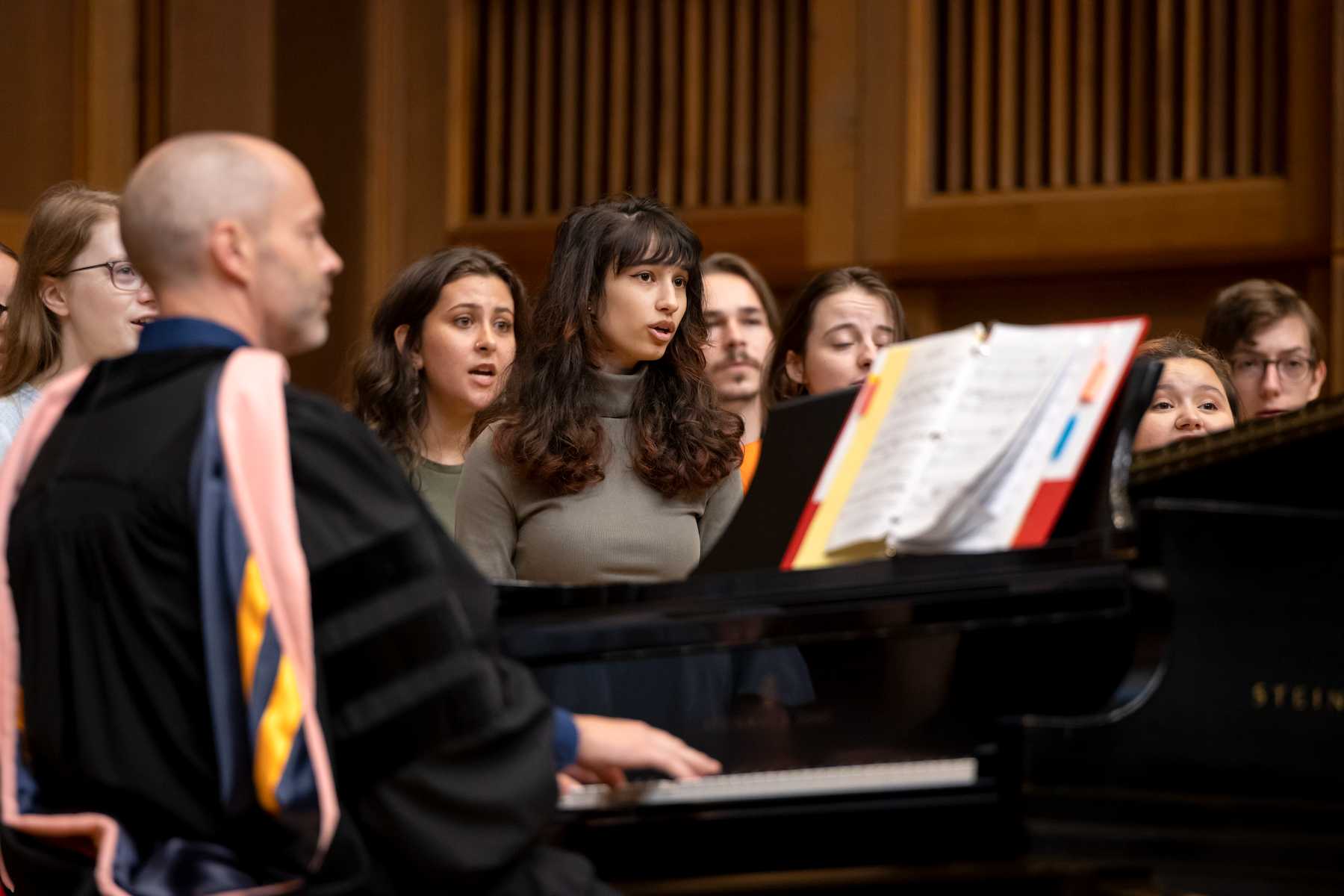 In a convocation that has traditionally served as a kickoff to a new academic year, Carter welcomed the Lawrence community back to campus with a speech titled, "Time to Shine." Faculty processed in full regalia, led by faculty marshal Julie McQuinn, associate professor of music. The Welcome Week Choir, directed by Stephen Sieck and Phillip Swan, co-directors of choral studies, and with first-year student Rebecca Reynolds on flute, performed Hine ma tov.
"This is a new year—and the first in three years in which we return to primarily in-person activity—and it is a time for Lawrence to shine," Carter said.
Students were featured in a video playing above the stage, speaking to why this is their time to shine.
Carter applauded accomplishments of faculty, students, and staff over the past year, saluted the perseverance to shine despite "pandemic fatigue," and thanked trustees and alumni for remaining committed and engaged.
She said the work of the guiding coalitions and the Strategic Planning Committee, and the enthusiastic support of the Board of Trustees, has Lawrence moving forward in four key areas of focus: clarifying and enriching the curricular experience; strengthening the student experience; enhancing institutional sustainability; and supporting a strong workplace culture. The study of data across areas of admissions, enrollment, and financials is helping to guide decisions, preparing Lawrence to thrive amid the challenges in higher education.
"The data showed that Lawrence continues to hold steady in this challenging and shifting higher education landscape," she said. "We continue to be the top liberal arts university in Wisconsin, but we cannot become complacent. We must improve our position nationally and internationally so that we can continue to attract the best and brightest students of all backgrounds."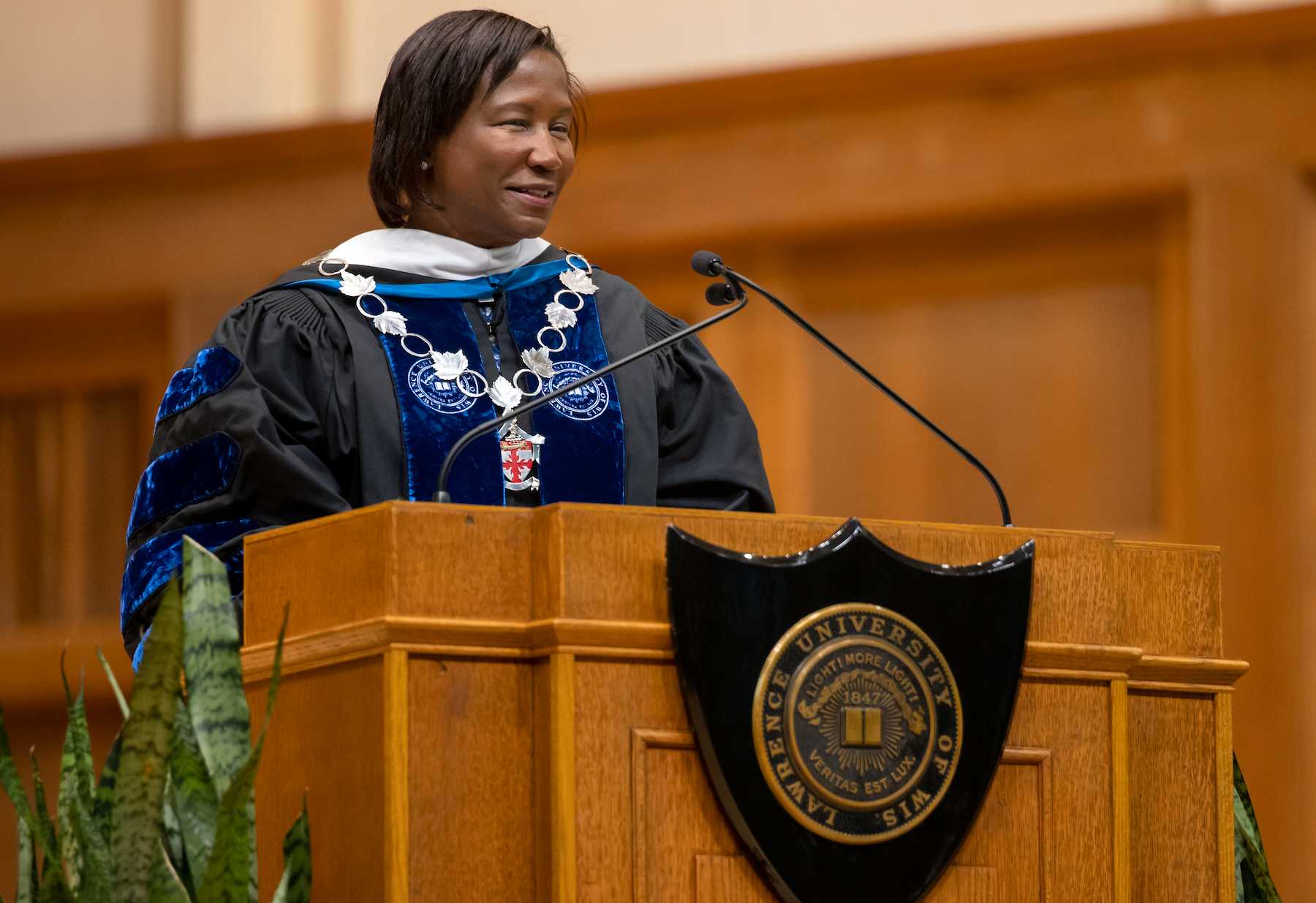 The changes and investments that are coming to support the identified priorities do not move Lawrence away from the liberal arts, Carter said. Rather, they provide an opportunity to lean more fully into the liberal arts.
"It is about living them out loud," she said. "It is about investing in a student-focused liberal arts environment for the students of today and tomorrow. It is about supporting all community members in an environment that provides them with a sense of belonging and embraces excellence. It is about embracing challenges and opportunities by elevating our strengths.
"So, let's acknowledge that we need to increase application numbers, enrollment, and revenue. We have to stem the tide of the Great Resignation. We must improve selectivity without compromising diversity. We must pivot toward a brighter future. Thanks to our devoted trustees, we will spend the next three years investing in our future."
Watch a replay of the Matriculation Convocation here
Carter closed her address with a challenge to the campus community and a nod to Lawrence history as the university continues to celebrate the 175th anniversary of its founding in 1847.
"Let us elevate the arts and sciences, holistically support students, faculty, and staff, and embody a liberal arts education that continues to evolve, as has been the case for 175 years at Lawrence," she said. "And let's do it by building bridges, by listening instead of judging, by igniting one another's candles rather than extinguishing them. Let's join together to light the future with the brilliance of what it means to be a Lawrentian. This is how we will achieve our goals."