Cabaret, one of Lawrence University's most cherished traditions, will take visitors on a journey of discovery this weekend.
With the theme Odyssey of Cultures, the 43rd annual celebration presented by Lawrence International will feature music, dance and fashion from places near and far, embracing our differences and joyously holding up our diversity as a point of light.
It's a chance to not only soak in some beautiful performances on the Stansbury Theatre stage but also to learn a little something along the way, said Yidi Zhang '20, president of Lawrence International (LI), the student organization that presents the annual extravaganza.
"Most of the feedback I get is really positive and encouraging, but sometimes I don't think people are focusing on the educational part of Cabaret," Zhang said. "That's what I'm trying to emphasize this year. I started collecting information from all of the performers on their cultural background and which part of their culture they're drawing from in their performance."
To that end, posters will be displayed outside of Stansbury providing background on the songs being sung, the dances being performed and the fashions being displayed.
Cabaret will include 11 performance groups featuring 80 international students from Lawrence. 
Performances are set for 6:30 p.m. Saturday, April 6 and 3 p.m. Sunday, April 7 in Stansbury Theatre. A free reception with cultural dishes in the Warch Campus Center's Somerset room will follow Sunday's performance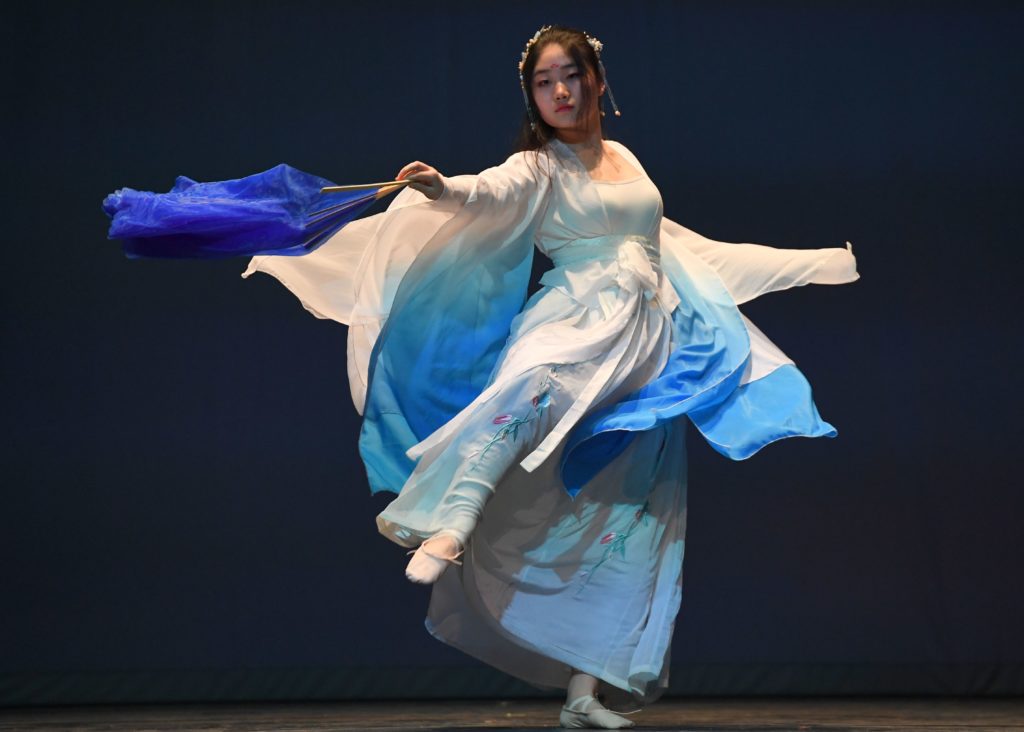 For Zhang, a junior from China majoring in music management, the educational component that comes with Cabaret is valuable on multiple levels. Taking an interest in and understanding other cultures is an important part of being an informed, enlightened, educated citizen of the world.
"Cabaret is only a starting point to encourage people to know the cultures, to get to know the people of other cultures," Zhang said. 
When Cabaret marked its 40th anniversary three years ago, our video cameras went behind the scenes
That goes for audience members coming to watch Cabaret as well as those participating in the production.
"We have more international students on campus now, so it's not only for the international students to show what they have, it's also for those international students to learn from each other," Zhang said.
The number of international students at Lawrence — foreign nationals and those with dual citizenship — has jumped from about 50 a decade ago to more than 270 today. They come from 63 countries.
Lawrence International gives those students a chance to connect with other international students both academically and socially. While the annual Cabaret performance is the group's most visible activity, it's far from its only benefit, said Leah McSorely, associate dean of students for International Student Services.
"At LI, we talk about it as a family, a home away from home, so the students can really build a strong bond with each other and can support each other as they transition into this new culture. Cabaret is a chance to share just a little piece of their cultures, and hopefully get people interested in learning more."
Zhang will be part of the entertainment lineup. She's a singer-songwriter who has rounded up three other music students to perform a song that has deep roots in Chinese culture.
She's a big believer in music's ability to bring people together. 
"I really do think that working with different artists to incorporate different aspects of the world together is a beautiful thing," Zhang said. "Bringing the whole world together is my personal, ideal view of how the world should be, and music is doing that."
Going to Cabaret
What: Cabaret, with the theme An Odyssey of Cultures
Where: Stansbury Theatre in the Music-Drama Center, Lawrence University
When: 6:30 p.m. Saturday and 3 p.m. Sunday (free reception with cultural dishes in the Warch Campus Center's Somerset room will follow Sunday's performance)
Tickets: $10 for adults, $5 for students and free for children under 4. For Lawrence students, the $5 will be donated to the LI Grant fund or, if requested, refunded. Tickets are available at the LU box office at 920-832-6749 or www.lawrence.edu/conservatory/box_office. For more information, contact li@lawrence.edu.