The names on the list are iconic—Black leaders, educators, and performers who have helped move the world forward. Each of them has visited Lawrence University through the years, delivering a speech or performing on the Memorial Chapel stage.
Lawrence is celebrating 175 years since its founding. As we also celebrate Black History Month during February, we applaud these impressive visitors, who came as convocation or commencement speakers, as sought-after performers, on the presidential campaign trail, or simply as invited guests.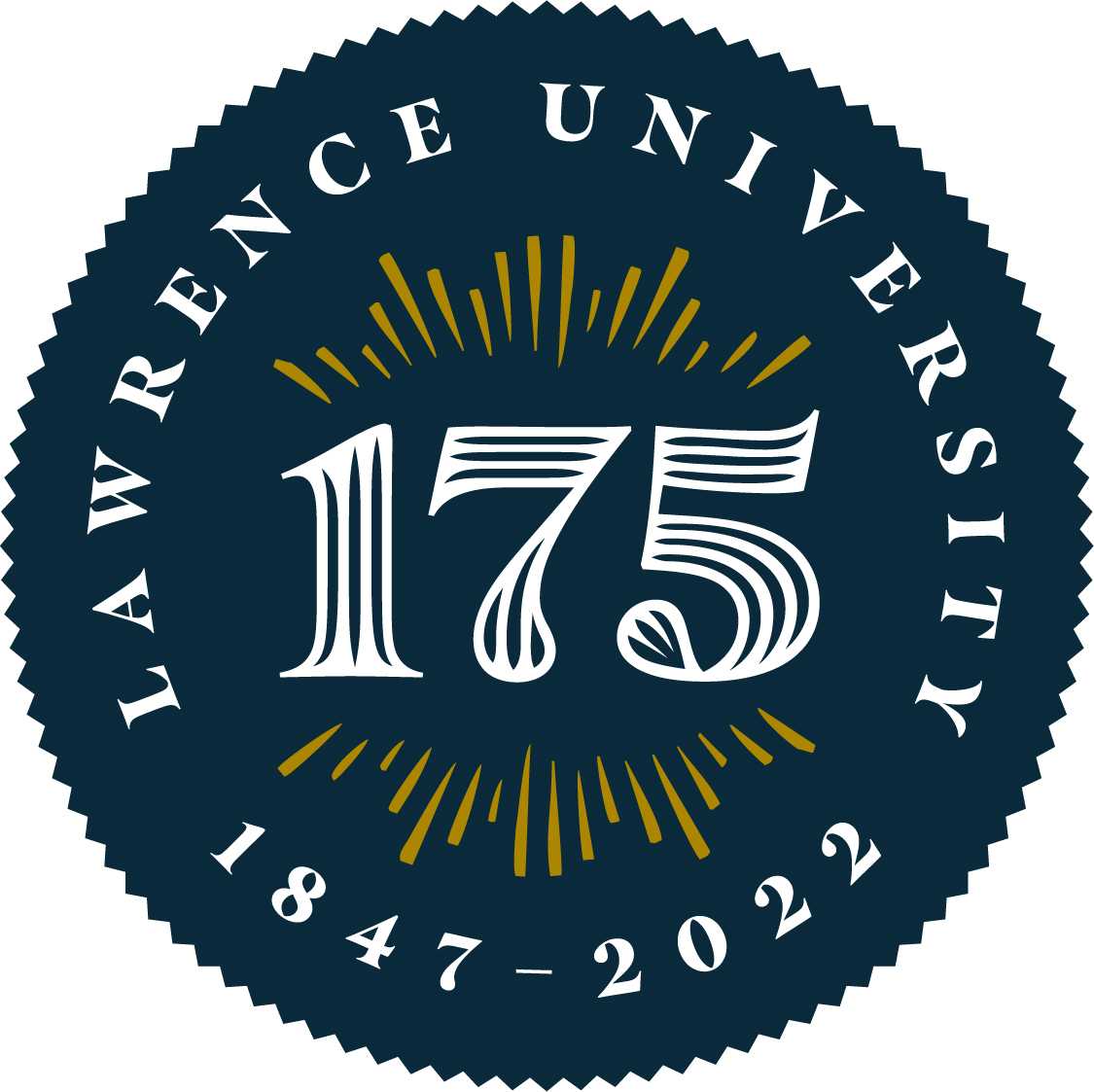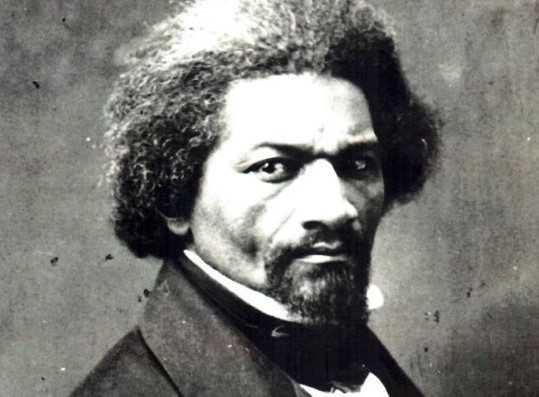 The famed orator and abolitionist made several stops across Wisconsin in 1866, three years after the Emancipation Proclamation and one year after the assassination of President Abraham Lincoln. News reports had him making stops in Janesville and then Oshkosh before coming to Lawrence for a May 3 speech before the Philalethean Society in Main Hall. The Crescent and the Appleton Motor reported on his Appleton visit. The Crescent called Douglass "an eloquent speaker, easy and graceful in manner, withering in sarcasm" and said his speech, titled "The Assassination and its Lessons," was the "same lecture he has been giving so patriotically all over the country."
Booker T. Washington, 1914
Born into slavery, the legendary author and educator would go on to found and lead the Tuskegee Institute (now Tuskegee University) and become one of the most influential Black voices in the late 19th century and early 20th century. He came to Lawrence to speak in the spring of 1914, one year before his death at age 59. The Lawrentian covered Washington's speech, saying he "gave a highly interesting description of his life, his struggle for education, and of the founding and successful growth of the Tuskegee schools." The student newspaper said Washington "brought his address to a close with a plea for a sympathetic understanding between the white and black inhabitants of America." The paper went on to state: "Dr. Washington was very well received, and leaves a host of friends and admirers in Lawrence and Appleton."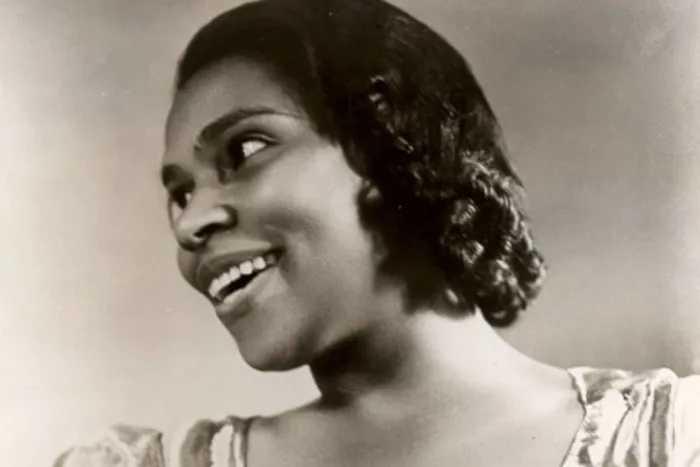 The celebrated contralto who paved the way for other Black artists delivered a brilliant concert performance at Memorial Chapel, the overflow audience calling her back for multiple encores. "No artist in recent years in Appleton has received the tribute which the audience gave Marian Anderson," The Lawrentian reported. But off campus, Anderson wasn't treated as well. Appleton was a "sundown" town at the time. News reports say Anderson was allowed to stay the night in Appleton's Conway Hotel, but she wasn't allowed to have dinner in the public dining room. In 2014, Lawrence held a concert in tribute to Anderson, recreating the repertoire from her 1941 performance.
Louis Armstrong, 1960
The jazz pioneer nicknamed "Satchmo" made a late-career visit to Lawrence's Memorial Chapel in the spring of 1960. His appearance pre-dated Ella Fitzgerald's concert by a year. The Lawrentian previewed Armstrong's visit, calling him "the greatest of all jazz musicians" and urged the campus community to get their $2 tickets early or risk being left out. "Because of the interest expressed by townspeople and high schools in the area, it seems that the concert will be quickly sold out," the student newspaper reported. Indeed, it was.
Ella Fitzgerald, 1961
The "First Lady of Song" was a full-on jazz superstar when she performed in concert at Memorial Chapel in early May 1961. She had just earned her fifth and sixth Grammy Awards and would go on to win seven more. Her visit to Lawrence was a cross-country stopover between a two-and-a-half-week stand at New York's Basin Street East and a three-week engagement at the Crescendo in Los Angeles. "Ella rocked Lawrence College's staid, old Memorial Chapel with a battery of upbeat material Tuesday night," The Post-Crescent reported. "And she appeared to enjoy every minute of it. She carried the torch, too, as only she can do. A house just short of capacity couldn't have loved the first lady of song more." 
John Lewis, 1964, 2005, 2015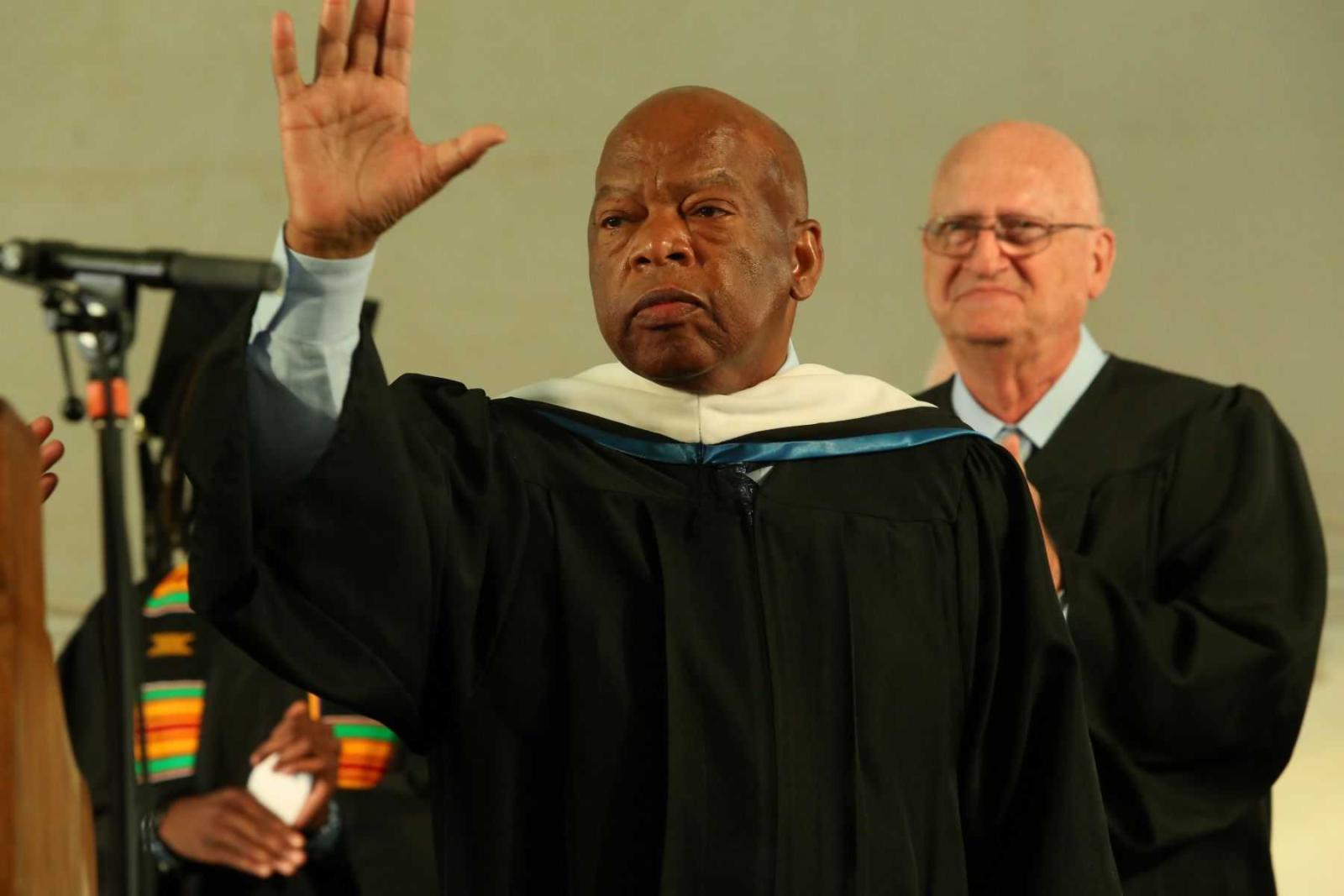 In June 2015, U.S. Rep. John Lewis returned to Lawrence to deliver the Commencement address in the 50th anniversary year of the passage of the Voting Rights Act. It marked the civil rights icon's third visit to Lawrence. He first came to campus in 1964 as head field secretary of the Student Nonviolent Coordinating Committee. He would return to deliver a Convocation address in Memorial Chapel in 2005. In his 2015 Commencement address, Lewis pledged unity no matter race, religion, or sexual identity. "We are one people, we are one family, we are one house," he said. "We are brothers and sisters."
Maya Angelou, 1976 and 1997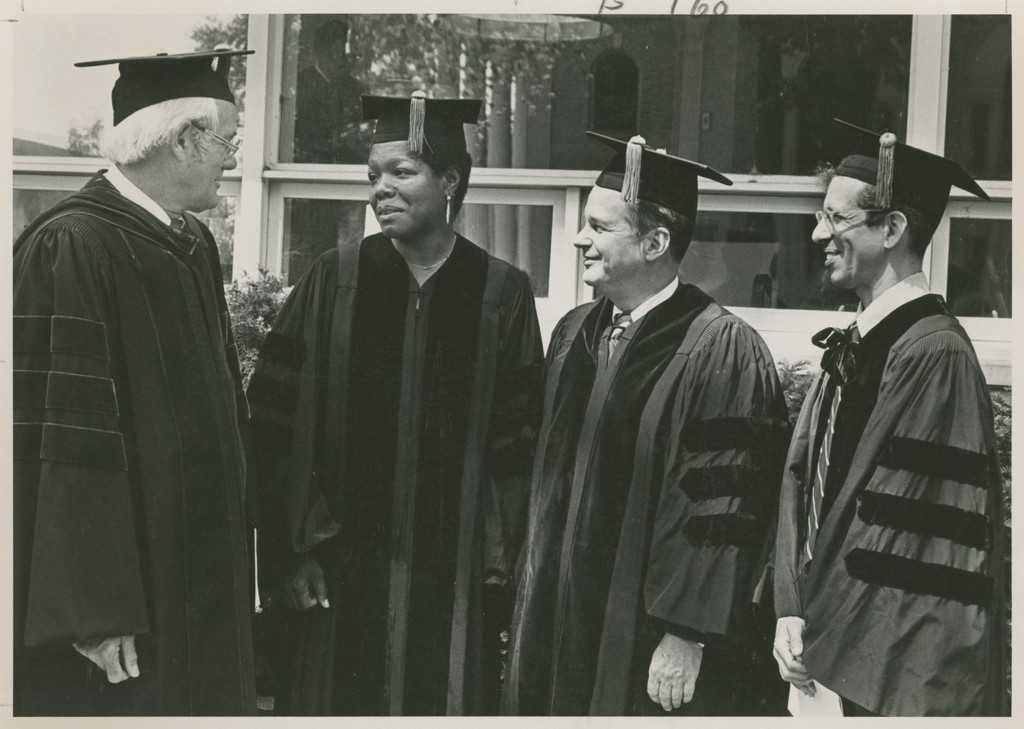 The poet, memoirist, and civil rights activist has been among the most influential voices in America over the past 50 years. She was awarded an honorary degree by Lawrence in 1976, seven years after I Know Why the Caged Bird Sings drew international acclaim and launched a phenomenal literary career. She would return to campus more than two decades later to deliver a 1997 Convocation address and receive another honorary degree. Her 1993 book of essays, Wouldn't Take Nothing for My Journey Now, was a mainstay on the New York Times best-seller list shortly before her visit. She was greeted by an overflow crowd in Memorial Chapel. A citation presented to Angelou read, "Your writing, singing, acting, teaching, and your being contribute incredible insight to understandings of the human race, the black race, and the black woman."
Dianne Reeves, 1987 and 2002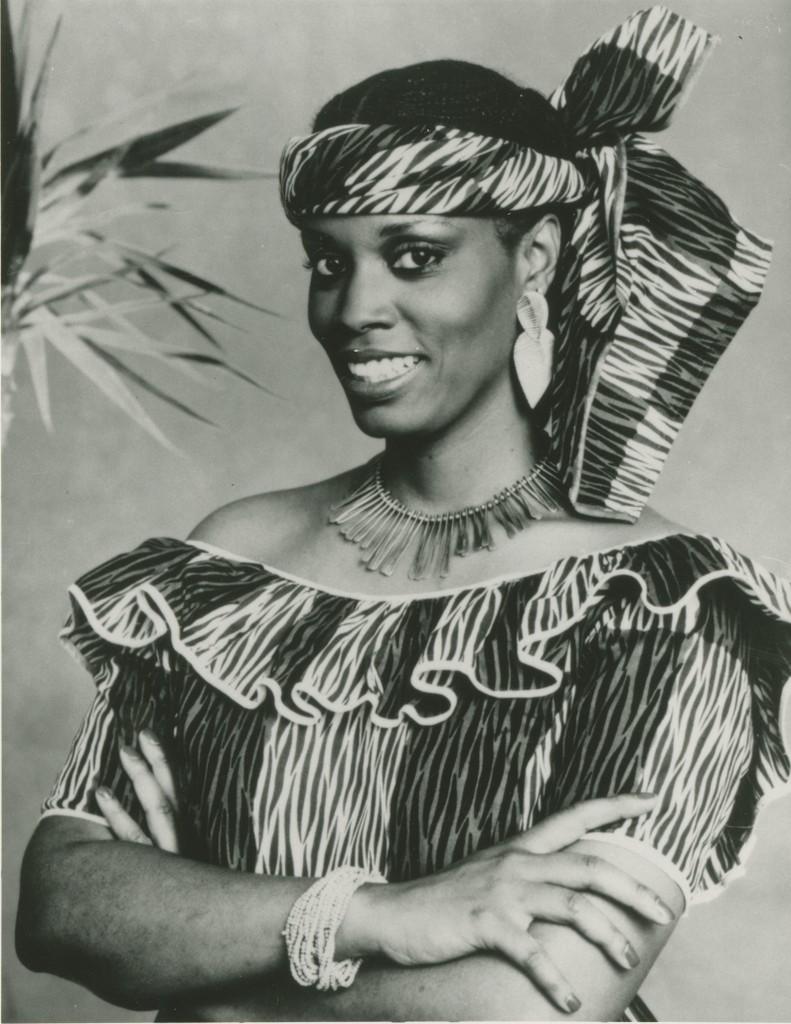 The jazz vocalist extraordinaire led a star-studded lineup into the 1987 Jazz Celebration Weekend. She was joined by Dizzy Gillespie and Clark Terry, also icons of jazz. Reeves was early in her career at that point, but she wouldn't be overshadowed. She had released her first album in 1981 and had just signed with Blue Note Records in 1987. She was an ascending star, and the audience at Memorial Chapel got an up-close view. She returned for a second visit to Jazz Celebration Weekend 15 years later.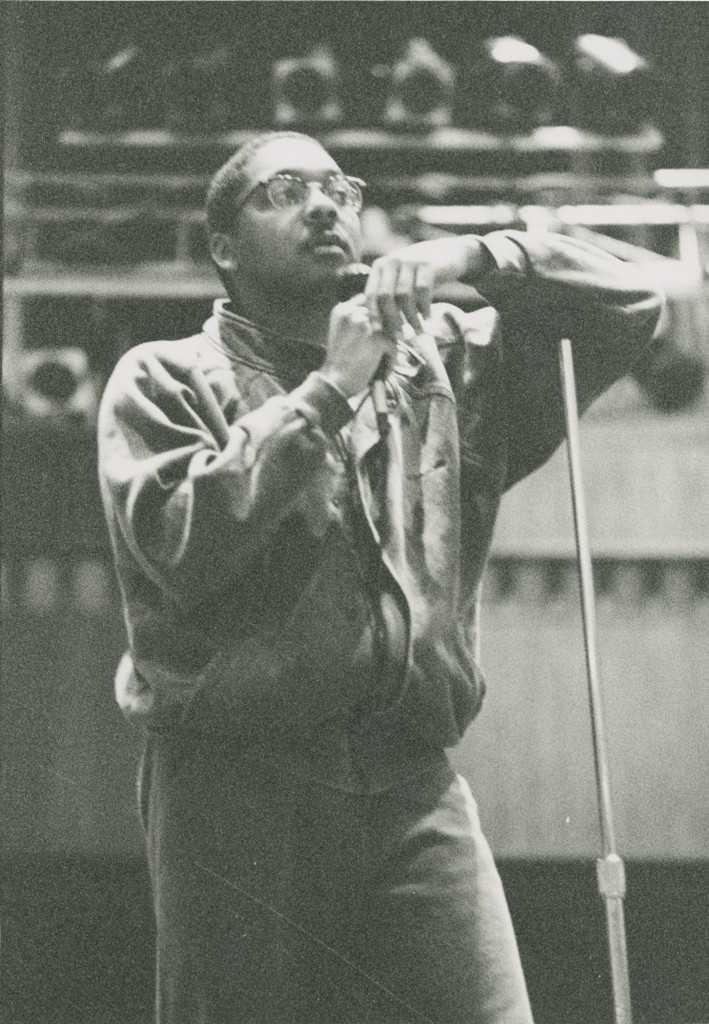 The legendary trumpeter was 27 when he came to Lawrence in 1988 to perform at Jazz Celebration Weekend. The concert sold out so fast that Lawrence officials arranged for a second concert. He met with students while on campus, challenging them to be culturally aware as they pursue music and other studies. "If you don't research the world of possibilities, you always will accept less," he told the students, according to The Post-Crescent. "It's not a matter of right or wrong; it's a question of possibilities." He wouldn't be the only one of the talented Marsalis brothers to perform at Lawrence. Branford Marsalis played Jazz Celebration Weekend in 2007.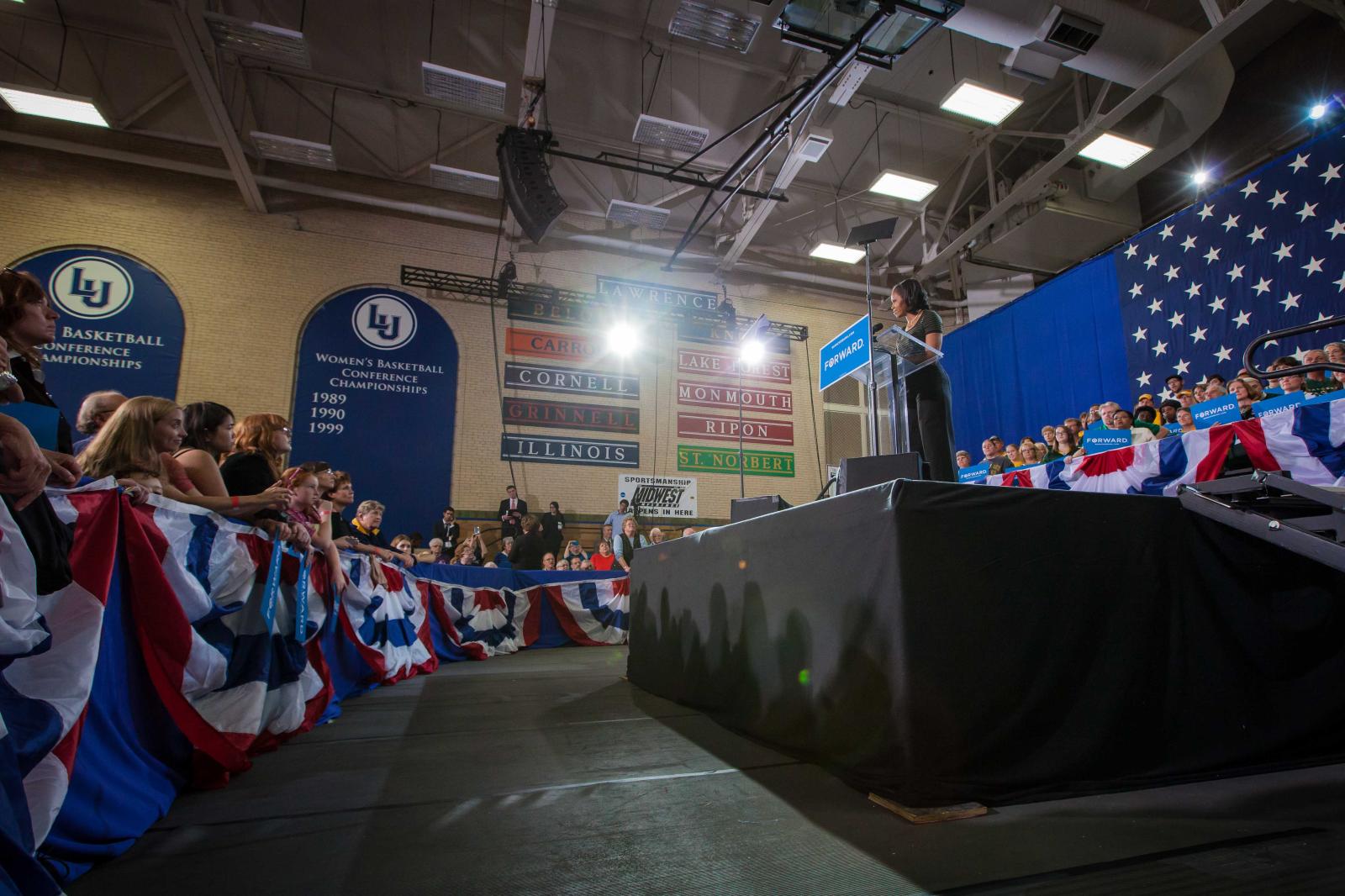 The first lady spoke Sept. 28 at a packed Alexander Gymnasium, a 2012 campaign appearance on behalf of her husband, President Barack Obama, who would be re-elected five weeks later. She is the only sitting first lady to visit Lawrence, and at the time of her visit was arguably the most popular figure in America. She spoke in Appleton about Obama's fight for health care reform despite potential political consequences. "He cared that it was the right thing to do," WHBY Radio quoted her as saying. "And, thankfully, because he fought for health care reform, today our parents and grandparents on Medicare are paying hundreds less for their prescription drugs. Our young people can stay on their parents' insurance until they're 26 years old."
—
Lawrence University is celebrating its 175th anniversary during 2022. When founded on January 15, 1847 along the banks of the Fox River in what is now known as Appleton, Wisconsin, Lawrence became one of the first co-educational institutions of higher learning in the country. It continues to build on the vision of its founders, focused on excellence while embracing a liberal arts approach to undergraduate education. With about 1,500 students drawn from nearly every state and more than 40 countries, Lawrence features a college of arts and sciences and a conservatory of music, both annually ranked among the best in the nation. See more at go.lawrence.edu/lu175