When Bonnie Alger '06 was named Officer-in-Charge of The United States Army Chorus last year, it marked a defining moment in her journey as a music conductor, one that has its roots in Lawrence University's Conservatory of Music.
It also marked a defining moment for the 32-member chorus, one of the military's elite music performance groups, as Alger became the first female officer to lead the unit in its 66-year history.
"These are some of the best singers you are going to hear anywhere," Alger said from Fort Myer in Arlington, Virginia. "It's an incredibly special time to be here."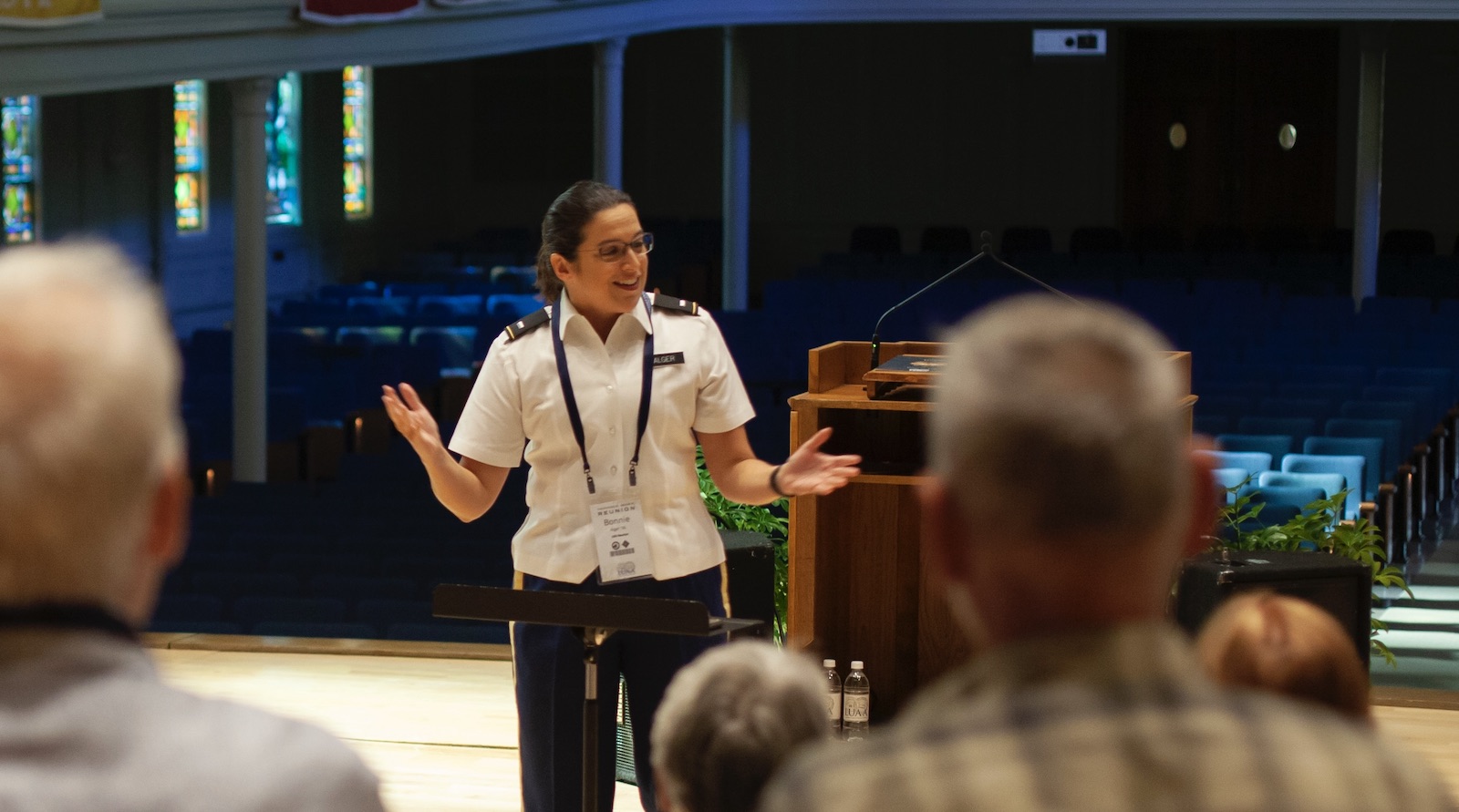 Alger—she is a first lieutenant, set to be promoted to captain this spring—points to a moment early in her junior year at Lawrence when this journey began to take shape, setting her on a path to conducting. A voice major and violinist, performing in multiple ensembles while trying to find her music focus, she was intrigued by the work of two Conservatory conductors—Andrew Mast, director of bands, and Phillip Swan, co-director of choral studies.
"Sometime during that year, I approached (Mast) and asked if I could study with him one on one and have private lessons," Alger said. "And I made it really clear that if I was terrible and completely hopeless that I hoped he would tell me so I wouldn't continue to waste his time and I could focus on something else."
She wasn't terrible. She would eventually work with her faculty advisor, Steven Jordheim, to craft a student-designed major focused on conducting, then go on to earn a master's in conducting from the University of Northern Iowa, a master's in teaching from the University of Southern California, and a doctorate in conducting from the University of Maryland.
The now-retired David Becker, who began conducting the LU Symphony Orchestra during Alger's senior year, would join Mast and Swan as important mentors.
"I'm not sure how they knew I'd be good at certain things because as a 20-year-old, I wasn't sure I'd be good at it. I wasn't first chair; I wasn't singing all the solos in choir; but I was actively engaged, and they all saw something and pulled that out of me."
"I took conducting lessons at some point from all three of them—Mast, Swan, and Becker," Alger said. "No one looked at me like I was silly when I said I wanted to go to graduate school for conducting even though I had only been doing it for a year or two. They all took the time to get to know me as a person and to play on my strengths. In some cases, I'm not sure how they knew I'd be good at certain things because as a 20-year-old, I wasn't sure I'd be good at it. I wasn't first chair; I wasn't singing all the solos in choir; but I was actively engaged, and they all saw something and pulled that out of me."
A decision to enlist
Alger, then 33, was finishing her Doctor of Musical Arts (DMA) at Maryland in 2017 when opportunities for military band auditions caught her attention.
"My friends were winning those jobs," she said. "They were being given the opportunity to play music at a high level with other professional musicians, with full-time salaries and benefits, which I think is a dream for a lot of musicians and a lot of people in performing arts in general. And they were getting to serve their country."
Alger auditioned for an Army band position as a conductor and was accepted. Following graduation, she began 12 weeks of Basic Combat Training, another 12 weeks of Officer Candidate School, and a final 12 weeks of a Basic Officer Leader Course. She was then assigned to Fort Hood in Texas as executive officer of the First Cavalry Division Band.
Three years later she was transferred to Fort Myer and selected to lead the Army Chorus. She is one of only two women among the 25 commissioned band officers across the U.S. Army, and the first to lead the prestigious chorus.
What do you get when you combine a world-class conservatory of music with a world-class college of liberal arts? A university uniquely designed to train the innovative and adaptable musicians of the future.
She arrived shortly after the chorus transitioned from a tenor and bass ensemble—traditionally all men—to an ensemble also featuring sopranos and altos. The chorus now features a mix of men and women.
"While I was not assigned to be here because the group was now including sopranos and altos, it is neat to be here at this time and see the transition happening and be part of this new chapter in the ensemble's history," Alger said.
The chorus' first full concert under Alger's direction was in October, held in Springfield, Virginia. It fell on the anniversary of the day Alger first picked up a violin as a 9-year-old in Connecticut. That, she said, made for a "surprisingly emotional" moment as she reflected on the musical spark that set her on this path.
The chorus has since performed The Star-Spangled Banner at an NFL game and sang the national anthem, America the Beautiful, and God Bless America at a Congressional Gold Medal Ceremony at the U.S. Capitol that honored D.C. Metro and Capitol police for their bravery during the Jan. 6, 2021, attack on the Capitol.
"That we could support them musically was a really special, important moment for all of us," Alger said.
A return to Lawrence
In June, Alger came back to Lawrence for Reunion. She was asked to direct the Alumni Chorus—singers pulled together from the various classes celebrating their reunions that weekend—for a Memorial Chapel performance. There were no butterflies, she said, until Swan, one of her mentors, walked in midway through a rehearsal.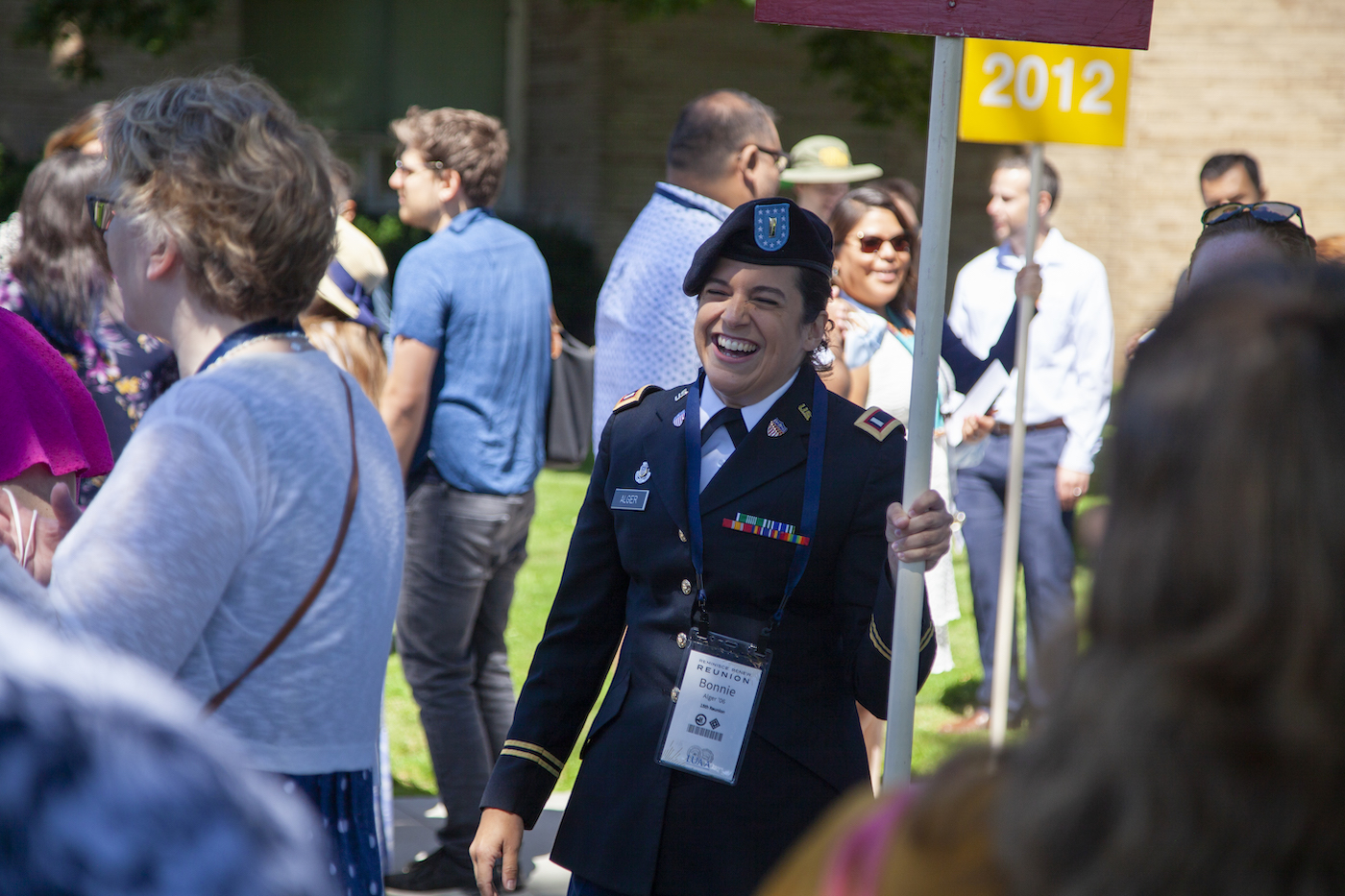 "I tried to play it cool," Alger said with a laugh. "When I had dinner with him later that weekend, he told me that I failed at playing it cool. He saw the look on my face. But I recovered quickly. It's nerve-wracking when your mentor walks in. I had to remind myself I have a doctorate and I kind of know what I'm doing."
The alumni performance was a hit.
Mast, who was in his first year at Lawrence when Alger approached him about private lessons, said he never had a doubt Alger would find her path as a conductor. He saw it when she conducted the Symphonic Band while a student and he saw it as she worked her way through her student-designed major.
"Bonnie was 'that' student who not only exhibited talent and interest in the subject but truly engaged with the material," Mast said. "She was, and remains, one who always asked a little deeper and more probing question."
Alger expects to lead the U.S. Army Chorus for at least the next two to three years. The Army moves its commissioned officers to new assignments every few years, she said. For now, she's relishing the chance to work with the talented singers in the chorus, most of whom hold advanced degrees in music. She wants to explore what's possible with the new mix of voices while honoring the chorus' rich history.
"I want to use all those things to create the new chapter and the new sound in our journey," Alger said.