The Lawrence University Community Council's Student Welfare Committee has a message of unity as students return to campus for Fall Term: We are Lawrentians, and we are up to the challenge of protecting our community.
With more than 850 students expected to be living on campus amid new safety protocols put in place to combat the spread of COVID-19, the commitment to the practices set forth in the Lawrence Campus Community Pledge will be key to keeping campus as open as possible, said committee chair Sterling Clarke Elvin Ambrosius '22.
Challenges, excitement mix as Fall Term arrives: Read more here.
Welcome Week greets Class of 2024. Read more here.
The Student Welfare Committee shares eight ways you can help protect the Lawrence community:
1. Stay within Lawrence community as much as possible. 
Bellin Health's testing of every student, faculty, and staff member on campus, combined with plans to use quarantine and isolation spaces on campus, gives us the best chance of keeping the spread of the virus in check. If you must leave campus, remember to follow the same safety protocols you do on campus like wearing masks, maintaining social distance, avoiding crowded spaces.
2. Avoid large gatherings like parties. Don't go to bars. 
We need to think about our social priorities in a different way. There are lots of creative opportunities for fun and spending time with one another in a safe manner — sticking with our pods or taking part in larger campus events designed with physical distancing and other safety practices in place. Outdoor yoga, anyone?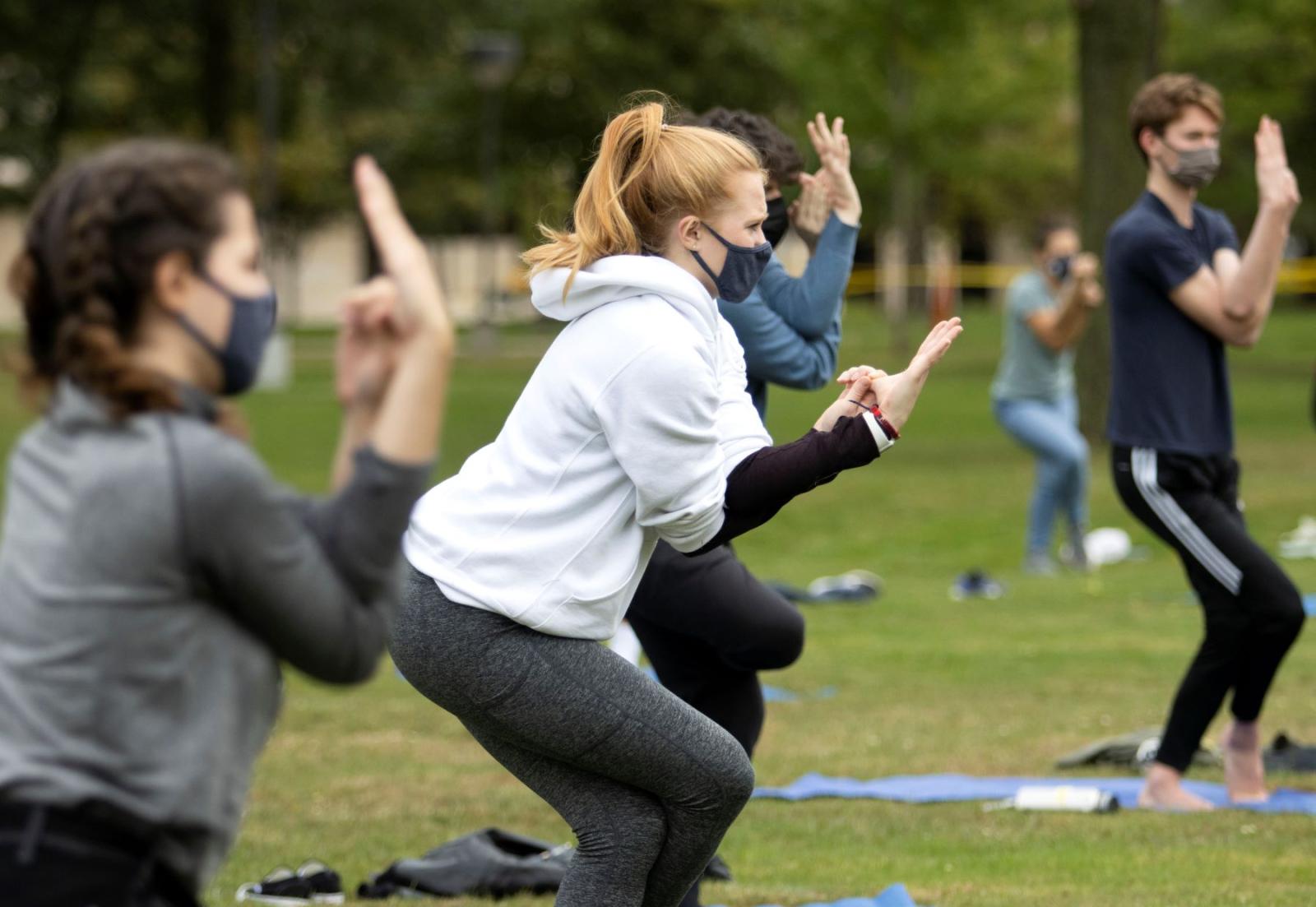 3. Wear a mask. 
This is an easy one. Make it part of your routine when you leave your room in the morning. Phone, LU ID, wallet, mask. Make your mask a fashion statement. Have fun with it. Show if off. Wear it proudly.
4. You're paying for your education, so don't waste your money. 
We all know this pandemic life isn't ideal, here on campus or anywhere else. But we're still Lawrentians. We're in class with brilliant professors and sharing spaces – virtual or in person – with smart, curious, open-minded, diverse, and amazing classmates. Let's all rise to the occasion together. We'll be all the smarter for it. 
5. Have the courage to hold others accountable. 
There's been a lot of chatter among students at campuses across the country about how to respond to poor choices by fellow students. To snitch or not to snitch. Let's not look at it that way. Let's be respectful but vigilant. Let's be appreciative when someone reminds us of the Pledge we signed. It's not about me, it's about we. The University has laid out consequences for students, faculty, and staff who fail to abide by the Pledge. Let's work together, as a community, to make that unnecessary.
6. Be a responsible community member. 
The decisions we make matter. We are connected to others on campus. And the campus is connected to those who call Appleton home. And Appleton to the greater Fox Valley. And so on. Let's take pride in Lawrence setting the example of what is possible as we find our way through this pandemic.  
7. Avoid public transportation once in Appleton. 
Use the LU Shuttle instead. It's free! The LUCC Student Welfare Committee is running the shuttle to pick up students from Appleton International Airport and the Appleton Bus Terminal. There's no need to grab a ride share. The shuttle is free, and it comes with snacks. Safety practices will be in place. It's be available for students returning to campus now through Sept. 12.
8. Think of others and be generous. 
We all need to think about how our actions affect everyone. Never before has it been clearer that we are a community, that we're all connected in a myriad of ways despite our different interests, backgrounds, viewpoints, and experiences. That togetherness is something we should be celebrating right now. The things that drew us to Lawrence – the chance to be a small, tight-knit, enthusiastic, and, yes, wonderfully quirky community on this gorgeous liberal arts campus – will be the things that see us through these difficult times.