Whether it is for a worthwhile cause, to satisfy your competitive nature, or just to say you did it, running a full marathon is a remarkable achievement. But for a small collection of runners in this world, 26.2 miles is not enough. 
These ultramarathoners are a special breed — according to ultrarunning.com, only 0.0139% of the Wisconsin population partake in this sport.
And, yet, here on the Lawrence University campus, four faculty members count themselves among the state's ultramarathoners. Relena Del Toro Ribbons, Jason Brozek, Megan Pickett, and Douglas Martin have all competed recently in ultramarathon races, some in the 31-mile range, others stretching as long as 100 miles. 
"26.2 is the marathon distance in miles, or 42.125 in kilometers; any distance over becomes an ultramarathon," Ribbons said. "But the general consensus is around 50 kilometers, or 31 miles, is the entry-level ultramarathon distance. So, any person who runs that distance or walks it or hikes it is an ultramarathoner." 
Ribbons, Brozek, and Martin all competed in 100-mile runs this summer, Ribbons and Brozek in Wisconsin, Martin in England.
Ribbons: "I love the solitude about it"
Ribbons, a 32-year-old geoscience and environmental studies professor, started running ultramarathons when she moved to Appleton in 2017. 
"To mark the fact that I was turning 30, I decided I wanted to run 30 miles, and 50K is just a little farther, so I might as well sign up for a race that was the day before my 30th birthday," Ribbons said. 
What she expected to be a one-time milestone marker turned out to be something she really enjoyed. She was hooked. 
"I found once I got into trail running, I love the solitude about it," she said. "It can be really social, or really great alone time. If I'm having a bad day, running will make me feel better, and a great day running will make my day feel awesome." 
Since her first 50K, ultramarathon training has become a big part of Ribbons' life. She runs at least one mile a day, no matter the circumstances, and averages 70 to 100 miles a week. 
She also happens to be really, really good at it. She placed in the top five in three ultramarathon races in 2018. 
Ribbons' most recent long race was the Kettle Moraine 100 in June, a 100-mile trail run in east-central Wisconsin, with 65 of the miles coming on the Ice Age National Scenic Trail. It's part of the Midwest Grand Slam of Ultra Running. 
"This year we had a torrential downpour," Ribbons said. "Lightning and thunderstorms were rolling in while everyone was out running, the mud was really bad, and it was really humid in the build-up to that. It was kind of intense." 
Despite all the adversities, Ribbons managed to complete her first 100-mile race in 27 hours, 4 minutes.
"I'd go from these really intense 'this is amazing' moments to 'this is terrible, why did I sign up for this,'" she said. "'Who said this will be fun,' and then someone else is like, 'Nobody said this will be fun, you did this to yourself, remember?' and I was like, 'oh, right. I know it will be fun at some point,' and you hang on until you get back to that high. …  
"I got to the last part with about a mile to go, and I was like, 'Guys, do you think it's OK to just sprint this in? I just want to feel like sprinting again.' So, I zoomed in to the finish line, and it felt amazing. Then I sat down and I'm like, now I'm tired."  
Brozek: "It was the farthest and longest I'd ever run"
Brozek, a 39-year-old professor of government, also ran in this year's Kettle Moraine 100. He was among those getting a DNF (did not finish), but he's not apologizing for that. He made it 77 miles, a new personal best. 
"This year, I think 50% of the starters dropped out of the Kettle 100," Brozek said. 
He's been participating in ultramarathons since 2014. 
"I did my first marathon with my wife the year after our second child was born," Brozek said. "We ran that together in San Francisco. She decided, 'Check, I got that off my list, I'm happy to do that.' And then I signed up for a trail ultramarathon that next spring." 
Since that first ultramarathon, Brozek has run in more than 20 ultramarathons, including June's Kettle 100. 
"I dropped out of my most recent race, but I'm OK with it," Brozek said. "It was the farthest and longest I'd ever run, and I'm happy with that."
Brozek made it to mile 77, crushing his distance from the previous year of 62 miles. 
In the five years since his first ultramarathon, Brozek has become well known in the running community. He's even become a running shoe product tester. 
"I don't really wear out shoes," he said. "Twice a year companies send me new shoes that are pre-release. Then I review them for Outside Magazine and a company called Gear Institute."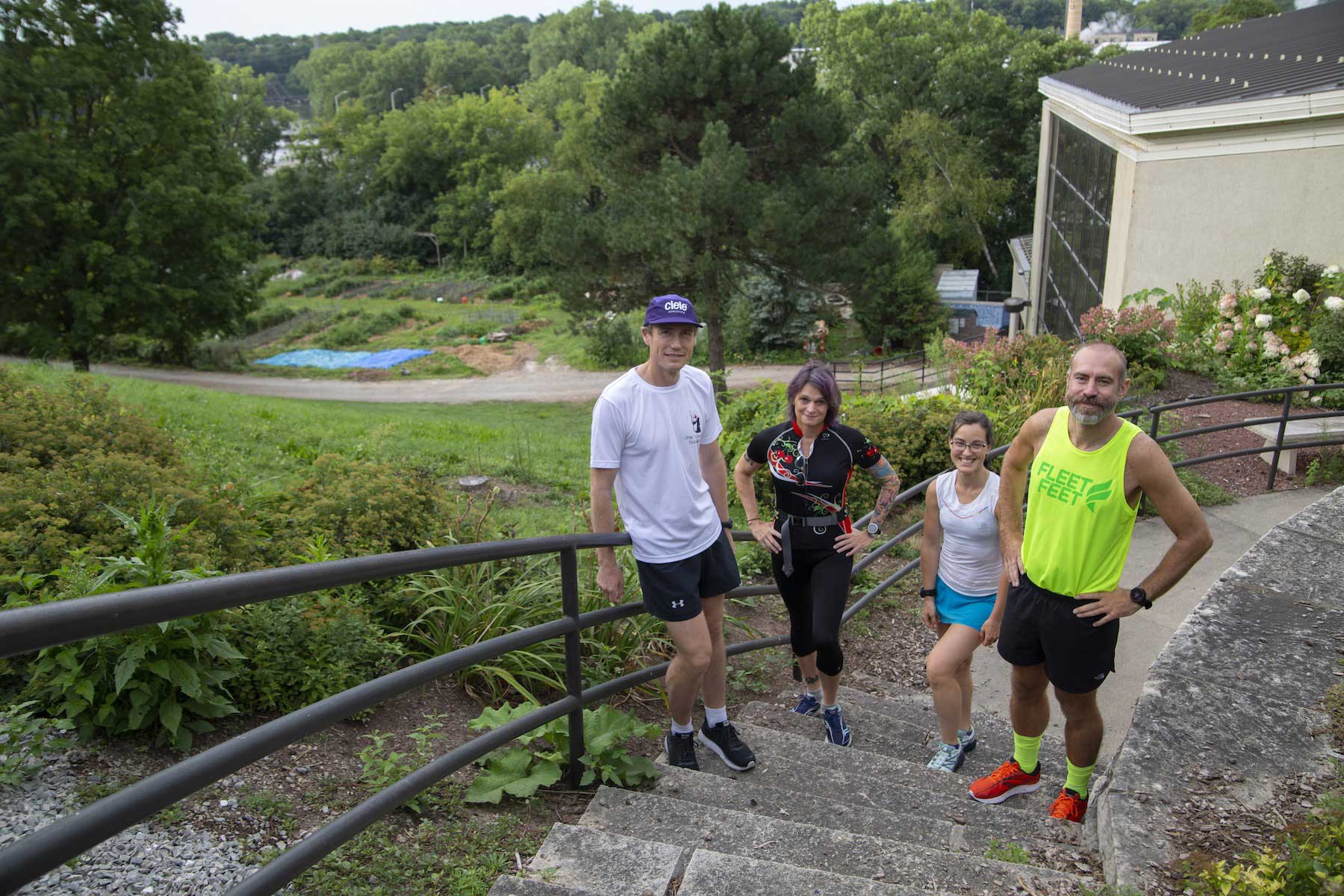 Martin: "I truly love being out in nature"
Martin, a 44-year-old professor in the physics department, has been running ultramarathons since 2012.
"I have a running friend who, because he is not a very good friend, asked me to run with him to help him run a 100-mile race, to run with him the last 38 miles," Martin said. "After thinking about it, I decided, I'll do that with you."  
Martin called that first ultramarathon a great experience.  
 "That first run of 38 miles, because it was the last 38 miles — (my friend) had already run 62 before that — it was delightful for me and it was terrible for him," Martin said. "It was over night, we were moving smoothly, and I could talk with him, and there were a lot of check points where you would stop to get drinks, and there are volunteers to help you out, and I would talk with them. I had a great time."  
Because Martin enjoyed that first ultramarathon so much, he decided to continue, upping his investment and the physical toll it would take. The running, of course, got more difficult.   
"When I started running the first 62 miles, it got much, much harder," Martin said. "I always thought at the end of a race, 'Wait, I want this to be more fun and less hard.' So, that kept me trying, to 'Let's do another one, I'll do another one.'"  
Martin has now run so many ultramarathons he said he's lost track. 
"I don't know, maybe two dozen, maybe three dozen," he said.  
Aside from the pain of running such distances, there is joy to being on the trails.
"I truly love being out in nature," Martin said. "It's so much fun to run trails, to just go out and have a reason to be outside for five or eight hours every week."  
Martin has spent the past year in London as a visiting professor at the Lawrence London Center. Being on another continent has not stopped him from running ultramarathons, with his most recent race being a 100-mile event in England this summer called the 1066 Run. The route, dubbed Harold's Way, follows King Harold's 1066 march from Westminster Abbey to Battle Abbey, where he and his army fought William the Conqueror.   
Martin said he plans to continue running ultramarathons, and has plans to run in the 50-mile North Face Endurance Challenge in Milwaukee the weekend before classes start.  
Pickett: "I wanted to do better and push myself" 
Pickett, a 53-year-old professor in the physics department, participated in her first ultramarathon a few years ago. Initially, she would run them as a relay with friends. 
It started when a friend saw information on the Apple Creek 50K near Appleton and suggested they run it as a relay team, Pickett said. 
"One person would do one of those eight-mile loops and then the other, so it would be half of (a full ultramarathon). And we've done something called Ragnar Races, which are 100-mile races broken up to a team of four or eight." 
This year, however, Pickett and her friend decided to push themselves, signing up individually for the Apple Creek 50K race in April. 
"She wanted to sign up for this as a relay, but I said, 'We've already done half of it, let's do the full,'" Pickett said. "Worst thing is that I would regret it in the middle of the race. I've run half of the ultra already, so I wanted to do better and push myself." 
 Pickett, who plans to run the Community First Fox Cities Marathon on Sept. 22, did indeed push herself, managing to finish her first ultramarathon in 7 hours, 31 minutes. 
"There's a joy to crossing the finish line with someone who has never crossed that distance," Pickett said. "For me, that was the longest distance I've ever run and the longest time I had been running. … You get emotional. We both ended up crying."