Next Level Skills
The genre of music you play doesn't matter. Knowing how to get your gorgeous music out into the world does.  Lawrence offers endless opportunities to hone these skills in the classroom, in the studio, and through hands-on internships.
So Many Options
In our BA Music Major, recording and production can be your primary focus. In our BMA and BM programs, you will have many opportunities to integrate recording and production into your degree path in ways that best fit your musical goals. 
The Space to Create
Besides our Master Control Room, and the Sound Stage in the Film Studies Department, there are two additional production studios dedicated to student use: The C.A.V.E. (the Conservatory Audio Visual Enclave),  and SOL Studio (Students of Lawrence Studio), a student run organization with over 70 members and its own dedicated studio and radio station.  Students have created dozens of albums, EPs, and music videos in SOL Studios. What will you make?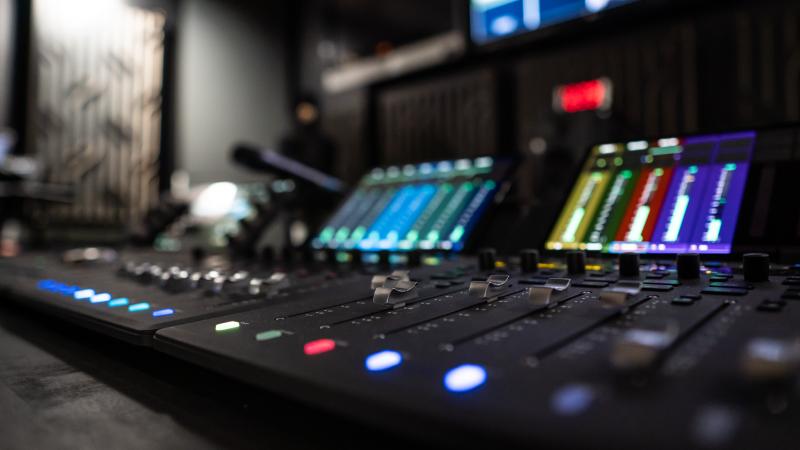 Recording Studios Redefined
Why have one recording studio when you can have five? Lawrence is transforming every performance hall and every rehearsal venue into a connected network of recording studios. At Lawrence, you can always find the perfect room for your specific recording needs.  
Beyond the Classroom
Besides our growing number of course offerings in recording, production, mixing and mastering, we empower students to put their growing skills to work. Interested students can apply to work on the recording and production team, helping to record the nearly 200 performances that take place each year and helping to produce our four-camera webcasts.  Many students also take advantage of summer internship opportunities. 
Bring Your Own DAW
There are so many great Digital Audio Workstations (DAWs) that forcing students to just use one doesn't make any sense at all, yet so many schools do just that. At Lawrence we will teach you the art of recording, production, mixing and mastering on whatever DAW you prefer.