News
Lawrence University music students dominated a pair of recent piano competitions, sweeping the top two honors in both.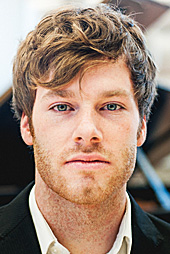 Cameron Pieper
Cameron Pieper, a senior from Fond du Lac, won the college piano division of the Schubert Club's Carlson Student Scholarship Competition held March 21 in St. Paul, Minn., while Evan Newman, a sophomore from Plymouth, Minn., was awarded second-place honors.
Each finalist was required to perform four works, one each from four different style periods. Pieper performed J. S. Bach's "Prelude and Fugue in G major Book 1," Beethoven's "Piano Sonata op. 110 in A-flat Major I, ...
read more
A tribute to the late Alice King Case, who taught in the Lawrence University art department for 20 years, will be included in the new exhibition at Lawrence's Wriston Art Center. The exhibition, which opens Friday, April 3 and runs...
read the rest of this story
News Archive