Lawrence University political scientist Claudena Skran discusses two approaches for combining thought and action —the rocket ship and the catalyst models — in the final address in Lawrence's 2012-13 convocation series.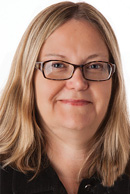 Skran, professor of government and Edwin and Ruth West Professors in Economics and Social Science, presents "Liberal Arts Education: A Catalyst for Thought into Action" Thursday, May 23 at 11:10 a.m in the Lawrence Memorial Chapel at the college's annual Honors Convocation. She also will conduct a question-and-answer session at 2:30 p.m. in the Warch Campus Center. Both events are free and open to the public.
Skran is the fourth recipient of...
read more
John Sharp, principal cello of the Chicago Symphony Orchestra, performs a guest recital at Lawrence University Sunday, May 19 at 5 p.m. in Harper Hall. He will be accompanied by Lawrence University faculty pianist Catherine...
read the rest of this story