Having already completed all of her necessary credits to graduate, Nalee Douangvilay spent spring term working with Opera Theatre of St. Louis. While driving back to campus in early June for commencement exercises, thoughts turned to what she would do with her life. That's when a special email arrived on her phone.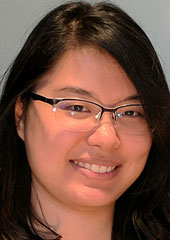 Nalee Douangvilay '18
The message informed Douangvilay she had been awarded a Fulbright Fellowship, getting promoted from alternate status to recipient.
"It was really unexpected, very exciting, very weird, but good kind of timing," said Douangvilay, who graduated with honors in June with a bachelor's degree in English.
Douangvilay, along with fellow 2018 graduate Augusta Finzel and 2017 Lawrence...
read more
It will be a homecoming of sorts for Rev. Terra Winston.
The 2000 Lawrence University graduate returns to her alma mater Aug. 1 as the school's first associate dean of spiritual and religious life. The newly created position is grant funded for a five-year term with the possibility of...
read the rest of this story