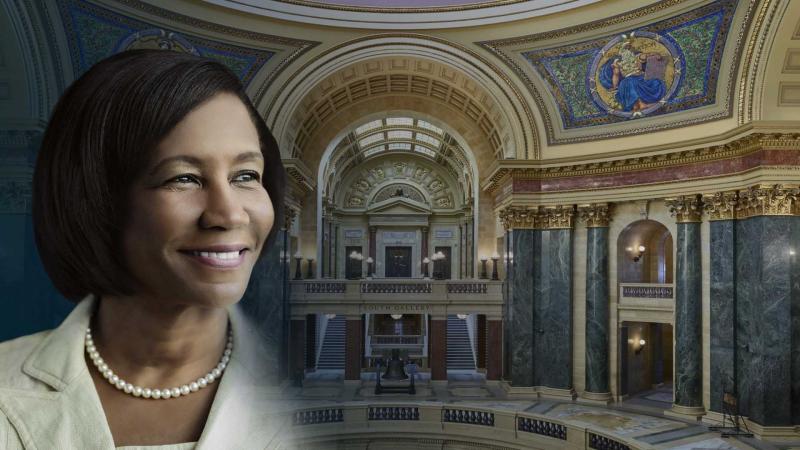 Carter Speaks at Madison MLK Event
---
Wisconsin's 42nd Tribute honoring Dr. Martin Luther King, Jr. took place Monday, January 16 at noon in the State Capitol Rotunda in Madison. Lawrence University President Laurie Carter was the guest speaker for the proceedings. A recording will be made available at the link below after the event. 
2023 Martin Luther King, Jr. - Program Information and Registration
With the exception of our afternoon service programs, all of our 2023 MLK programs and events are open to the public as well as to the greater Lawrence University community. For more information and registration, please click the link below. 
2023 MLK Teach-In Series: Justice, Peace, & Righteousness
| Title | Description | Speaker | Time | Location |
| --- | --- | --- | --- | --- |
| MLK, the Jews, and Questions of Antisemitism | This talk will illuminate King's collaboration with American Jews, including his thoughts on Zionism and the Palestinians, antisemitism, and other Jewish issues. King's relationship with the American Jewish community will be framed through the history of Black-Jewish dynamics stretching back to Booker T. Washington and W.E.B. Du Bois and continuing through the controversy over Kanye West. | Dr. Elliot Ratzman | 1/10/23, 7:00pm | Main Hall 201 |
| Black and Brown Solidarity: MLK to Wakanda Forever | This talk will explore cross-racial alliances from King's Poor People's Campaign for economic justice to more recent economic arguments about the "solidarity dividends" we stand to gain through coalition building. Even in the collective imaginary of cross-racial solidarity in Wakanda Forever, how do we build on the power of collective action given the colonial and enslavement legacies of poverty and extraction? | Dr. Sigma Colón | 1/18/23, 7:00pm | Main Hall 201 |
| The John Holiday and MLK Experience | Countertenor John Holiday presents a recital of classical vocal works and songs performed by his studio as well as performances inspired by the words, life, and times of Dr. Martin Luther King, Jr. | John Holiday and Company | 1/25/23, 7:00pm | WCC Pusey Room |
| Where do we go from here?: Ending Curriculum Violence and Antiblackness in Schools | The 2023 MLK Teach-In series will conclude with Lawrence University's 2nd "Community Conversation," featuring Dr. Stephanie Jones. This lecture will cover the historical context and definitions of racialized trauma and curriculum violence in the classroom which will help students, educators, and professors rethink, recognize, and dismantle these acts in their classrooms, curriculum, and pedagogies. | Dr. Stephanie P. Jones | 2/1/23, 7:00pm | WCC Cinema |
Monday, January 16th:
| Time | Title | Description | Audience | Location |
| --- | --- | --- | --- | --- |
| 9:30am-11:00am | Transformational Leaders of Color Breakfast: There is No Gain without Struggle | Join local business owners of color for a moderated conversation on their respective journeys, the challenges and triumphs they've navigated, and the importance of transformational leadership. The panel will be moderated by Lawrence's own Professor Jesus Smith. Breakfast will be provided. Please visit GivePulse for more information on our panelists and to register. Lawrence students that register and attend this event will be entered into a drawing to receive a signed copy of "The Privileged Poor", by Dr. Anthony Jack, our 2023 Winter Convocation Speaker. | Open to all; registration required. | WCC Somerset/Pusey |
| 1:00pm-4:00pm | Service Programs | We are once again partnering with Volunteer Fox Cities and the Center for Community Engagement to curate volunteer opportunities throughout the Fox Valley. Please check GivePulse for additional details. | LU Students; registration required. | See GivePulse for details |
| 4:15pm-5:15pm | Anti-Racism Workshop | The Anti-Racism Workshop is a presentation aimed at understanding our own implicit biases on race as well as those that we encounter in our everyday structure. When we begin to understand these biases, we can begin to address them as we encounter them. In this workshop we will talk about key terms such as anti-racism, implicit bias, and Derrick Bell's Theory on Racism in America, as well as encourage discussion of our personal experiences. Light refreshments will be provided. | LU Students; registration required. | TBA |
| 6:30pm-8:00pm | 32nd Annual Fox Cities MLK Celebration: What is Your Life's Blueprint? | This year's keynote speaker is Mr. Henry Sanders, CEO of Madison365, a Madison-based media company that uses excellent journalism to start conversations, find real and lasting solutions, build community, invite action and encourage emerging leaders in Greater Madison's communities of color, and to foster dialog between members of diverse communities. | Open to all; registration required. | Virtual |